County Fair fans can expect new features along with old favorites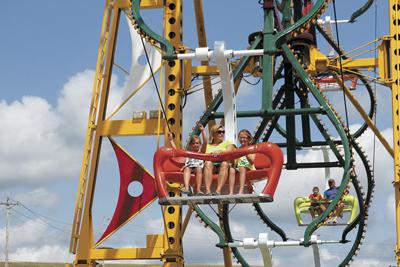 A ribbon cutting Friday at 6 p.m. at the Williamson County AgEXPO Center marks the opening of one of the biggest county events of the year — the Williamson County Fair, dubbed again this year "Country Pride County Wide."
Named the Best Family Festival in the 2018 Macaroni Kid Daisy Awards, the 14th annual county fair is a safe, clean, family-fun event. It offers plenty of fun but not necessarily food like fried pickles, jumbo pretzels, fried Oreos, funnel cakes and more. There will also be some educational activities and opportunities for local agriculture to put its best foot forward with cattle, goat and sheep shows, vegetable and fruit displays, and numerous competitions.
From the exciting rides on the midway to musical performances on the outdoor stage to a first-hand experience discovering where food actually comes from at Little 1s Farming, there is something of interest for everyone at any age. 
In recent years Jimmy Drew Exposition has premiered new rides — the Seattle Wheel and Zoogvogel, for instance — at the fair. This year the Exposition brought its new Matterhorn ride — an exciting adventure climb up and down the famous Matterhorn mountain designed for little ones.  
Circo Ma'Ceo will thrill audiences with exciting equestrian discipline performances including the graceful dressage, liberty riding with the absence of saddle and bridle, bareback acrobatics, Roman riding and Cossack riding, said Olissio Zoppe, creator, producer and director of Ma'Ceo.
Friesian, Suffolk Punch, Percheron, Paso Fino, Quarter Horse and even a mini horse "are utilized in acts that suite their abilities," said Zoppe, who is an eighth and ninth generation Italian equestrian acrobat. 
"Both families [the Zoppes and Zamperlas] have been equestrian acrobats for about 200 years. You can say I was born into the business."
For the thrill seekers, this 30-minute show, which will be performed several times each day in the upper Midway area, also has aerial acrobatics.
"We have performers from all over the world — Russia, France, Chile and Italy," He added. "You don't have to be a horse lover to enjoy the show."
For the first five days of the fair, Jurassic Kingdom will host an interactive dinosaur demonstration complete with fossils and special appearances by a few favorite dinosaurs in covered warm-up area just outside the arena.
Many popular exhibits and demonstrations are returning this year, including the BMX Pros Trick Team. Don't miss the improved and very hands-on 4-H area in the arena.
For a complete schedule of events, go to www.williamsoncountyfair.org or pick up a daily schedule.
Fair hours are Monday-Thursday 6-10 p.m. Midway closes at 11 p.m. On Friday the Midway closes at midnight. Saturday doors open at 10 a.m. and close at 10 p.m. with the Midway staying open until midnight. Sunday the action is from noon-10 p.m. with the Midway shutting down at 11 p.m.
Admission is $7 for adults and $4 for children age 6-12. Children under age 6 are FREE. 
Go to the website for a list of daily deals. Purchase tickets online in advance for deals on gate admission and enjoy the convenience of the Fair Fast Pass Lane. Simply print tickets at home and present at the gate or pull up the QR Code on a smart phone to be scanned at the gate.
Midway ride tickets are sold separately. Look for daily specials on Midway tickets.