Deputy Chief David Windrow is retiring from the Brentwood Fire and Rescue team after 24 years of service to the city and beginning a new chapter on Dec. 14 as the first fire chief for the town of Nolensville. 
Being appointed to run Nolensville's first municipal fire department fulfills Windrow's lifelong dream of becoming a fire chief. He has built a successful career in Brentwood, where he also serves as president of the Brentwood Morning Rotary. 
As a resident of Nolensville, Windrow is excited about the opportunity. There are a lot of moving parts in creating the new department, but ultimately, he will have nine firefighters on his initial team. 
Currently, the town contracts with the Nolensville Volunteer Fire Department, and there will be a meeting on Dec. 6 to discuss logistics. 
"I applied for the position, as I always wanted to be the chief and thought the opportunity was gone," Windrow said. "I wasn't about to move, and my wife wouldn't have left our grandkids." 
Brian Goss, fire chief for the Brentwood Fire and Rescue Department, shared how much Windrow will be missed.
"Chief Windrow was the training captain when I came to Brentwood as assistant fire chief in 2008," Goss said. "When I was promoted to fire chief in 2011, there was little doubt who would assume the role of our assistant — now titled deputy — chief.
"His keen eye for detail and mathematical savvy — his nickname is 'Rain Man' — has made him invaluable during budget time, and his institutional knowledge is second to none. He will be greatly missed for both his professional aptitude and gregarious personality. We are different from one another, which has made this partnership work extremely well. He leaves some big shoes to fill."
On a more personal level, Goss will never forget casual Fridays when Windrow proudly wore his University of Tennessee gear.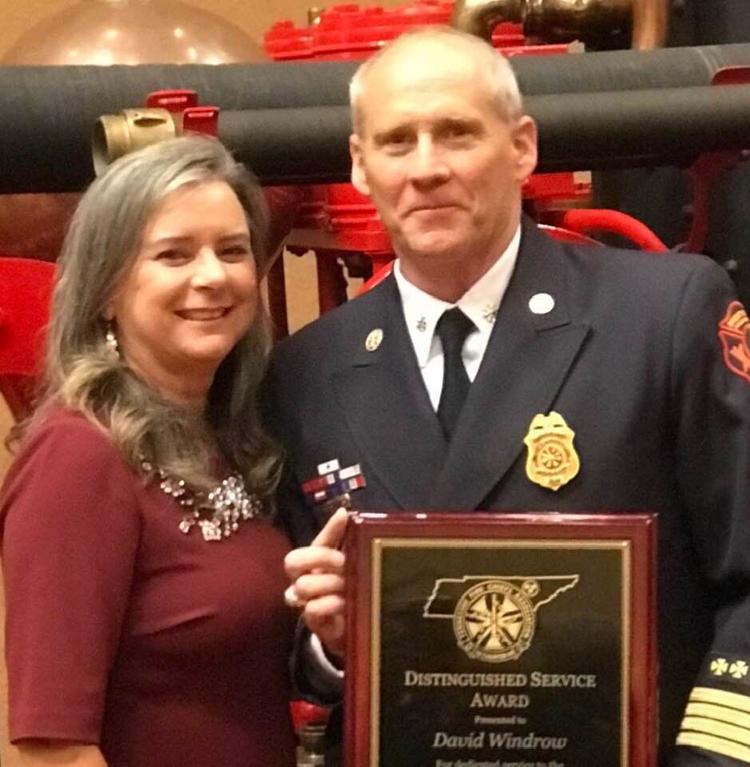 "I always ask him if he's planning on going hunting, picking up trash on the side of the interstate or assuming the role of traffic cone for the day," Goss said. "One thing for sure, this place will be a lot quieter without him."
Kirk Bednar, Brentwood city manager, agreed Windrow deserves a lot of credit for helping Brentwood Fire and Rescue grow. 
"While we hate to see David leave Brentwood, he and I have talked many times about his career goal of being a fire chief, so I wish him nothing but the best," Bednar said. "He has been a big part of the team that allowed our department to evolve over the past 10 years or so in terms of enhanced services and overall professionalism."
Bednar also believes Windrow's success in Nolensville will continue to help Brentwood, given both departments back each other up through mutual aid on major accidents.
"He has a big challenge ahead of him, but Nolensville couldn't have found a better person to establish a professional culture in their new department," Bednar said. "David has a long history of public service both professionally and personally, and I know he will carry that same philosophy with him to Nolensville and make that community better in many ways."
Vicki Sanford, chair of the city's parks board and Windrow's fellow Rotarian, said part of what will make Windrow a successful chief is his leadership qualities.
"The words that come to mind when you think of David Windrow are leader, Brentwood Morning Rotary president, service, a veteran of the U.S. Air Force, a loving grandfather, someone who cares about his family and others. He has helped many," she said. 
Brentwood Assistant Police Chief Richard Hickey also spoke to his leadership and community service initiative. 
"He volunteers to help with Leadership Brentwood and has been involved with the Martin Center," Hickey said. "David is the driving force behind our Battle of the Badges blood drive every year, and this year was a record-breaking year for us. We are losing more than an assistant chief. We are losing a good person who helps in so many ways. 
"You know, every year we compete with the fire department in events like the blood drive, a golf tournament, and we used to play them every year in softball every year. I certainly hope the fire department replaces him with someone with the same level of talent, because we will keep beating them in every event."
The city of Brentwood will hold a private celebration with Windrow and special guests. Due to COVID-19 restrictions, the city respectfully asks that all best wishes be sent via cards addressed to the Brentwood Fire and Rescue Department, located at 5211 Maryland Way in Brentwood.