On a blustery Monday morning, members of the Brentwood Police Department gathered to celebrate the department's 50th year serving the community. 
Although the city of Brentwood was incorporated in 1969, the decision to launch a full-time police force did not begin until Feb. 1, 1971. Brentwood Mayor Emery Pewitt and city commissioners John Sloan Jr. and Bob Robinson made the decision to hire Howard D. Buttrey as the city's first chief of police.
Buttrey retired in 2000, and Captain Ricky Watson was appointed to lead the department until he retired in 2012, at which time Jeff Hughes was named chief. 
Today, Hughes oversees 67 police officers, 12 dispatchers and six department employees. 
Due to COVID-19 restrictions, the community couldn't hold a public celebration. However, volunteers and community members painted the town blue to show their pride for the police force. Businesses and individuals made sure each shift had a meal to eat, snacks, deserts and more. 
"The community steps up and shows us every day their appreciation, but today is amazing," Hughes said. "We have the best city in the world to work in."
Donations from the community paid for breakfast from Farmland Café and Brentwood Market. Juice Bar donated juice, and Sugar Drop donated a breakfast cake.
Soy Bistro donated food for lunch, and Steve Sykes, a Brentwood resident, grilled 75 pounds of ribs. 
Sourdough of Somerset gift bags were given to each officer. Included in them were sourdough bread, dressing, hummus and peanut brittle that owner Marchaella Zetts and her neighbors affectionately call "crack." This gave officers a laugh as they read the menu.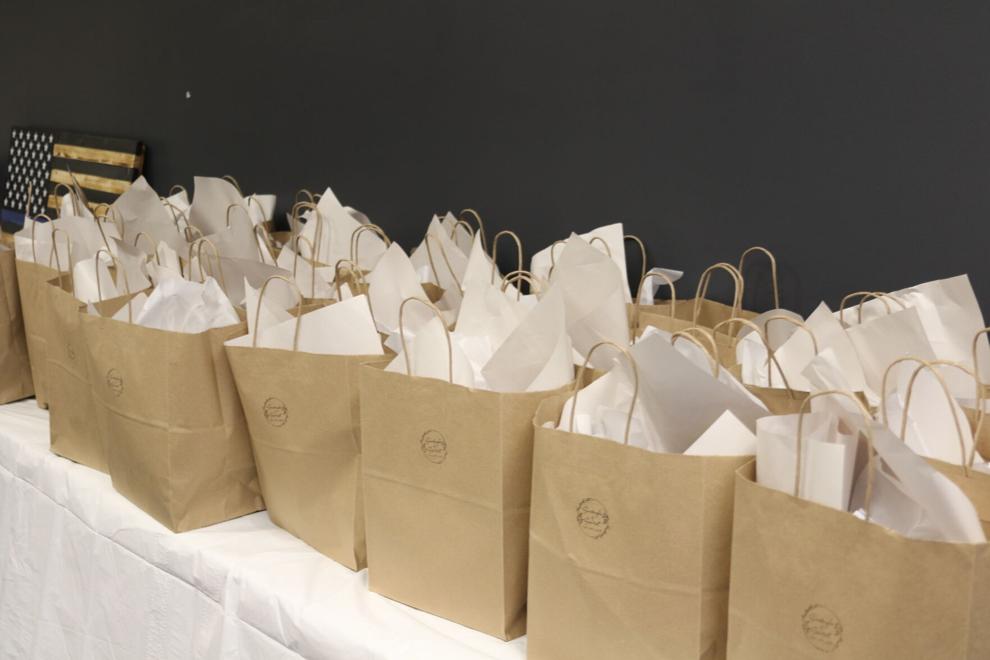 A Perfect Bite donated petit fours, and community members baked pies, cakes, cookies, candies and breads. Puffy Muffin also donated a cookie tray and sold cookies at the restaurant, with proceeds going to support National Police Week. 
The community donated to have Brown Bag Nashville cater dinner, and Jared Peters, owner of Richland Real Estate, and his dad, owner of Franklin Insurance, competed with Honest Barbecue Company grilling brisket for the evening meal. Community members added homemade macaroni and cheese, which was enjoyed by officers ending shifts and those coming in for the evening.
In front of city hall was a sign donated by local Realtor Amy Wyatt, and at the entrance were balloons from Best Life Balloons. A giant 50 marquis was donated by Angie Collins.
"We continue to be overwhelmed with all the support we receive from our community," Assistant Chief Richard Hickey said. "At such a critical and unfortunately divisive time in America, we are blessed beyond measure to work in Brentwood, where people are not the silent majority, but are the vocal majority and are not afraid to show their support for law enforcement. I wish every police officer in our nation could feel the support we do."
During the presentation, current and retired officers were given a list of every person who made some type of donation, including money, food, decorations and more.
Hughes asked the community for financial support for a group of officers and fallen officer Destin Legieza's family as they caravan to Washington, D.C. for National Police Week. A memorial service will be held at the U.S. Capital on May 15. 
Donations can be mailed to Brentwood City Hall. Hughes said they need to raise roughly $25,000 to make the trip happen. 
Jeannie and Louis Suttle, who live in the Willowick subdivision, went above and beyond decorating the event. They also gave each officer a card and a pin to wear during National Police Week in May.
"It has been a blessing to support and honor our Brentwood Police Department," Jeannie Suttle said. 
Donations for BPD's 50th anniversary can be mailed to Brentwood City Hall under the Public Safety Trust Fund and earmarked "Police Week." Mail checks to 5211 Maryland Way, Brentwood, TN 37027.
To learn more about the history of the police force, or the new headquarters, which is scheduled to be complete this year, visit https://www.brentwoodtn.gov/departments/police/department-history.