About four years ago, Matt Brown and his family felt they were supposed to leave their home in New Jersey, so they climbed into their red Jeep Wrangler, put the top down and drove without even a destination in mind. Now, Brown hopes to help lead the city where they eventually parked their car.
After pulling out of their driveway, the Brown family traced the east coast, crossed the mountains, skirted the Gulf and then pivoted in Texas to head northeast again. After driving about 3,000 miles, they woke up in Nashville and met a friend at Puckett's Gro. & Restaurant.
"We were talking about the move, and the waitress there says, 'Well, if y'all want to live with the nicest people in the country, y'all need to go check out Franklin,'" Brown said.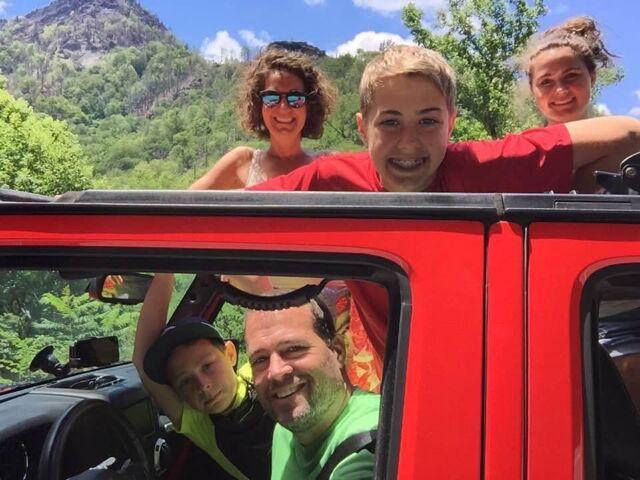 After several weeks of driving, Brown couldn't quite commit to a 40-mile detour on the way back home, but he and the family took the waitress at her word, sold their New Jersey home and moved to Franklin within about a month. The family's first visit to the city was the same day the moving truck pulled into their home in Fieldstone Farms (they now live in Chestnut Bend). It was only appropriate that they would spent their first evening in Franklin at Puckett's on Fourth Avenue.
"We have fallen in love with [Franklin] and have never looked back," Brown said. "We were called to be here, meant to be here, … and this will be where we stay forever."
Brown has lived in multiple cities — he is originally from Ohio — but Franklin has quickly become home for his family and his marketing and "brand incubator" company, BrandMETTLE.
Since 2017, he has gotten involved in multiple local organizations (the African American Heritage Society of Williamson County, GraceWorks Ministries, Unite Williamson, One Generation Away, Friends of Franklin Parks and Church of the City), and he said he has seen common values reflected throughout the community: faith, family, charity, hospitality and love for neighbors.
As someone who shares those values, he wants to get involved on another level by running for a spot on the Franklin Board of Mayor and Alderman in Ward 2.
Brown said working with a diverse client base on various projects through his company has made him a "professional listener," something he believes would transfer well to service in City Hall.
"It's one thing to say that I'm listening. It's another thing to really hear people," he said. "In my experience even before BrandMETTLE, 20 years of doing this, I think you'll see me operate in a very different way as an alderman. We talk about, hey, there's meetings you should come to, but meetings are a hardship for people."
If elected, he would bring topics out to people in the ways he has done in focus groups and marketing meetings for his company, hoping to make community involvement more accessible to the residents of Ward 2.
Brown believes he also brings an understanding of collaboration and teamwork to the table. As a veteran of the Army National Guard, he learned very quickly the importance of "counting on each other and humility."
"That probably has really shaped so much of what I've done so far is just recognizing that I bring something to the table, and I bring some unique skills and bring some unique talents, but that nothing that I've done [is done alone]," he said. "You've got to have a team."
His three areas of focus as an alderman would be to "balance the growth," "support small business and nonprofits," and "enhance resident quality of life."
For the first, he said his goal is to "preserve and protect the Franklin" that he loves.
"We're kind of at this really critical tipping point," he said. "With growth comes change and, being frank, I think the risk of losing the very soul of Franklin and what makes us a great American city."
He said one place to start is to "establish what we believe is the correct rate of growth is and what the right ratio of mix is" and then stick to the plan outlined in Envision Franklin, the city's planning document that informs the zoning ordinance.
"If you look at some of what we've got in the pipeline now, I'm not so sure that that ratio is the appropriate ratio going forward, but we're moving so fast, the development is happening so fast, that we're going to look back four years from now and say, 'Wait a second, what did we just do?'" he said.
He shared that it's also important to look at how growth will impact existing small businesses and nonprofits and how to continue to foster economic vitality, noting that most of the businesses in Franklin are small with 50 employees or fewer.
Beyond a focus on "smart, controlled growth," Brown also has his sights set on ways to improve what's already in Franklin for current residents. He said he's a "huge fan" of Franklin's parks, and he would like to see further connectivity.
"I think we need to connect our neighborhoods, and I also think we need to look at things like Fifth Avenue North, which is right inside of Ward 2," he said. "Envision Franklin had a really great thought towards how we could look at that gateway as sort of a core entry point into downtown, and I think there's huge potential there. It just needs to be explored, and obviously there's some floodplain there."
He also would like to see the Harpeth River better utilized by the city and community, mentioning that a potential partnership between the state and special interest groups like the Harpeth Conservatory and the Cumberland River Compact could lead to the river becoming more usable year round.
"It's crazy; we have this great river that cuts through our city, and yet, it's more of a liability to us than it is an asset," he said. "Inconsistent flow keeps people from being able to use it all the time."
The Franklin municipal elections will include four ward aldermen and an at-large seat on the ballot. Election Day is Oct. 26, and early voting will run Oct. 6-21.
For more information, visit www.WilliamsonVotes.net.