Franklin resident Ruby Lee Smith turned 100 Wednesday and, thankfully, she got to spend her birthday with the people she loves.    
The Oklahoma native moved to Franklin to be closer to her daughter and family. She first lived at Belvedere Commons of Franklin until moving to Franklin's NHC HealthCare facility.    
Smith's family gathered at NHC to celebrate as best they could. Four of her great-grandchildren and two of her grandsons were able to join, with one grandson even driving all the way from Texas.   
With help from NHC staff, they've found creative ways to spend time with Smith during the COVID-19 pandemic. When they couldn't go inside, they would visit outside her window and sometimes use a white board to assist with communication.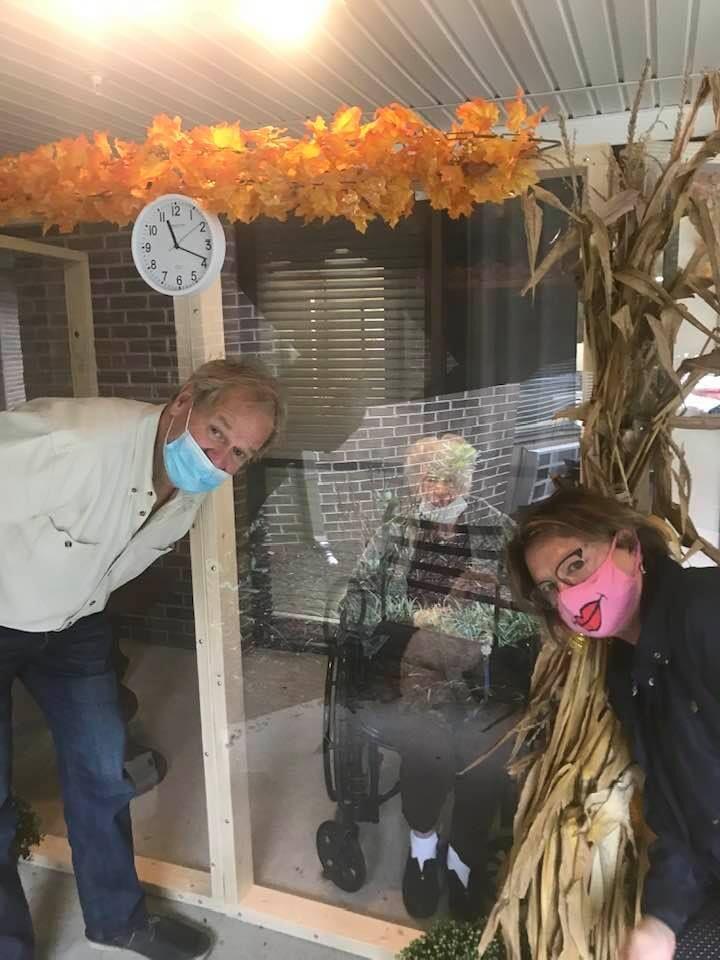 Java, the family dog, is a popular visitor.    
The strength and courage Smith has exhibited during her life give a glimpse at why this spunky woman is celebrating the major milestone.   
The youngest of eight children, she was 16 when her mother died. She also lost a brother in World War II.    
"Mom is one tough lady," Smith's daughter, Sara Postumas, said. "She is doing pretty well. She can't hear very well.    
"It is my husband, Dan, who really takes care of her."   
Smith and her son-in-law have a close, loving relationship. He shared with her a Bible verse (First Corinthians 13:12): "For now we see through a glass, darkly; but then face to face: now I know in part; but then shall I know — even as also I am known."  
"I think of this verse often as we stand outside Ruby Lee's window at the nursing home," Dan Postumas said. "She knows we are there. We smile and wave, and she smiles and waves back, but that is about it. It is a far cry from being able to see her directly, face to face, put our arms around her, reassure her. We cannot even really tell if she knows what is happening. Then again, I am not sure we know what is happening.   
"But, somehow, most of the time, she does not seem unhappy. Maybe because she believes, as we do, in the promise of that verse. The promise that there will be a day in which we will all see much more clearly."   
When Smith had to move into NHC, her son-in-law made sure that she got a room in the front with a window. Being able to see people was important to her.    
On her special day, Smith got to see those people who mean the most to her. All things considered, it was the perfect way to spend her 100th birthday.