Heart shapes have popped up in unexpected places throughout one Franklin resident's life, and during a particularly difficult year for so many, she decided to spread joy to her neighbors by displaying a giant heart in an unusual, yet unmissable place.
Cathy Davis, who lives in Franklin's Berry Farms area, has trimmed a heart shape into her front lawn, hoping to bring smiles to her neighborhood and passersby.
"If we ever needed love, we need it now," she said. "This is the craziest world that I think any of us have ever lived in for many reasons, and I just thought, if I could just put a smile on somebody's face when they drove past my house, that it would be worth it."
She said hearts tend to follow her everywhere she goes, showing up in flowers, vines, her morning coffee, bars of soap.
At first, Davis felt silly creating shapes in the grass, but she decided if hearts have brought her joy, they must do the same for others as well. She's not even sure where the idea came from.
"I can't tell you. I don't know, it just hit me one day," she said. "I told my neighbors because I'm really close with them, and I said, 'I hope this won't embarrass you, but I might mow something in my yard.'"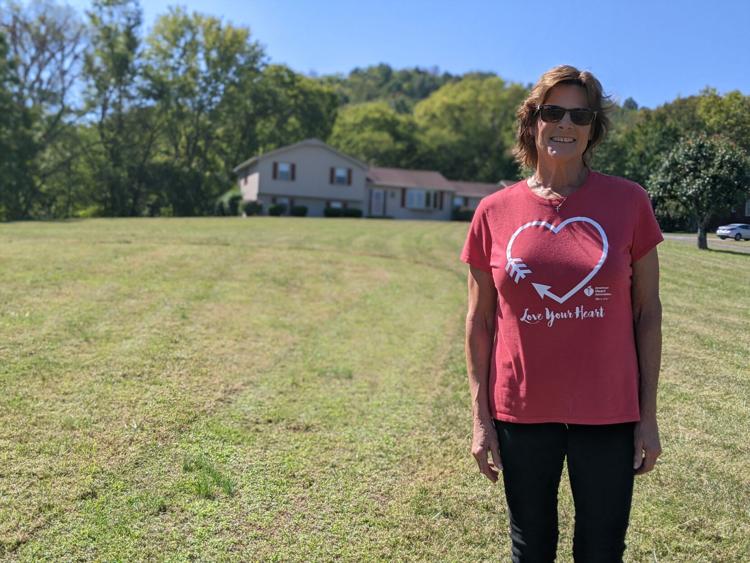 Davis said her neighbors like the heart. A woman driving by Davis' house gave her a thumbs-up out her window, too, so she knows she's put a smile on the faces of at least a few people.
"I hope everybody likes it. It's kind of huge. I have to wonder if people pass by and go, 'There's a crazy person that lives there,' but that's OK," she said. "If they laugh or if they smile or whatever, if for any reason it brings any kind of positivity to them, it's done its job."
This isn't the first time Davis has mowed a heart into her lawn. Years ago, she put giant hearts in her front and back yards, and a friend sent her a screenshot of a Google Maps image of her house — Google had captured the hearts.
Davis said while her goal is to spread joy to others, the joy has come back to her as well as the hearts continue to make her smile. So do the people who are blessed to drive by her yard.
"As (my neighbors and others) pass, I think they have to know that somebody that cares enough to put a big ol' heart in their yard, that I'm giving that to them, that that's kind of my outreach to anybody who can see it," she said.