First Missionary Baptist Church in Franklin is preparing for its annual celebration and march in honor of Martin Luther King Jr. Day with a theme of looking to the future.
Named "Continuing the Dream: What's Next?", the celebration will seek to continue the legacy of the historical Civil Rights leader and build on local efforts towards unity and respect for all parts of the community, particularly last year's Fuller Story initiative, where markers were placed around the Public Square in Franklin to reflect the African American experience in Franklin.
The Fuller Story initiative came about as the local community reflected on the controversy and protests surrounding the Robert E. Lee statue in Charlottesville, Virginia and a pattern throughout the country where local governments grappled with the idea of removing Confederate monuments, which drew attention to Franklin's monument centered in the Public Square, known as "Chip." Members of the community instead took a proactive approach to recognize more of the story by adding to it instead of taking from it.
"That was monumental," said Anthony Pickett of First Missionary Baptist Church. "One of the things that I particularly appreciate from that is not trying to call a division but just adding to the story. … Now, everybody is not going to want to hear the fuller story and everything just because they already have landmarks already laid, but instead of trying to take something down to create a division, leave it up and just tell a fuller story around it."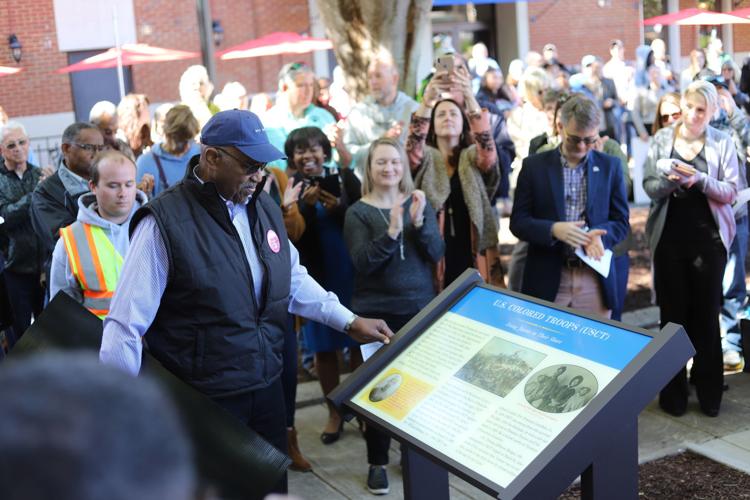 The Fuller Story was a focus of last year's Martin Luther King Jr. Day celebration, so this year, the community will reflect on its triumphs and look towards next steps. Speakers Eric Stuckey, the Franklin city administrator; Marcia Allen, Franklin planning commissioner; and Howard Garrett, minister at Bethel Missionary Baptist Church in Lascassas, will lead the community in continuing this conversation. Kevin Riggs, Pastor of Franklin Community Church and one of the leaders of the Fuller Story initiative, will also address the crowd.
Music with accompany the ceremony from guests Michael Ricks, Quintavious Johnson and the First Missionary Baptist choir, and a recitation will come from Carol Overton. Guests will hear a special song written about the Fuller Story.
Pickett said, to him, one of the areas the community should focus on next is affordable housing.
"There are a lot of people that are just totally getting priced out of homes, even people who have been here all their lives who are selling their homes, but once they sell their homes, they realize that they can't live in Williamson County," he said.
The topic of affordable housing will be on his mind among other topics discussed by the speakers during the march from the church to the Williamson County Courthouse in the Public Square, following the ceremony. Pickett said the march not only reflects the nonviolent movement led by Dr. King, but it also represents his dream — those of any race, gender, socioeconomic background coming together as a community.
"Dr. King always envisioned a beloved community, and I think that march keeps that before us because we have blacks, whites, Hispanics, [and] Asians, and I think that's what the beloved community should look like, remembering still that things are better, but they're not where they need to be," he said.
Ralph Thompson, leader of Green Meadow Church of Christ in Shelbyville, will provide the closing remarks.
The ceremony will begin at 11 a.m. on Monday, Jan. 20 at First Missionary Baptist Church, which is located at 113 Natchez Street in Franklin. Guests are recommended to arrive early to reserve a seat.