The Franklin Special School District Board of Education awarded tenure to 25 teachers, gave a glowing performance review of its superintendent and shared concerns about state legislation during its meeting Monday night.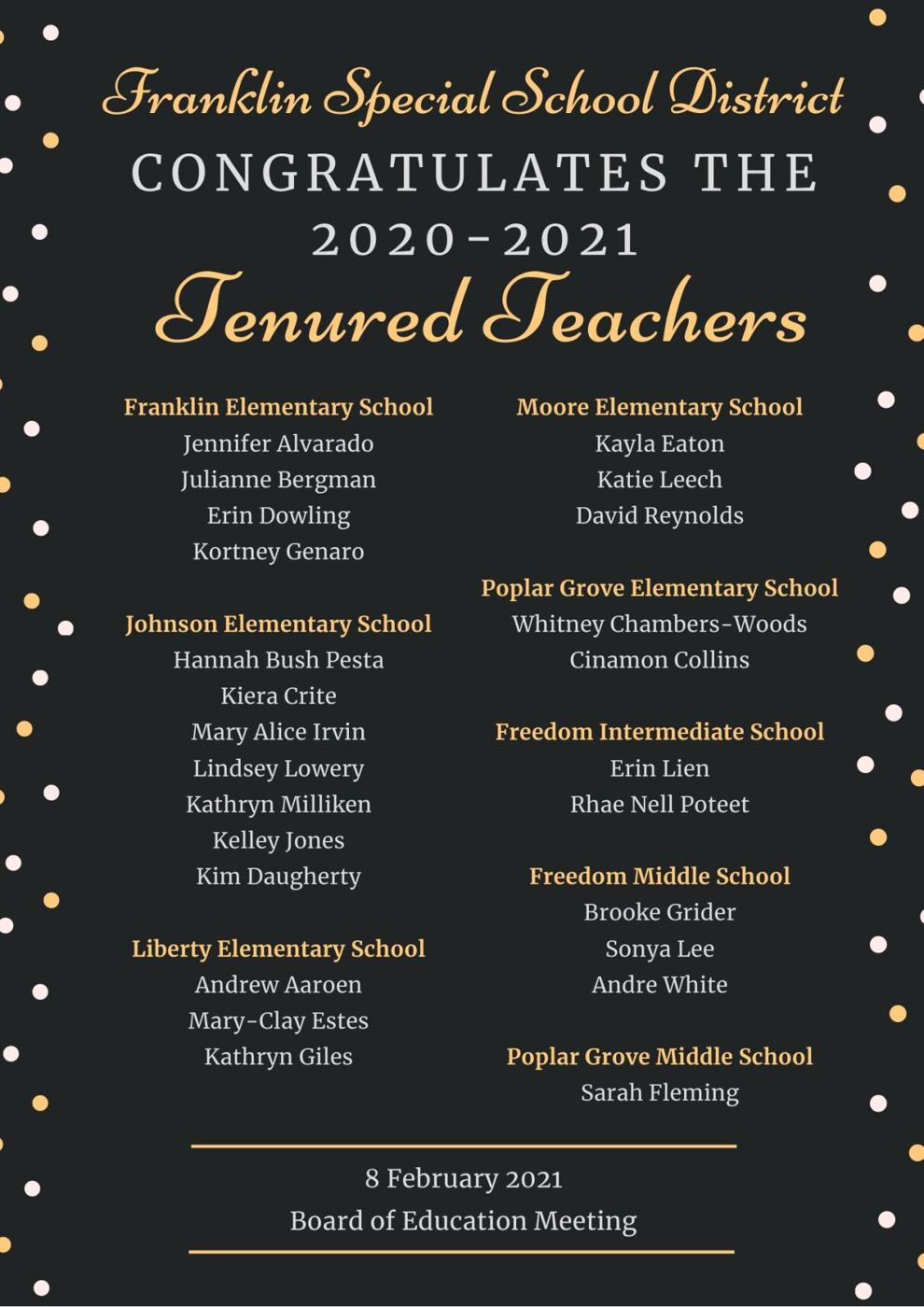 Every February, FSSD school principals recommend teachers to receive tenure, and the board evaluates the superintendent's performance. This year, the board tenured 25 teachers and gave Director of Schools David Snowden a score of 99 out of 100 on his evaluation, awarding 34 of 35 points under the "improvement of student performance" criterion, representing the single missing point. This is up from 96.5 last year.
"You have reminded us once again, in such a difficult year, why sage leadership is so important in the life of a family, and we feel like Franklin Special is a family," board member Allena Bell said to Snowden. "You care for our greatest asset, which is our kids, and we're grateful."
Because of the score, Snowden received a 10% bonus — about $22,000 — and he donated the full amount back to the district, as he has done consistently for the past two decades. He said last year's bonus was used to add water refill stations to the schools.
Snowden outlined the legislation that the Tennessee General Assembly passed during its special session last month concerning education. While the Basic Education Program (BEP), which determines the allocation of state education funds, includes raises for teachers and nurses, and Gov. Bill Lee announced during his State of the State Address Monday night a proposal for additional funds for teacher raises, these funds do not cover teachers the district employs outside those covered by BEP funds or classified employees.
"I can't justify giving certified educators and our nurses an increase without looking and trying to do our best to provide our classified employees with an increase," Snowden said, adding that the district is looking into ways to provide raises for these additional employees, such as using one-time state funds.
Additionally, Snowden mentioned the state-funded summer camp legislation that aims to remedy learning loss due to the COVID-19 pandemic, sharing his concern that teachers will not be willing to work over the summer.
"We hope that many of our teachers will step up and will be willing to teach in these camps, but I think superintendents across the state have echoed the same sentiment when we are looking at these camps in whether or not teachers are going to be willing to step forward and teach in these camps," he said, sharing that the district will send a survey to its teachers to gauge interest.
Board member Robin Newman also expressed concern that parents will not want their kids in school very long or at all over the summer, citing specifically the six-week camp established by the state. Bell added she doesn't believe the state has prepared school districts for the enormity of this task.
"My initial concern is all the preparation that it's going to take to have this run effectively," Bell said. "I saw that they're going to give us a little skin in the game with the teacher pay, but that's clearly not to our level of excellence to support all that they're asking us to do."
Watch the full school board meeting on the FSSD YouTube channel, or learn more about the district at FSSD.org.