Summer reading can sometimes be low on the list of priorities for young students, but the Franklin Special School District Story Bus makes reading an exciting community event and keeps kids coming back for more.
Every summer — except 2020 — the FSSD Story Bus parks outside Franklin grocery stores, stuffed with stories ready to be devoured by students high on the summer spirit. 
On Thursday, in the Kroger parking lot on Murfreesboro Road, young kids hopped into the big, blue bus, eyes wide with the realization that the friends they had met on that very vehicle earlier in the week had returned for more reading time.
FSSD parent Ann Frances Barker had been on the bus three days that week with her daughter and another young boy staying with her family for the summer.
"They do not sit and read like this at home unless I'm holding the book and reading it," she said. "But here on the bus, it's all there is to do."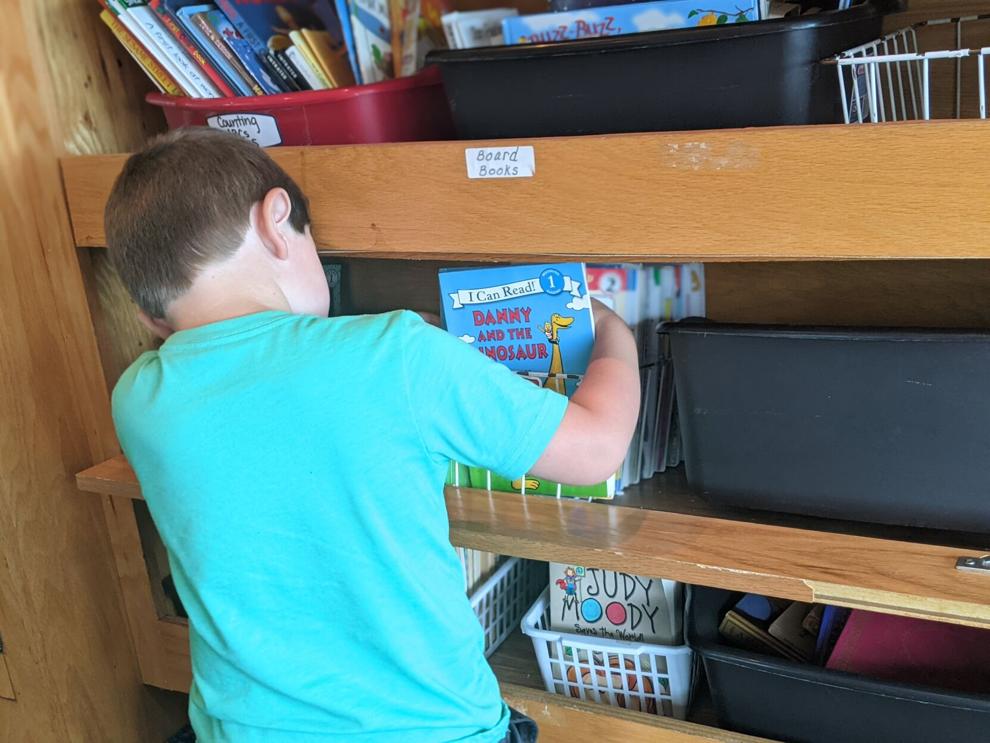 The kids didn't seem to mind that one bit — they voraciously pulled books about Pixar characters and Marvel superheroes from the shelves. Of course, there are chapter books, history books and books about animals such as penguins, sharks and dinosaurs available as well.
The Story Bus has been renovated to include colorful bookshelves, tables, benches and beanbag chairs along the walls instead of traditional bus seats. Children come onto the bus, choose a book or two — or three — and enjoy up to 45 minutes of reading. The kids can stay with an FSSD staff member and read on their own or with help while their parents shop, or parents can stay on board and read together in the company of new and familiar friends.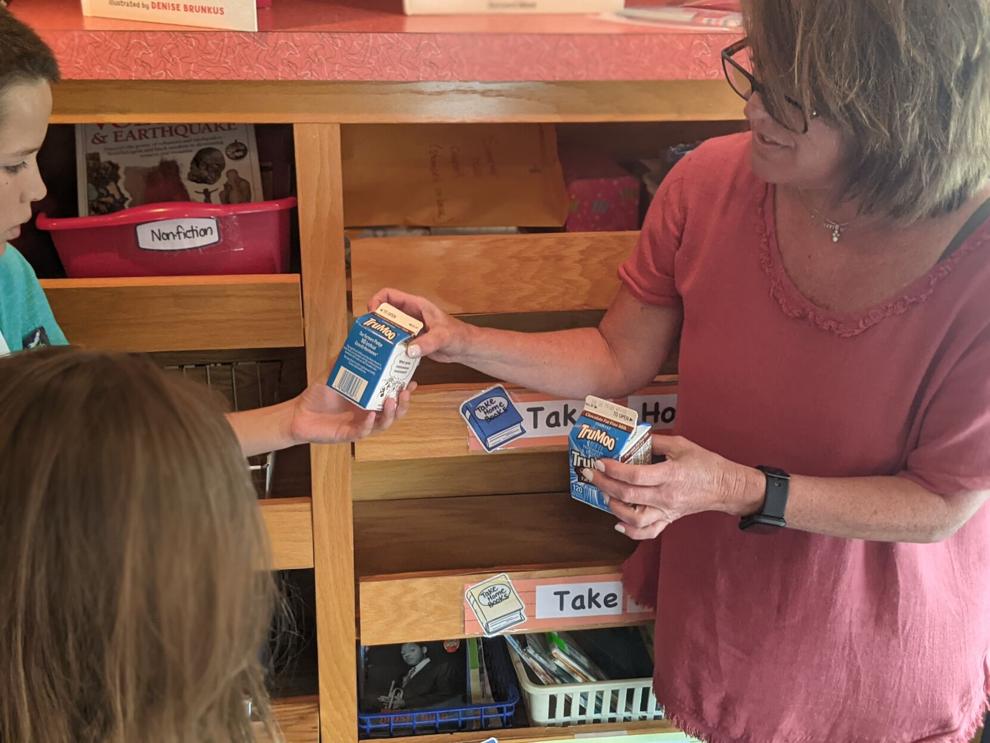 When the 45 minutes are up, families can choose a story to keep from take-home shelves and bins, and every child gets a sack lunch, milk and a Sonic Drive-In coupon.
"Our main reasoning for setting up this was to reach children that didn't have the opportunity to have books in their home," said Joyce Smith, a retired Johnson Elementary School teacher known as the "Story Bus Lady."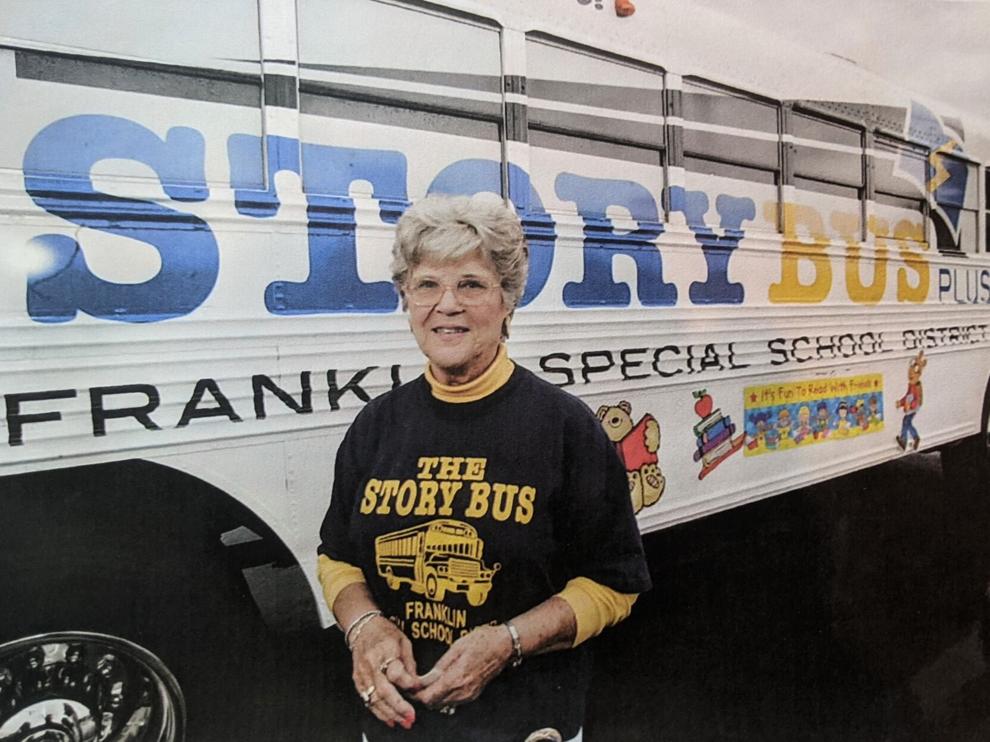 Smith founded the Story Bus in 1999, the year after her retirement from teaching, along with two FSSD partners. She helped operate the bus for years, and she went to visit again on Thursday, where she bumped into Frances Barker, who worked with her on the Story Bus years ago and whose husband Smith taught in elementary school many more years ago.
Smith, in her school bus earrings and Story Bus T-shirt, brought photos from Story Bus history and notes from children, charmingly littered with misspellings. She's read everything from "The Cat in the Hat" to "The Bear in my Bed" to groups of children.
"I liket bears in my bed because the book was funee," read one note from a child named Nick. "Think you for reding the book."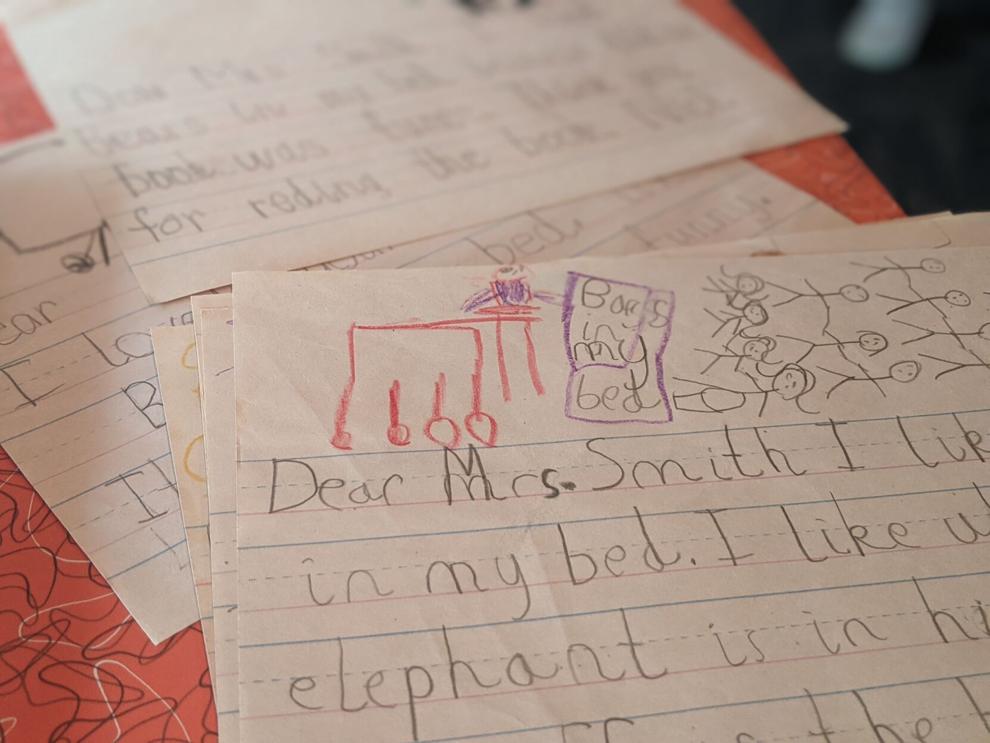 Gina Looney, the reading and response to intervention coordinator for FSSD and current overseer of the Story Bus operations, shared that it's important for children to have positive experiences with reading, and the Story Bus does just that.
"We hope that they have very positive experiences all through the school year too, but the truth is, we're pushing academic standards and rigor. … It's all very intense," she said. "This is a much more relaxed kind of atmosphere, where you get one-on-one attention most of the time (where) an adult will read to you or listen to you read."
Susan Cremin, a Franklin Elementary paraprofessional and one of the Story Bus staff members this year, said most of the kids who visit the bus will come back again and again.
"We even have (students) that bring their own books," she said. "They just like the atmosphere."
Some of the children on the bus Thursday not only got to see the Story Bus Lady, but FSSD Director of Schools Dr. David Snowden also paid a quick visit to the bus. 
When Snowden came to FSSD in 2001 from another school district in Mississippi, the Story Bus was already in its third year of operation.
"I was so intrigued and so impressed by this, I sent the idea to them, and they started one in my former district," Snowden said.
Throughout the summer, FSSD and non-FSSD families can visit the Story Bus from 9 a.m. to noon every Monday at the Independence Square Kroger on Del Rio Pike, every Tuesday at the Columbia Avenue Kroger and every Thursday at the Murfreesboro Road Kroger. 
For updates, follow FSSD on Twitter, @franklinspecial, or Facebook, @FranklinSSD. The district also accepts book donations to keep the Story Bus library fully stocked.