Happenstance Social Lounge in Nolensville hosted a ribbon cutting ceremony Tuesday in partnership with Williamson, Inc., honoring the opening of its first location in Nolensville. 
Happenstance opened just over two weeks ago. The social lounge offers small bites such as charcuterie boards, an evolving wine selection and signature cocktails. 
Founders Amanda and Dylan Guy, who are Nolensville residents, have been grateful for the community support so far.  
"Everyone has been super supportive, and most of all, they're really excited to have a place like this that you can't get anywhere close to here," Amanda Guy said. "We're essentially trying to bring the city experience to the suburbs. We want to give Nolensville kind of what you can get downtown, but just right around the corner."
The couple's vision for Happenstance stems from their love for hosting parties and the hospitality of being around friends.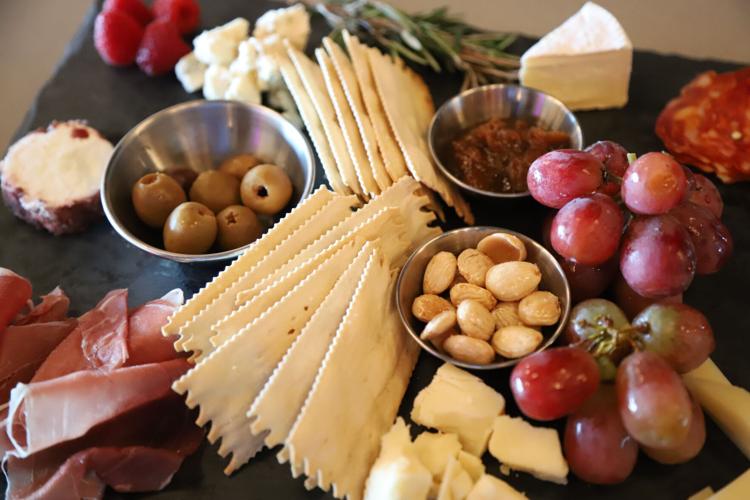 "My husband and I have always been entrepreneurial in mind and spirit," Amanda Guy said. "We love to travel and host. It's always been something we thought about." 
Happenstance was two years in the making before it opened, and even the name was picked with intentionality. 
"Happenstance means by chance," Amanda Guy said. "Where we're located, it's almost like people almost just stumble across us almost by chance. Anything could happen in here. You might come in here with your girlfriends and decide to stay all night, or you're going to go out elsewhere afterwards. The adventure and fun are what is captured in the name."
One feature that Amanda Guy is especially proud to offer at Happenstance is a vast selection of wine from around the world. From just a sample to a full glass, customers can purchase a wine card and then make their selections from a machine.
"They all vary significantly in price," Amanda Guy said. "We wanted to give a vast range for everybody and rotate our selection every month just so we can continuously surprise people." 
Happenstance is located at 7180 Nolensville Rd., suite 1G, in Nolensville. For more information, visit https://happenstancesocial.com.