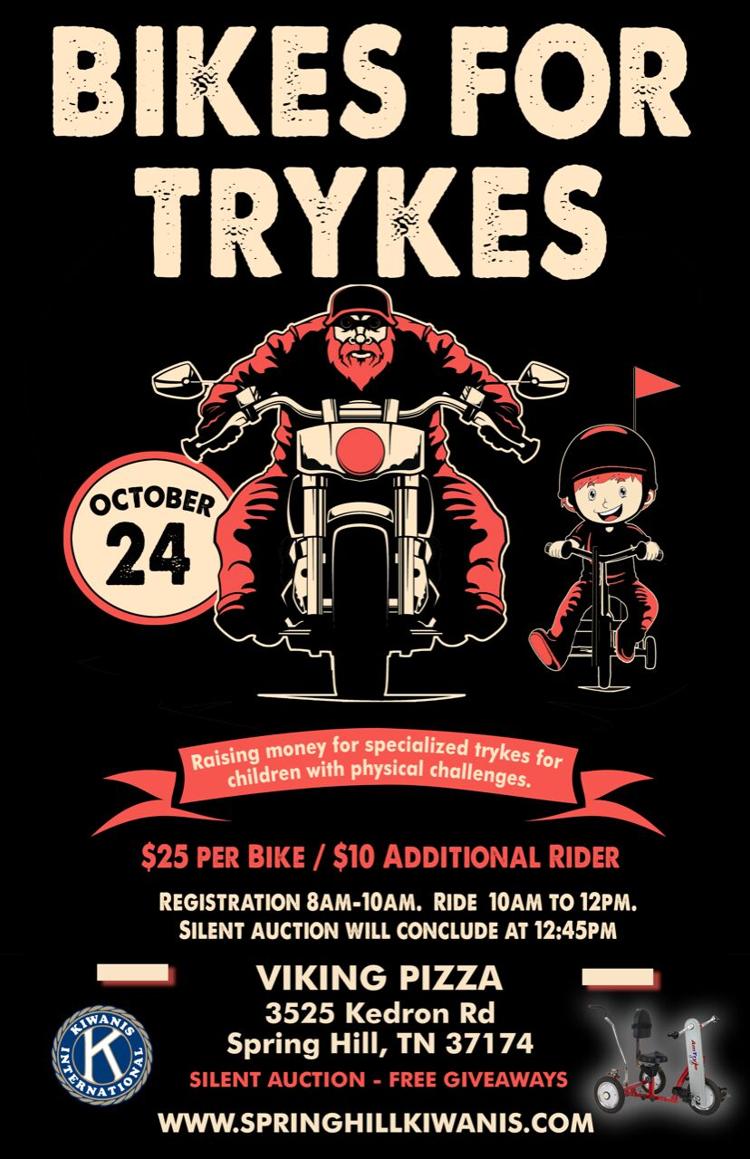 The Kiwanis Club of Spring Hill and Thompson's Station has announced its fall fundraiser, a motorcycle ride called "Bikes For Trykes." 
All proceeds from the ride on Oct. 24 and silent auction will go to support the Kiwanis Club's project to supply custom tricycles (built by AmTrykes) to children with physical challenges. These tricycles are custom-configured to allow any child to experience the fun of riding a bicycle.
Gerald Beckham, local Kiwanis Club president, said it was the response to the club's earlier presentation of a custom AmTryke-built tricycle to a Spring Hill child that made this a must-do project for Kiwanis. 
"Seeing not only the pure joy on this child's face when he received his AmTryke, but also the pure happiness on the faces of his parents' faces, made a great impact on all of the Kiwanians who were there. And our mission statement is 'Kiwanis International is a global community of clubs, members and partners dedicated to improving the lives of children one community at a time,' and this project does just that," he said. 
The Bikes For Trykes Motorcycle Ride will be about two hours long and will wind its way through some spectacular scenic routes in the area. All motorcycle riders and their passengers are welcome. 
Riders are asked to have their driver's license and proof of insurance available when registering. Registration will be from 8-10 a.m. on Saturday, Oct. 24. The ride is $25 for the rider and $10 for passengers. 
The route will begin and end at Viking Pizza, located at 3525 Kedron Rd. in Spring Hill. After the ride, there will be a silent auction at Viking Pizza. Local businesses and service providers are welcome to donate items for the silent auction. 
For more information, go to the Kiwanis Club's website, http://springhillkiwanis.com.  
The Kiwanis Club of Spring Hill and Thompson's Station is a Kiwanis International chartered club since 2006. The club meets at noon on the second and fourth Tuesday of each month. At this time, the club is meeting through Zoom. Go to https://www.springhillkiwanis.com/ for more information.