To say a lot has happened in 2020 is a great understatement, and the final Breakfast with the Mayors event of the year by Franklin Tomorrow was a necessary time of reflection for the community, featuring a special guest who is no stranger to growing through tough times.
Olympic figure skater, author, motivational speaker and Franklin resident Scott Hamilton joined Williamson County Mayor Rogers Anderson and Franklin Mayor Ken Moore Tuesday morning to discuss what they have learned this year — so far.
Both mayors said 2020 has brought its challenges, but for many families, the forced slower pace has been beneficial. They shared that the county and city budgets are remaining stable, and Moore said this year will probably result in some fundamental changes in government operations, but he's not quite sure what that looks like yet.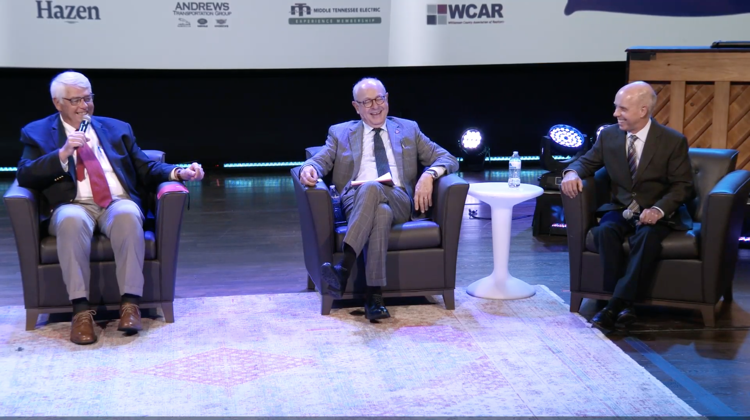 That notion of knowing change will come, yet not knowing in what form, is quite literally the story of Hamilton's life. As he shared some of his story, he explained he's been able to be more present this year, and he encouraged people to do the same in the midst of many changes.
"A lot of 2020 has been that — it's been just to be quiet, be still and to allow those voices around us to be heard — and not just a passthrough," Hamilton said. "It's just a really tempting thing to do, for a day to be just a day that slips by us."
Hamilton has a bit of practice when it comes to weathering unknowns in life. When he was a toddler, his body stopped growing for a time and started showing signs of stress. He had a mysterious disease that doctor after doctor could not explain.
Eventually, he was diagnosed with Schwachman-Diamond Syndrome — when he was an adult, doctors discovered a brain tumor that explained his childhood condition. A doctor told his family to take Hamilton home and allow him to live a "normal life and see what happens."
Another doctor advised the family to take time to relax amid all their stress, recommending they send Hamilton to learn to ice skate at a rink in a new facility nearby to give themselves a morning alone every week.
 "There was the window. There was the next. There was this step forward," Hamilton said, adding that pretty soon, he could skate as well as the other athletes his age, and as mysteriously as they came, his health problems went away.
However, in 1997, Hamilton was diagnosed with cancer. He took it as it came, remaining coachable and treating his chemotherapy sessions as times for reflection — "Am I living the way I want to? Am I living the way I should be?"
"Three years later to the day of my diagnosis, I met my wife. And I was open to that, and I wouldn't have been had it not been for the cancer," he said.
A few years later, the couple had their first child, and a few months after that, doctors found a pituitary brain tumor. Hamilton underwent surgery, and six years later, after child No. 2 came brain tumor No. 2.
What was supposed to be one surgery became nine as things didn't go according to plan. Hamilton said this period of his life ignited his faith.
After six more years, the brain tumor returned again. As doctors were explaining treatment options to Hamilton, all he kept hearing in his mind was "get strong."
"I didn't know what it meant. I didn't know if it meant physically, emotionally, intellectually, spiritually — what does this 'get strong' mean? So, I chose E, all of the above," he said.
He told the doctors since they found the tumor in its infancy, he didn't want to medically treat it yet.
"When it's time, when it starts to do its mischief and it starts to interfere with my overall health, then we can intervene, but in the meantime, I'm going to get really strong," he said. "I hit the gym. I cleaned up my diet. I started reading. I started getting into the Word. I started devoting myself into my faith. And I watched this tumor shrink and shrink and grow and shrink, … and I've never had to pull the trigger on treatment yet."
He shared a quotation from Olympic gold medalist speed skater Eric Heiden that has stuck with him: "It's not the events in our life that define us; it's how we respond to them."
"I always remember that, because it came out of a great deal of success for him. It wasn't failure for him," Hamilton said.
Similarly, he said his wife once defined joy as not "the lack of fear and suffering" but "how you go through it." He encouraged the Williamson County community to take this approach in determining its next steps forward.
"We're in an election cycle, which has become really animated — I guess that's the word I could use here — where there's a lot, we feel, at stake," he said. "But still, God is on the throne, and we're going to be OK because, as long as we love the person standing directly in front of us, we're doing the best we can to change our world now and forever."
Looking ahead at 2021, Moore said one of his next steps will be "focusing on those people maybe that have been left behind," mentioning specifically those struggling with mental health.
"I love Scott's message that when you fall down, get back up," he said. "But (to) add a little bit to that, … when you see somebody fall down, and they can't get back up, as a community, let's lift them back up and continue to grow this community as a place where everybody can have opportunities to excel and live the quality of life."
Anderson also shared his confidence that the Williamson County community will make it through the difficulties caused by the COVID-19 pandemic.
"Everything we do is through people and through good leadership," he said. "So, [2021] will be a challenge, I'm sure, the first three to six months, but I'm convinced we'll weather the storm, and we'll come out on top because of the people we've got in our community."
To learn more about Franklin Tomorrow, visit FranklinTomorrow.org. To tune into Hamilton's latest venture, the "Live Your Days" podcast, go to LiveYourDays.com.