This year has been a particularly hard one for teachers, and 95.5 WSM-FM Nash Icon and Academy Sports partnered to recognize one teacher for her passion and hard work Thursday, awarding her with an "Amazing Teacher Recognition" certificate and a $1,000 Academy Sports gift certificate.
Megan Lechner is a special education teacher at Page High School in Franklin. She teaches Transition 2, which equips special education students with life and job skills before high school graduation.
"Ms. Lechner is a dedicated and compassionate teacher. She truly goes above and beyond to give her students a wonderful educational experience," Page High Principal Katie Hill said. "The pandemic, while challenging, has not deterred Ms. Lechner from helping her students reach their potential. She has worked diligently to create innovative solutions to these obstacles, and her students are benefiting tremendously. Page High is so proud of Ms. Lechner, and we are thrilled to see her commitment to excellence recognized."
Lechner said her friend, Karyn Oster, who nominated Lechner for the award, told her they were just going shopping at Academy Sports when they were approached by a store employee who began to share about the award.
"I don't think I've ever been surprised like that," Lechner said. "I woke up in shock still. It was just really sweet of my friend to think of me, and a big thank you to Academy for doing that because that's really large."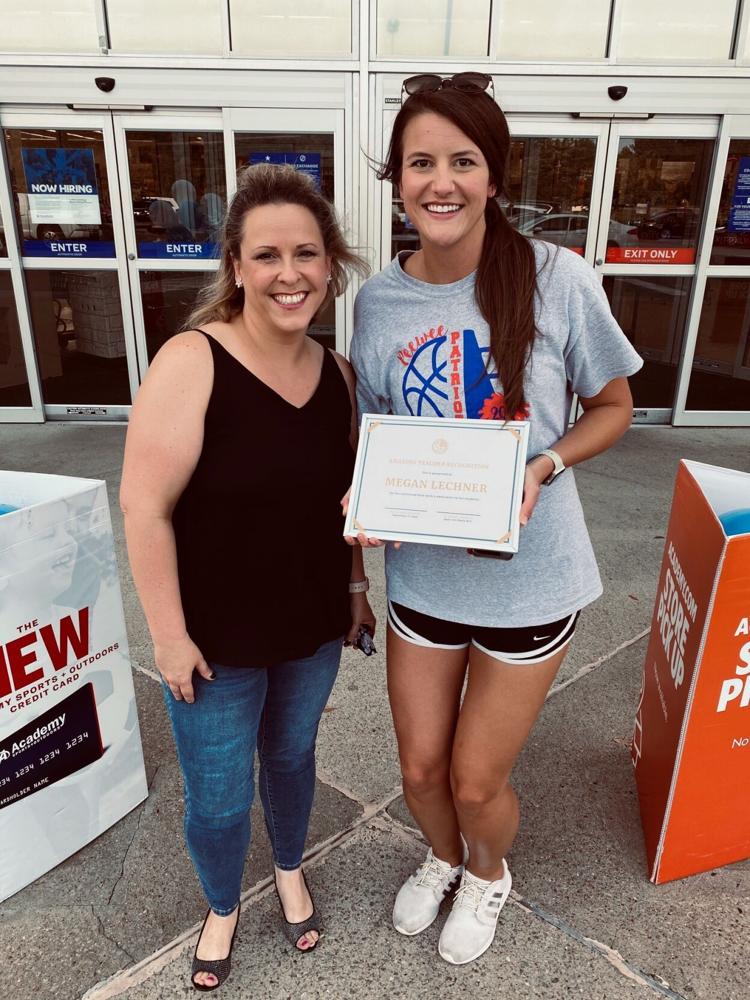 Oster said she recently moved to Franklin from New York and was introduced to Lechner through a friend and was immediately taken by her passion for her job.
"She's always talking about her 'kiddos,' as she calls them," Oster said. "You could just see her pride in her expression when she's talking about them and that she really wants them to be safe, and she wants them to stay healthy, and she wants to do what's best for them."
Oster said as soon as Lechner received the gift certificate, she was excited to buy yoga mats for her students.
"We started doing yoga and stretching every morning, so I'm buying everyone yoga mats and probably different games we can play outside because being outside is one of the safest places we can be," Lechner said.
She has 10 students this year, three of whom are at home and participating in class through Zoom. Lechner said it's been a difficult year because many of her students are in the at-risk population for COVID-19, so she's doing her best to keep them safe while trying to provide them with the experience the Transition 2 class promises.
"Typically, my students get to go out in the community, and I teach them job skills. Typically, we get to go to the grocery store and practice grocery shopping, and we go to the rec center and learn how to access a gym, and we go to different businesses in the community, and they work and learn different job skills," she said. "This year, we've had to adapt and change all of that and do all of that stuff in the classroom at school."
She said her students have helped sort and deliver mail in the school, put barcodes on textbooks in the library and other activities throughout the campus. She said she wants her students to know that, "even though this year is different, we are still a family and we are getting through these crazy times together."