The Well Outreach, Inc. and John Maher Builders recently announced plans for a community drive-in concert featuring four-time Grammy Award-winning duo for KING & COUNTRY.
The concert will be held Friday, Oct. 16, at one of Middle Tennessee's premier event venues, the historic Oaklawn Mansion in Spring Hill. Gates will open at 5 p.m. with music at 7 p.m.
Limited tickets are available for $100-$350 per vehicle with a maximum carload of six persons. They may be purchased by visiting www.forkingandcountry.com or springhillwell.org. No trucks or oversized vehicles will be allowed.
for KING & COUNTRY is joining hands with The Well, a community-based nonprofit food pantry serving southern Williamson County and northern Maury County, to raise critical funds to help fight hunger. Brothers Joel and Luke Smallbone are adding the Oct. 16 hometown community performance to their 2020 TOGETHER – Live Tour to give friends and families a chance to support those in need close to home. 
Historic Oaklawn, just down the road from where the brothers grew up in Franklin, provides a safe, socially distanced setting where the entire community can gather to support neighbors while enjoying one of America's most sought-after duos in Christian pop music.
"The Well has a rare opportunity during these unprecedented days to partner with Luke and Joel Smallbone, creators of for KING & COUNTRY and the recently released single 'TOGETHER' — a song of hope for all of us," said Shelly Sassen, executive director of The Well Outreach, Inc. "Hard times impact everyone economically, spiritually and physically, which is why The Well Outreach, Inc. was established in 2006. This is true now more than ever. With requests for food pantry services increasing at startling rates over the past several months — as much as 130% and a 73% overall increase in services — our efforts to replenish The Well must meet the challenges ahead."
Local home builder John Maher Builders is collaborating with the mission of The Well. The company presented a $15,000 check to the nonprofit on Tuesday towards the upcoming event.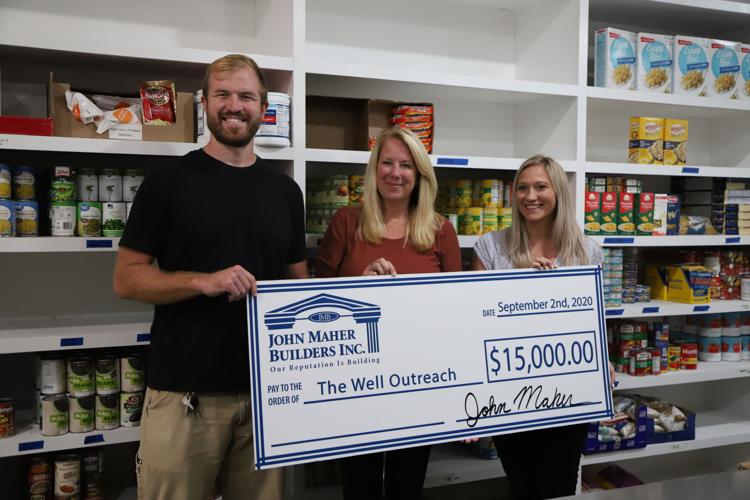 In 2019, the company co-hosted the first annual Whole Hog Festival with more than 4,500 attendees. In response to COVID-19, organizers have decided to shift to an event that will better promote safety for the community while raising much needed funds to keep The Well Outreach programs moving forward in the year ahead.
"Our company is honored to work closely with The Well once again as we continue to emphasize that it takes a community to feed a community," said John Maher, founder and president of John Maher Builders. "The October 2019 Whole Hog Festival was a huge success. But, given the unusual circumstances of 2020, I can't think of a better way to spend a fall evening in gorgeous Middle Tennessee than to safely gather outdoors to celebrate our families and friends with a performance by for KING & COUNTRY, all to benefit this vital organization.
"We know the hearts of Middle Tennesseans are great, which is why we expect tickets to sell quickly."