Tom Lawrence and Monty McInturff took home the biggest titles of the night during the 14th annual Exemplary Community Volunteer Awards, hosted by Franklin Tomorrow and sponsored by USI and Grange Insurance.
The ceremony was streamed virtually Tuesday evening, but Lawrence, who co-hosted the event, was with Franklin Tomorrow Executive Director Mindy Tate in person at Rolling Hills Community Church upon the recording of the ceremony, where he accepted the Charles M. Sargent Legacy Award.
"I thank you. There are many other people that deserve this, but Charles is probably getting a good chuckle himself right now," Lawrence said.
Originally named the Business Legacy Award, this award was renamed to honor former Tennessee House of Representatives member and Williamson County Commission member Charles Sargent following his death in 2018. Months before his death, Sargent was himself a recipient of the award.
"During Tom Lawrence's more than 50 years as the voice of Williamson County on the local airwaves, he's offered airtime to those with whom he didn't agree, but in the spirit of kindness and community," Tate said, reading from a submission identifying Lawrence for the award. "He has served on countless boards, quietly funded dozens of nonprofit efforts, and most likely, all with a smile on his face."
McInturff was another one of the few people at the event in person. He accepted this year's Anne T. Rutherford Exemplary Community Volunteer Award, named after a Franklin resident and longtime community volunteer.
"(Monty) humbly serves when asked and leads with his heart for community," Tate said. "When Franklin Tomorrow created Friends of Franklin Parks in 2011, Dr. Monty McInturff led the organization from its infancy forward to becoming its own successful nonprofit, alongside a great board and a groundswell of community support."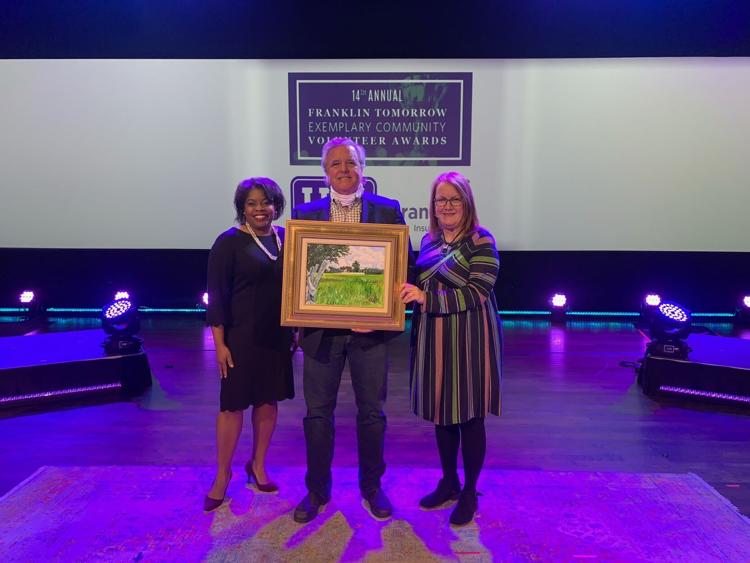 In addition to his work with Friends of Franklin Parks, McInturff was recognized for his work with the Tennessee Equine Hospital and Iroquois Steeplechase.
"I love this community so much, and I love you guys, and I'm so thankful for the opportunity to serve," he said tearfully.
Lawrence presented a new award this year: the Neighbor to Neighbor Award, which was given to Danny Cotton for his work with local churches, Dana Hardy for her work with End Slavery Tennessee and The Westhaven Foundation, and Catering & Events by Suzette for owner Suzette Lane's and her team's generosity within the Franklin community this year.
Allena Bell, president of the Franklin Tomorrow board of directors, presented the Family Impact Award to the Stinson and Baughman families for their volunteer work with One Generation Away and to Robin and Anna Lapre for their volunteer work with the Williamson County Animal Center.
Bell also presented the Board Service Award to Cassie Jones, owner and publisher of Southern Exposure Magazine and the Williamson Herald and member of Franklin Tomorrow's board, and presented the Notes of Kindness Award to Ronald Ligon, who sent messages of encouragement to members of the community throughout this year.
"I'm so excited for us to be able to once again have the opportunity to be able to say thank you and for us to recognize so many unsung heroes who would not want to be recognized," Bell said. "We want to showcase to the community that this work is being done in hopes that the community will catch fire and say that they want to participate as well."
Goodall Homes received the Corporate Volunteerism Award for its work with Habitat for Humanity in both Williamson and Maury counties. Habitat estimated that their donation is valued at more than $200,000 and represents more than 5,000 service hours.
Tate presented the Youth Initiative Award to Anissia Fleming for her work with United Way of Greater Nashville's Raise Your Hand tutoring program and Olivia Wolfson for her support of Franklin High School's Threads of Care nonprofit.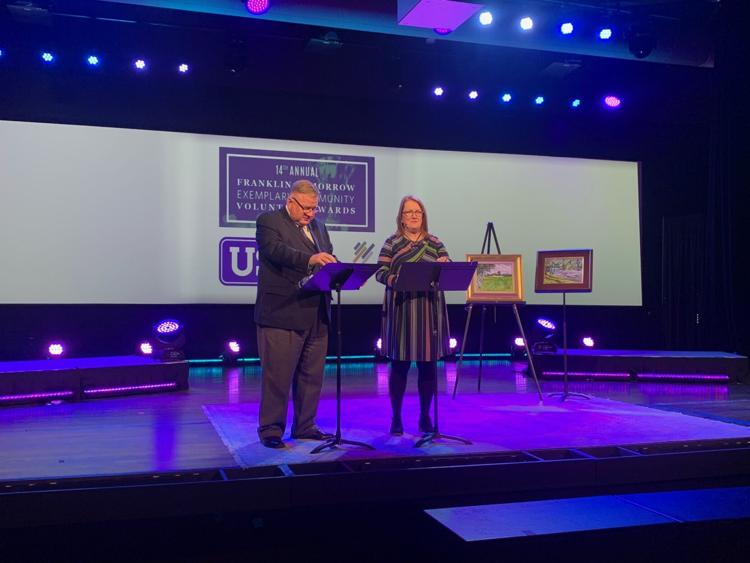 Lawrence presented the Emerging Leader Award to Lathram Berry for her service with the Hard Bargain Association, Elizabeth Pistole for her work with Divas and Dudes, and Brooke Wanser for her service with the Friends of Franklin Parks, Franklin First United Methodist Church's giving garden, GraceWorks Ministries and the Salvation Army.
Finally, the four recipients of the Volunteer Spirit Award were Larry Darnell for his service with GraceWorks, Lorrie Graves with the Downtown Franklin Rotary Club, Jennifer Leonard for her work at My Friend's House and Jennifer Morrison for her service with The Needs of Our Kids (N.O.O.K.).
Franklin Tomorrow will give a donation on behalf of each awardee to the nonprofit of their choice.
During the program, Franklin Tomorrow honored 60 locals who died over the last year and a half, and in collaboration with Williamson Memorial Funeral Home & Gardens, Friends of Franklin Parks and an anonymous donor, the organization will memorialize all 60 with pavers to be installed with their names at the entrance to the TSC Arena at the Park at Harlinsdale Farm.
While 20 volunteers were recognized with awards, Franklin Mayor Ken Moore encouraged the rest of the community to continue to give back through service.
"We're blessed that Franklin is our home, Williamson County is our home, and opportunities we have surpass so many other communities, but don't forget that despite how blessed we are, we have those that are still in need," he said. "We have those that are in need because of mental health issues. We have those in need financially. We have kids that will go hungry. So, we've got plenty opportunity in the rest of 2020 and '21 and moving forward to give back to our community."
For more information on Franklin Tomorrow, visit FranklinTomorrow.org.