Visitors are rare in school these days, but Thanksgiving is a special occasion.  
It's so special, in fact, that Franklin resident Laura Turner recently brought three of her turkeys to Berry's Chapel Preschool to teach the students all about the birds.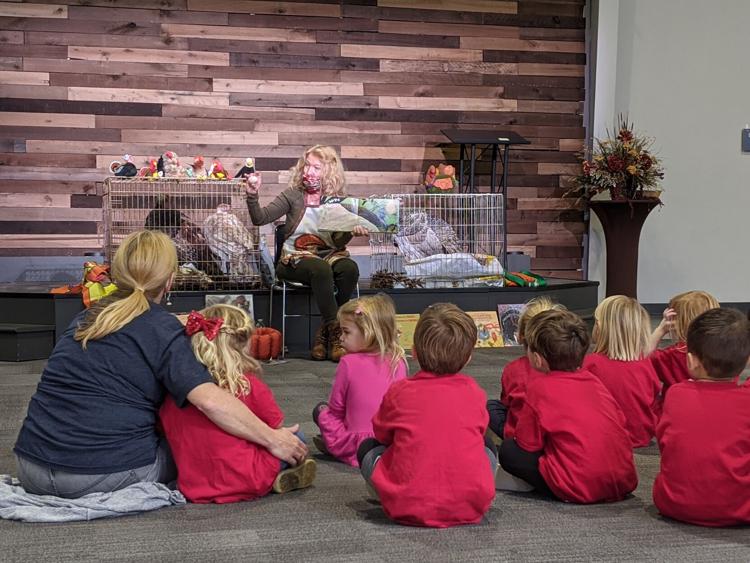 For three decades, Turner has brought her turkeys along on a school tour throughout Williamson County. Turner, who has become known to some as "the turkey lady," teaches students about the birds and how to treat them humanely.   
"This humane education lesson started decades ago and has become a tradition in some schools. As we all are learning, we must adapt and adjust traditions using an abundance of caution," Turner wrote in an email. "Children should be encouraged to respect animals, especially ones providing food and a fascinating history lesson." 
Turner brought along her turkeys — Jake, June and James — to teach the children various facts about turkeys. The group was very interested in a wild turkey's ability to fly. Turner also showed them a turkey egg and different kinds of feathers, and read "'Twas the Night Before Thanksgiving." The kids even learned two new words: snood and wattle.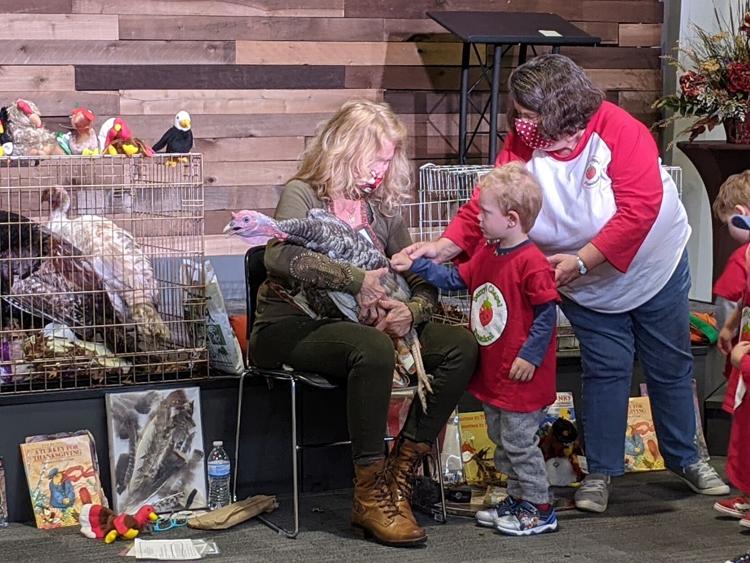 With older kids, Turner typically shares the fact that Benjamin Franklin expressed in a letter that he thought the turkey "a much more respectable bird" than the bald eagle, which had been chosen as the United States' national bird. According to The Franklin Institute and contrary to popular belief, however, Franklin did not propose that the turkey, which is native to North America, become the national bird. 
Throughout her recent lesson, 56 children, split into five distanced groups, giggled at one of the turkeys pecking at something in his cage and danced along to a musical, animatronic turkey. Some children whispered to their friends while pointing at the birds; others looked intently at Turner as she read her storybook. 
"These visits always bring lots of gobbles and giggles," Turner wrote. 
At the end of the lesson, Turner took young James out of his cage, and the students lined up to stroke his feathers with two fingers, using "turkey tiptoes" to calmly approach the bird.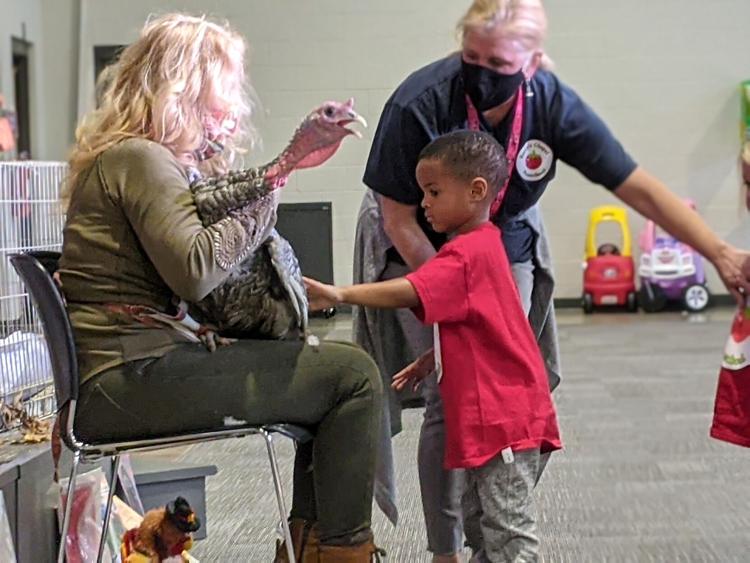 Briana Froud, the director of the preschool, said that because of the pandemic, visitors hadn't been allowed in school. But she was able to make accommodations. 
"We went through our list of things that we normally do and tried to figure out some things that we could continue to do while remaining socially distant from each other," Froud said. "She was so excited because we're the only school she's doing this year, so I felt like — we're blessed with this big space — there was a way that we could, within our space, keep our kids safe but still let them have some of the fun things that they haven't been able to do this year."