Growth continues to edge south from the Cool Springs area of Franklin, as developers seek to build a new mixed-use apartment and business complex off South Royal Oaks Boulevard. 
The Vintage at Watson Glen, containing approximately 21 acres located east of South Royal Oaks and south of Oak Meadow Drive, is currently zoned for commercial development. Developers are seeking a mixed-use designation, with the hopes of constructing 241 multi-family homes, businesses and restaurants. 
Office space is listed at 4,420 square feet, while space for restaurants is listed at 7,900 square feet, with 586 parking spaces required on initial development plans. Nearly 11 acres of the land is also slated to be used as park space, and developers would be required to pay over $1 million in park impact fees.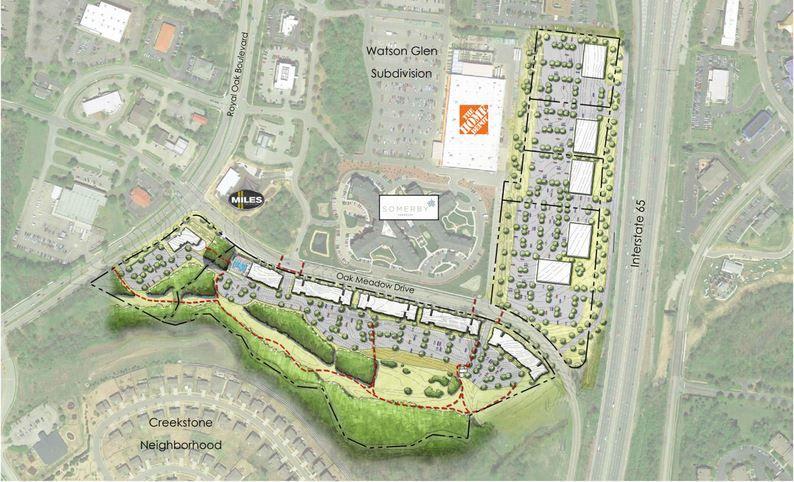 An additional 170,000 square feet of office space would be developed off Riverside Drive, which runs perpendicular from Oak Meadow, behind the Home Depot. 
The Royal Oaks corridor of Franklin was largely developed in the 1990s, city leaders said, with not much in the way of updates since. 
Greg Gamble of Gamble Design Collaborative spoke Tuesday at the Franklin Board of Mayor and Aldermen meeting about the project. He represented the development team, which includes apartment developer TDK Construction, homebuilder Bob Goodall and E. Warner Bass, formerly the managing partner of Bass, Berry & Sims PLC.
A few citizens weighed in via email with fear about traffic increases should the development proceed.
Developers have completed a traffic study and plan to implement road improvements, Gamble said. Those include an additional turn lane from Royal Oaks right onto Highway 96 and adjusted signal timing, as well as making turn lane improvements at Oak Meadow and Royal Oaks.
These and other major capacity improvements will be resolved in the first phase of development, Franklin City Engineer Paul Holzen said, but there was some debate Tuesday about the later timing of an improvement that could be crucial to an accident-heavy stretch of Highway 96.
A 5-foot grass median has been proposed along the southern border of Highway 96, fronting Shoney's and the Shell gas station, similar to the one which runs along most of the road to the west.
Gamble said there have been 105 total crashes, with 95 property damage accidents, in the past two years in that location, often due to people cutting across lanes. 
Alderman Dana McLendon said he would like to see such safety improvements completed first. 
Alderman Margaret Martin said that after a previous proposal for apartments with no road improvements, she had made up her mind to vote against this one. But after looking at the plans, she said she thought it was the best use for the property.
A public hearing on the development will be held July 14.