Downtown Franklin will celebrate Small Business Saturday on Nov. 27, giving Williamson County mom-and-pop shops an opportunity to promote themselves to the local community.
Franklin's Main Street contains a multitude of small businesses ready to serve new and old customers alike. The celebration takes place after a challenging year for many businesses in Williamson County.
Twine Graphics, a design and screen-printing company whose retail store is located on downtown Franklin's public square, weathered the coronavirus-caused complications. 
"COVID definitely derailed a lot of momentum I know a lot of small businesses had," said John Bond, co-owner and founder of Twine Graphics. "We had to do a whole lot of rethinking and pivoting. Currently, the supply chain disruptions have really affected the types of items we can even sell our clients."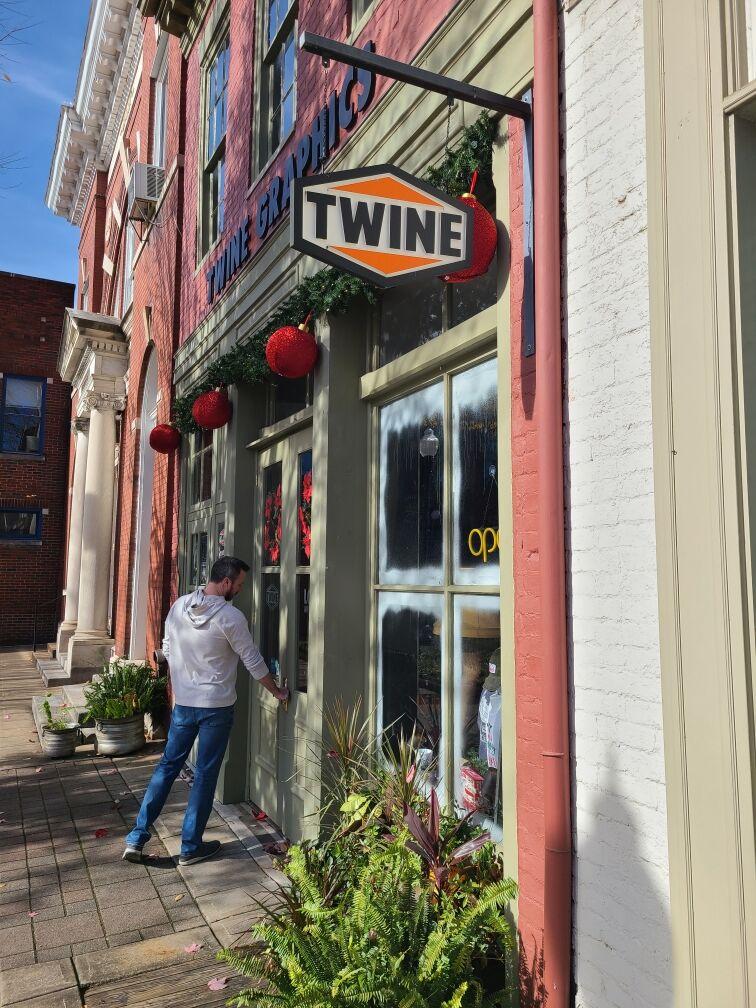 Bond started Twine with co-owner, founder and college roommate Brandon Hagan. They shared a visionary goal of starting a graphic design business during their undergrad years at Western Kentucky University. Now, over a decade later, the pair's college dream is a reality.
Bond believes Twine offers more to Williamson County than just unique designs and products. His small business, like others downtown, is a large part of what establishes Franklin's personality.
"I think the importance of small businesses, especially in the local community, is huge," he said. "We all support each other, and we are really the fabric of the area of Franklin. We are the reason for the growth and the economic vitality and what's driving people to travel here and shop in downtown. So, it'd be a shame to lose that charm and that draw if Main Street was all corporate, giant, big-box stores."
While franchises and international chains can be found on Franklin's Main Street, locally owned businesses still largely line the road. Many believe it's what's best for Franklin, and a 2018 study by Civic Economics backs up that claim. It said 30.4% of a small business' revenue stays within the local economy, while that rate drops to 13.2% for a chain retailer and down to 3.9% for a remote, online store such as Amazon.
This Saturday, Twine Graphics Retail is offering 10% off all home goods and consumables and 20% off of apparel. A multitude of other Franklin businesses are offering discounts and deals Saturday as well.
Olivia Olive Oil, owned by Christi Lassen, is taking 15% off everything in store. It's a sacrifice made in earnest by the Franklin-based olive oil and vinegar retailer that sources its product from all over the world.
"[Small Business Saturday] is the only time we do that," Lassen said. "We are so small that that's a very big sale for us."
She said customers get a personal touch when they buy from her rather than from big box stores such as Walmart or Target. The relationship between customer and business is more symbiotic.
"It's a blessing to be here," she said. "It's an honor to be able to have the store and for the community to support it. And also, in return, we get to support the community in a much more personalized way. Obviously, big business can do it in a bigger way. We can do it in a more personal way."
Lassen, who moved to Williamson County from California years ago, is thankful for those business owners who came before her and made Franklin the hub of local business it is today.
"I'm so grateful for the people who came before I was ever here and did the work to create this beautiful town and laid the foundation for historic downtown Franklin," she said.
She added that she was grateful for the community's support.
Here are more of the downtown Franklin stores offering deals on Saturday:
• Onyx & Alabaster: Get a $25 gift card when you spend $250. Open 9 a.m.-7 p.m.
• Puckett's and Americana Taphouse: Offering their annual holiday gift card sale. Gift cards are valid at any A. Marshall Hospitality location. Buy $100 to get a $20 bonus card, buy $250 to get a $50 bonus card, buy $500 to get a $125 bonus card or buy $1,000 to get a $300 bonus card.
• Wilder: 20% off all clothing from 10 a.m. to noon on Small Business Saturday.
• POSH: 25% off all gift cards and 15% off all items.
• Heylee B's: $20 off purchases of $75 or more (Online code: GET20).
• T. Nesbitt and Co: 50% off holiday ornaments. Also serving wine spritzers.
• Frothy Monkey: Coffee, wine and great gift options for holiday shopping.
• Franklin Road Apparel: Open from 9 a.m.-9 p.m., 20-50% off select items. Free Apolis Global Citizen reusable tote with $250 purchase. Free gift wrap with purchase.
• Vue Optique: Offering a $100 gift certificate to use towards prescription eyewear/sun wear for those without insurance.  
• Kilwins: Open 10 a.m. until 10 p.m. and running a fudge special: buy two slices, get a third slice free. Also offering chocolate Santas and great gifts for the upcoming Christmas season.
• Vinnie Louise: Every purchase enters you to win a gift basket worth $500.
• CTGrace, a Boutique: Buy any denim, and your entire purchase is 20% off.
To help shoppers get to downtown Franklin on Saturday, the Franklin Transit Authority and Downtown Franklin Association have also partnered to offer the free Hop & Shop Trolley. Shoppers can hop on the trolley at The Factory at Franklin from 10 a.m. to 5 p.m.