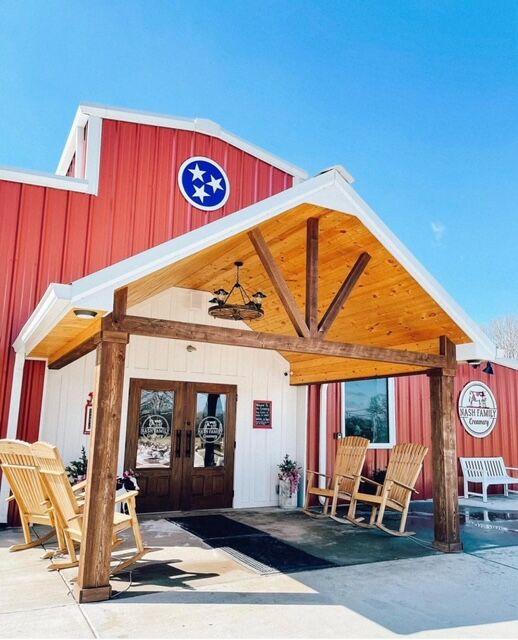 Nash Family Creamery opened in September in Chapel Hill, priding itself on making the best ice cream and food for customers in Middle Tennessee with a family tradition that goes back more than 90 years. 
Nash's ice cream is made in small batches with the highest-quality ingredients. There are 20 delicious flavors served at a time at the creamery with to-go pints and half gallons available. 
Cody Nash is a fourth-generation dairy farmer who moved to the area in 2014 with his family. After visiting several dairy farms and watching production, he decided to open the creamery in September — no small feat during the COVID-19 pandemic. 
"I believe to some degree a lot of people decided to find rural places to visit. The pandemic might have helped our business," Nash said. "It has been good moving to a place that wants you to succeed." 
Nash has plans to expand to cheese production and has ordered carts to sell ice cream remotely. He also has dreams of larger projects, like a stage for music, pavilion and an observatory deck to watch the cows being milked. On Saturday, April 10, the creamery will host a spring market day with live music on the lawn with the Rocky Valley Cloggers. 
Nash Family Creamery is indeed a family business. Nash's mother works in the creamery and his dad on the dairy farm. His sister is an agriculture advocate connecting farmers' stories. 
The Nash family has the highest standards when caring for their animals. Cows are milked three times a day and housed in comfortable barns out of the weather elements. Quality feed is grown on the farm and mixed with other nutritious ingredients balanced by multiple nutritionists to ensure the herd is kept healthy.
"I invite the community to take a trip out to the country and visit us. We have plenty of outdoor seating and social distancing at the creamery," Nash said. 
While Nash farms might be new to Tennessee, they have been in business since Wallace and Ida Nash started the business in 1929 in central California. The move to Tennessee in 2014 came due to a shortage of water and falling prices. The family searched for greener pastures and found property in Chapel Hill. 
The entire Nash family, their employees, cows, tractors and cow milking parlor all made the move from California. The process took more than a year, as the cattle had to be moved in stages. 
Nash Family Creamery is located at 4019 Highway 41A in Chapel Hill. Visit https://nashfamilycreamery.com/ for more information.