Battle Ground Academy has big ideas to give back to the community and to the Earth and is beginning to watch some of them grow. 
Last year, the school's sustainability club gave over 200 pounds of vegetables from its new "giving garden" to GraceWorks Ministries in Franklin, and this year, the group has its sights set on greenhouses, composting and zero-waste Wednesdays, expanding the vision of one small club into school-wide efforts. 
A few years ago, BGA's gardening club spent its time in a small on-campus herb garden, which provided seasoning for the school's cafeteria. Now, the group has widened its scope, rebranded as the sustainability club. 
The club is utilizing a 22-acre property for a full-fledged vegetable garden, which produced more vegetables in its first season than the school knew what to do with. The students, together with faculty sponsors Kris Klausner and Ray Blair, decided to give some of their crop to a local charity. 
This year, Klausner and sophomore Kate O'Hara, president of the club, are focusing on continuing these efforts while incorporating additional sustainable practices into the school's operation. 
"We're kind of in a dream phase right now, where we're dreaming about what are all the possibilities we could do over there, but we're kind of funneling it through … what we call 'The BGA Way,'" Klausner said, reciting the four pillars of this motto — respect, compassion, accountability and resilience. "We're constantly pushing those character traits, and we feel like this really fits that really well."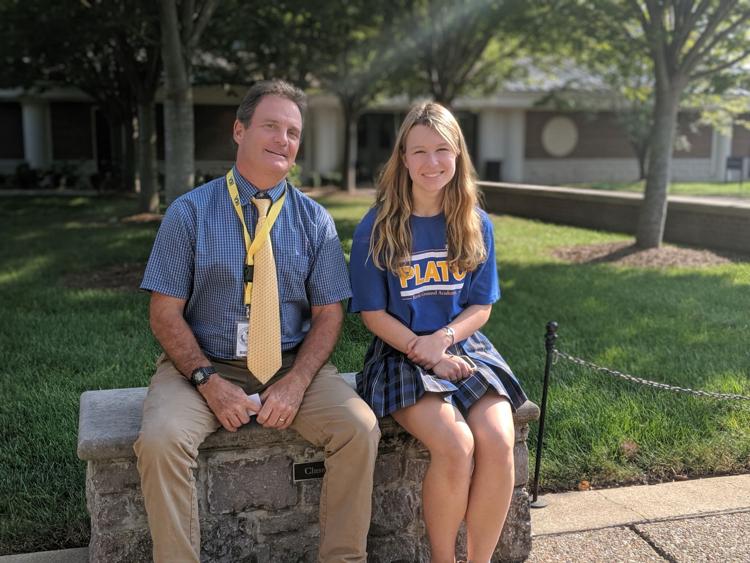 One of the club's primary goals this year is composting on campus. Though composting food scraps from a school cafeteria, which operates five days a week, may seem like a big undertaking, O'Hara draws inspiration from Brown University in Providence, Rhode Island, where she spent the summer for an engineering camp. 
"In a college cafeteria, they compost, so when (Klausner) was talking about composting and he was like, 'I don't know how to make it large-scale and practical for our school,' I was like, 'I just came from a college where they did that for every meal.' So, we kind of took some of the ideas from there and adjusted them," O'Hara said. 
Though the 10-member club has faculty sponsors, for the most part, it is entirely student-led, allowing the high-schoolers to learn through their own efforts.  
"There's opportunities for students to get involved in something they're truly passionate about and grow it, but they don't necessarily get the independence to completely start it from the beginning and finish it through," O'Hara said. "This is something that's really hands-on for us, and through the club structure, this is something we can really manage ourselves. 
"(It's) really interesting to see how kids' own passion for protecting the planet has come in." 
The club even hopes to involve students from other parts of the school who aren't directly involved in the sustainability club. For example, they plan to reach out to the conceptual engineering class to help design a greenhouse for the garden. Additionally, the school's student council is working with O'Hara to expand Earth Day into a week-long campaign to spread awareness about sustainable practices. 
O'Hara explained that, beyond treating this as a learning experience, getting involved in the community is very important. 
"We're very privileged to be at BGA, and we see this as a good opportunity to reach out and help others and get involved with the people around us too," she said. 
Klausner explained there are needs in the community that are oftentimes unseen. He said when he went to drop vegetables off at GraceWorks, he was amazed by how quickly they disappeared.  
"In Williamson County, you think it's a very wealthy county, and there are people that are down there that need that food," he said. "I was bringing in tons of this food, and I would come in … on a Monday and then on Wednesday, and I'd go in there, and all the vegetables … were gone." 
Klausner and O'Hara also explained a large goal of the club is to make students more aware of how they consume goods. 
Klausner noted cucumbers at the grocery store are uniformly shaped, while those grown at the school garden are all different shapes and sizes. He wonders how many people could be fed by the "misshapen" vegetables rejected by mainstream markets. 
If a small club like this can start shifting people's thinking, he said, it could create a ripple effect of those students influencing others, who influence others and so on. 
Along the same lines, O'Hara said one person's actions can have a large impact. 
"I think that a lot of people are really unaware of how much they, just by changing some small practices in their own life, can benefit the community and really make a difference," she said. "You can kind of roll your eyes at the cliché of that, but it's true that by one person choosing sustainable practices and realizing what they're capable of doing, you sort of spread this movement." 
Though BGA's sustainability club is just getting off the ground, beginning with its garden, the members have high hopes for the future. 
"We're still trying to get a handle on it. I am, personally, but it could go so many different ways," Klausner said. "The gardening is kind of our core, and then we're just going to kind of build off that." 
To learn more about BGA, visit battlegroundacademy.org.