Just before Thanksgiving break, Miss Kristen Hood's class at Clovercroft Elementary School spent the end of their Friday building the Mayflower. 
In actuality, the Mayflowers were small, tinfoil replicas. Throughout the classroom, 18 students paired off to use their STEM skills to create a building plan on paper before constructing their boats. 
"We've read the story where the pilgrims landed and then we read another short story about the Mayflower," Hood said. "They're learning how to be an engineer, so we're trying to incorporate, best we can, 21st century skills in our classroom." 
Each pair of students drew what they wanted their end product to look like and then went to work folding, crimping and crumpling their sheets of aluminum foil into their desired shape. The goal was to bring their finished product over to the water-filled sink and toss in pennies one by one to see if it could hold 102, representing the number of passengers on the Mayflower. 
Willow and Amryn were partners on the project, and their strategy was to make the sides of their boat high since the water was high too. That way, if the boat drops down, the water won't rush inside. The two said they practiced the project at home, but they were not confident about their boat's ability to hold all the coins. 
Ella and Macy's Mayflower didn't look like a traditional boat. It was more like a raft with shallow sides, like an aluminum tray. However, they tossed pennies on one at a time, their out-loud counting becoming more and more enthusiastic with every dozen pennies until they reached 102. They even wanted to keep adding coins after they reached their goal.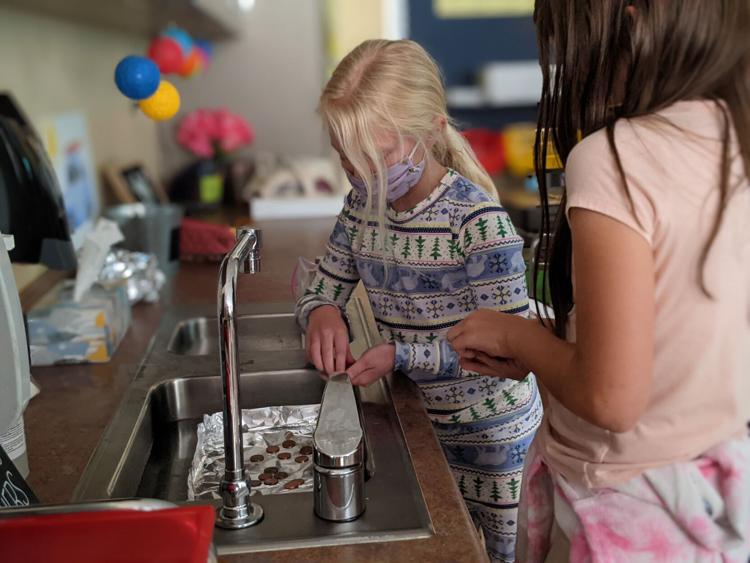 Others created boats that looked like they could be worn as hats or like they had contained a baked potato. 
The students buzzed around the classroom until their project was complete, some of them naming their boats (one pair settled on "burrito bowl"), some of them quiet and focused until the day was over and they returned home for Thanksgiving week, perhaps to build more Mayflowers at home.