Pilgrimage Music & Cultural Festival is returning this weekend after a yearlong hiatus, and the city of Franklin is expecting around 25,000 attendees funneling into The Park at Harlinsdale Farm for the event.
As the weekend draws near, here are the details both Franklin residents and Pilgrimage attendees should know.
Traffic and parking
Pilgrimage will take place from 11 a.m. to 10 p.m. on Saturday and from 10 a.m. to 8:30 p.m. on Sunday at Harlinsdale Farm, which is on Franklin Road across from The Factory at Franklin.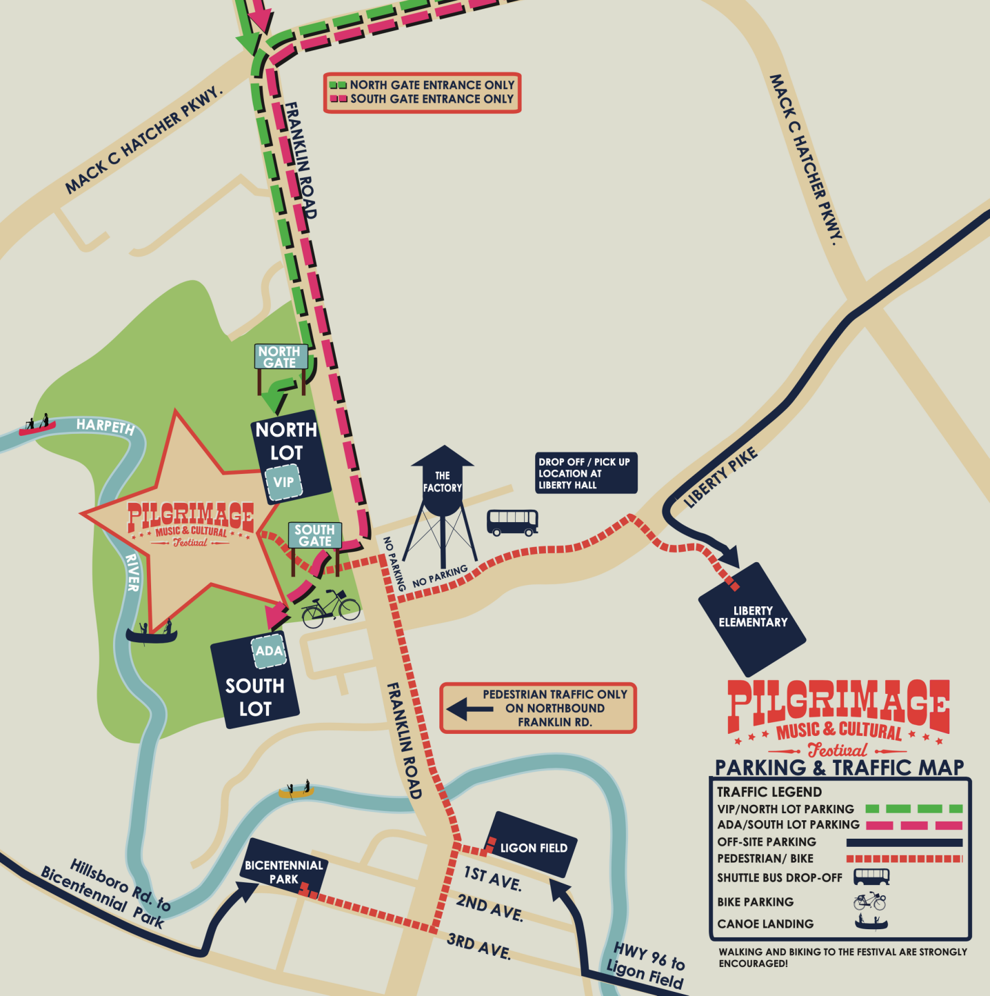 Beginning at 6 a.m. on Saturday and Sunday, Franklin Road will be open for southbound traffic only from Mack Hatcher Parkway to First Avenue. The northbound lane will be reserved for pedestrians.
Starting at 9 p.m. on Saturday and 7 p.m. on Sunday, traffic patterns will shift to accommodate those leaving the festival. Traffic on Liberty Pike will be eastbound only from Eddy Lane to Franklin Road except for those who must drive west to access their homes.
Additionally, Franklin Road will be northbound only from Harpeth Industrial Court to Mack Hatcher and southbound only from Harpeth Industrial Court to First Avenue. Pedestrian traffic will be allowed along the northbound lane of Franklin Road.
There are a number of parking options, but parking will not be permitted for festivalgoers at The Factory, which is a designated drop-off/pickup site.
Onsite parking at Harlinsdale is available to those who have purchased parking passes, and offsite parking is available for $30 per day at Liberty Elementary School, Ligon Field and Bicentennial Park. Those who carpool with three or more can park free at Bicentennial.
Parking is also available in the downtown Franklin public garages on Second Avenue and Fourth Avenue and at Franklin First United Methodist Church.
Attendees may also take a shuttle to the park at one of six locations. Shuttles will leave from Sheraton 4 Points in Brentwood, the soccer field parking lot at Granny White Pike and Morrow Avenue in Nashville, and 312 Pizza Company in Nashville at 11 a.m. for $35 round trip. Shuttles will also leave from Baymont Inn in Franklin and Franklin Marriott Cool Springs at 11 a.m. for $23 and from Towne Place Suites in Franklin at 11:15 a.m. for $23.
Health and safety
The festival is requiring proof of COVID-19 vaccination or a negative COVID-19 test taken within the previous 48 hours to enter. Guests are asked not to attend if they are sick or have been in close contact with someone who has tested positive for the virus within 14 days.
Masks are encouraged for all attendees.
Franklin Fire Chief Glenn Johnson reminded attendees to prepare for sunny weather during the weekend.
"We want to make sure our attendees stay hydrated and bring sunscreen, because we think we're going to have some really nice weather," he said.
Two medical tents will be on-site, marked on attendees' maps, and heightened security and emergency personnel will be on the grounds.
Pilgrimage is a rain-or-shine event, so festivalgoers may want to prepare for the possibility of rain. 
Lineup
Maren Morris, Black Pumas, The Black Keys and Dave Matthews Band are just a few of the major headliners of the festival, but there will be music flooding out of every corner of the field throughout the weekend.
JT Hodges will be one of the first to play the festival this year, as he takes the stage at 11:40 a.m. on Saturday on the Shady Grove Stage. Robert Finley will play the Gold Record Road Stage starting at 12:20 followed by Katie Pruitt on the Midnight Sun Stage at 1:20 p.m.
Families might enjoy jamming out to classic rock covers with School of Rock on the Lil' Pilgrims stage at 2 p.m., and Valerie June will play a short set at 2:35 p.m. on the Americana Music Triangle Experience stage before taking the Midnight Sun Stage at 4:30 p.m. following Houndsmouth.
Better Than Ezra at 6:20 on the Midnight Sun Stage, Maren Morris at 7 on the Gold Record Road Stage and The Black Keys at 8:25 on the Midnight Sun Stage will close out Saturday.
Sunday morning, families and people of faith may enjoy the Sunday Service at 10:30 a.m. on the Americana Music Triangle Experience stage. Franklin-based People on the Porch will take the same stage at 1:05 p.m., just before singer-songwriter JD McPherson takes to the Midnight Sun Stage at 1:45.
Ralph's World will take to the Lil' Pilgrims stage at 3:30 followed by a second set by School of Rock at 5.
Black Pumas will take the Midnight Sun Stage at 4:45 while Cage the Elephant prepares for its set on the Gold Record Road Stage at 5:15. Finally, Dave Matthews Band will conclude the festival at 6:30 on the Midnight Sun Stage.
For the full lineup and more information about the festival, visit www.PilgrimageFestival.com.