As the start of school approaches, while some families are rejoicing in the decision not to require face masks on campus, others are concerned about the health and wellness protocols Williamson County Schools released last week.
A handful of parents and their children protested outside the Williamson County Administrative Complex, which houses the WCS central office, on Thursday with signs asking the district for required masks and stricter protocols following the Centers for Disease Control and Prevention's guidance.
Over 1,200 people have signed an online petition for the district to require masks this school year.
"Back in March, they told us that they would follow the CDC guidelines," said Benton McDonough, who attended the protest with his two daughters — Lucy, a rising first grader at Kenrose Elementary, and Lily, who is 3 years old. "And now that we're a week away from school starting, CDC says that kids should be wearing masks, and now the [schools are] saying it's going to be optional."
The district's health and wellness guidelines state that masks "are not required but are encouraged for students, staff, and visitors who would prefer to use one," particularly advising students under 12 years old to "wear a mask or consult with their health care provider due to their ineligibility to be vaccinated for COVID."
As of Tuesday, the CDC recommends "universal indoor masking for all teachers, staff, students, and visitors to K-12 schools, regardless of vaccination status," adding that students should return to in-person school "with layered prevention strategies in place." The agency's guidance also states that "localities should monitor community transmission, vaccination coverage, screening testing, and occurrence of outbreaks to guide decisions on the level of layered prevention strategies."
In an email to families last week, WCS shared that "staff has consulted with local health authorities" and created its current guidelines, citing Williamson County's "low hospitalization rates" for COVID-19 and the fact that over 50% of the population has been fully vaccinated against the virus.
McDonough said he feels like this is a "cop out."
"The way things are here, the numbers are starting to skyrocket," he said. "It's just a loophole, I think, that they used to be able to cater to a few of the … louder parents that are out there complaining about their children having to wear masks."
As of Tuesday, the Tennessee Department of Health reported 585 active COVID-19 cases in Williamson County, which is up from the single-digit numbers of late June but lower than January numbers, which reached above 2,500.
For Laura Coons, one of the protest organizers and mom of a rising fourth grader at Walnut Grove, having her child back in the classroom is important for his mental and emotional wellbeing, but with the "much more contagious" delta variant spreading throughout the country, she would like to see "at a minimum" the schools implement last year's COVID-19 protocols again.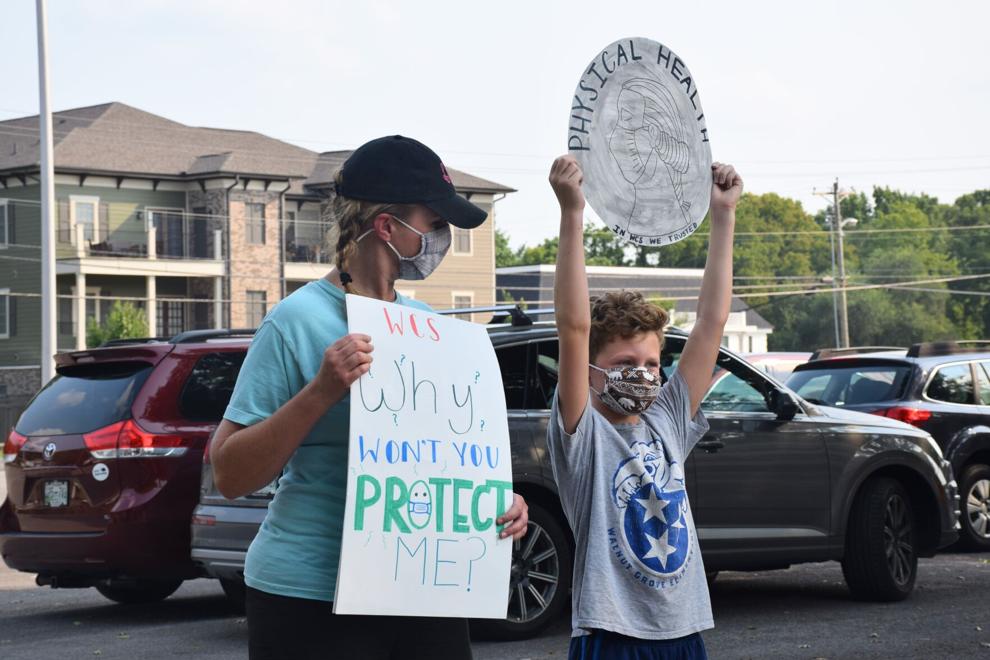 She shared that her son, who took online classes last year, wants to be back in school, and when the time came in March to decide to enroll students in online or in-person school, she was comfortable sending her child on campus.
"Everything was different," she said. "We were getting vaccinated. Our case counts were dropping. The world looked like it was going to be normal again, so a lot of us felt like, OK, we'll register to go back in person next year."
But now, she is concerned about the highly contagious delta variant, for which unvaccinated people are particularly at risk. As only those 12 and older are eligible to receive the COVID-19 vaccine, her son is part of that group.
Coons, along with some other parents, feel "stuck" now that their children are registered for in-person school, and registration for WCS's online school is closed. One of those parents is Allison MacIntyre, whose son is immunocompromised and also has autism and an IEP (individualized education plan). She felt like she had to choose between her son's physical health needs and his social and emotional needs when deciding between online versus in-person school.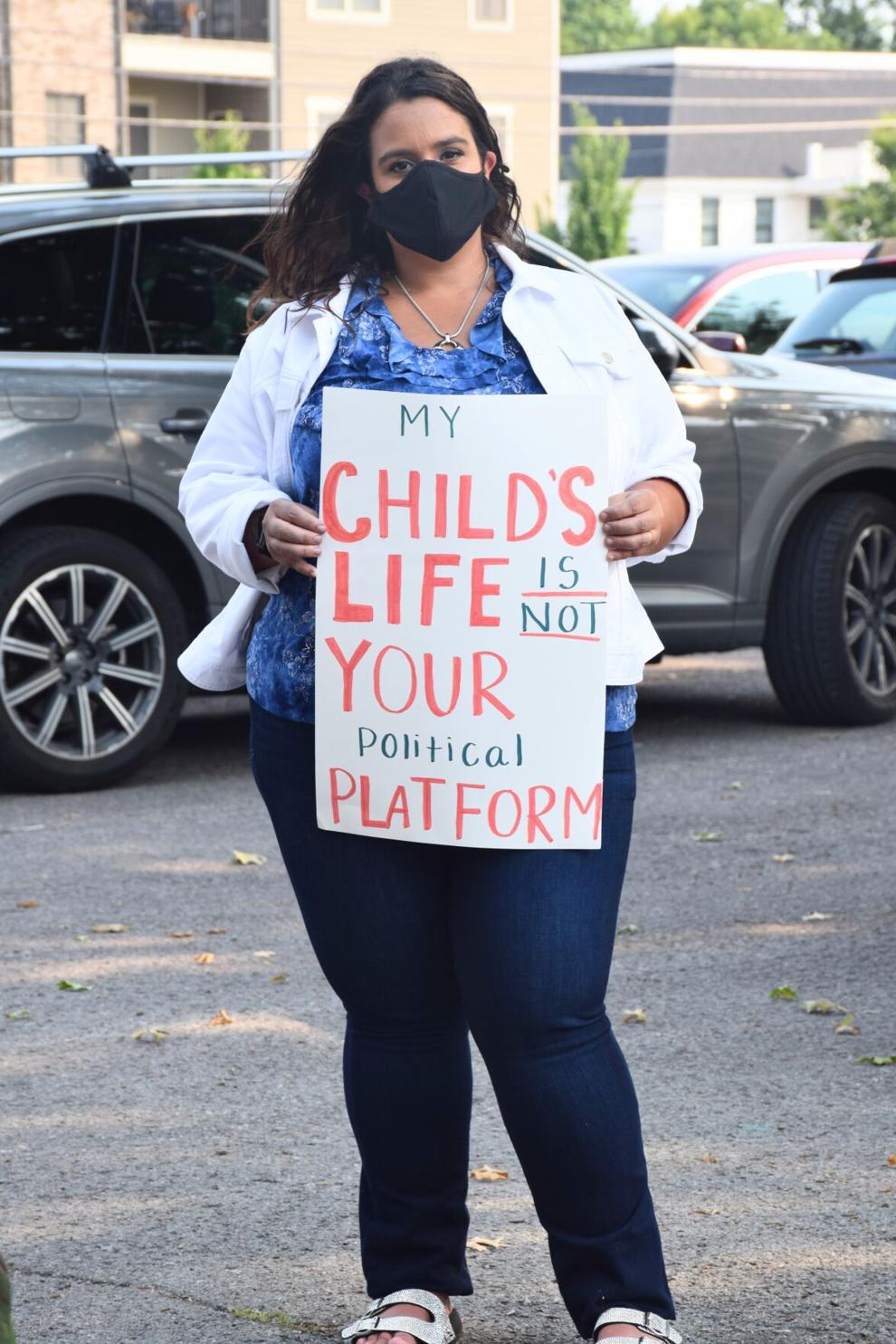 "Families like mine, who need [their children] in the school system to utilize therapeutic services or to meet those IEP goals — we sent them back in hopes of making those goals," MacIntyre said, but now she is worried about his safety going back to school.
WCS Communications Director Carol Birdsong shared that the district has not determined any specific metrics that would trigger a change in its safety protocols.
Prior to the start of last school year, the school board approved a safety plan that included specific metrics that could trigger the entire district to switch to virtual learning, but as the year went on, the district preferred to transition smaller groups like individual classes, grades or schools (depending on the situation) to virtual learning instead of WCS as a whole, shifting from the strategy those original metrics implied. According to Birdsong, this year, WCS did not want people to "latch onto" a static metric when the district may decide to change its strategy in light of changing circumstances.
MacIntyre said she wants to see masks required, seating charts provided to the health department for contact tracing and no group gatherings, such as lunch in the cafeteria. As of Thursday afternoon, no changes have been made to WCS's guidelines since their release last week.
"There's no doubt their job is nearly impossible," McDonough said, referring to WCS decision-makers. "They've got two sides to everything, so we just want to be heard and make sure that they're taking it seriously, not just catering to one side of the argument over another."