Moms and dads have plenty to read about the COVID-19 pandemic with the news these days, but what about the kids?
One woman was inspired by the ways her granddaughter and her three friends in Nolensville found ways to play together while keeping themselves safe — so inspired that she wrote a book based on their socially distanced adventures.
Darlene DeCrane recently released her children's chapter book, "The Four Ever Friends," named after what her granddaughter and three friends call themselves. The book follows the blossoming friendships of four girls and their families as they navigate the coronavirus pandemic.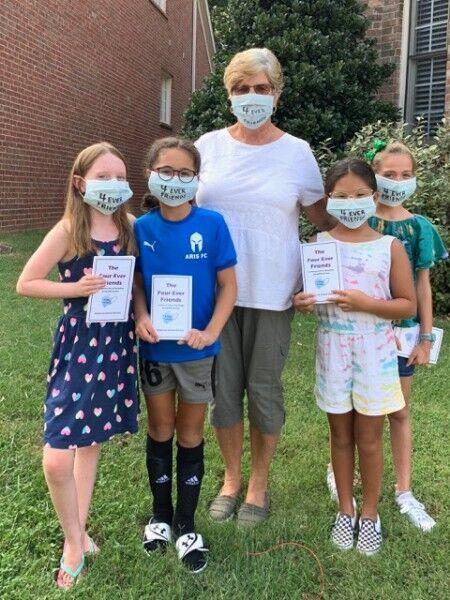 As a retired elementary school teacher and principal, DeCrane said she always wanted to write a children's book. She noted little anecdotes from her teaching days that would be perfect for a chapter book, but though she had many small ideas, she didn't have a full story — that is, until her granddaughter told her about the "four ever friends" over FaceTime during the pandemic.
"I get off the phone with her, and I can't shake the thought that 'The Four Ever Friends' would be a great name for a kid book," DeCrane said. "I told my husband, 'You're going to think I'm absolutely crazy, but I think I'm going to write my book.' And he was so supportive."
She started to write the story of four friends figuring out socialization during a pandemic, and though DeCrane lives in North Carolina, she was able to pull small elements of her granddaughter's playtime into the written story, such as a rap the girls wrote about COVID-19, through FaceTiming.
"It gives kids some ideas that life can go on even though we have to do some things a little differently," she said.
DeCrane's husband, Gregg, said the story can also offer comfort to kids struggling with how different everything is right now.
"If a child reads it, they can relate to the kids that are going through the same thing that they're experiencing in their lives every day," he said. "It kind of reinforces the fact that, if we do these things responsibly, we can do an awful lot of fun stuff together. And it is a humorous book."
DeCrane added that she kept everything in the book about the pandemic factual because she didn't know of any resources for kids to read about what's going on.
Driven to get the book out as soon as possible, she recruited her husband as her manager to get the book self-published, and her grandson, who is a senior in high school, elected to illustrate the book. She also shared that she wants the book to help others, so she's treating it as a nonprofit.
"We decided early on that all the profits would go to any education or literacy initiatives," she said, adding that some groups also want to use the book as a fundraiser.
DeCrane has a second book on the way, coming sometime in November, and a third in mind, all part of the same "The Four Ever Friends" series, hoping to encourage reading among children by continuing the story. Her second book, "The Four Ever Friends' Tiny House Vacation," will still take place during the pandemic, but for the third, which will come out in the spring or summer, time will only tell.
"The Four Ever Friends" can be purchased online on Amazon as an e-book or paperback book. For more information, visit TheFourEverFriends.com.