Patriotic and military music played and women passed out American flags on Monday morning as people slowly gathered at the memorial wall in Fischer Park at Port Royal in Spring Hill.  
Many wore caps designating them as Vietnam veterans. They came for a Vietnam War Veterans Day ceremony presented by the Gen. Richard Winn Chapter of the Daughters of the American Revolution. The event was made possible thanks to a partnership with the Spring Hill Parks and Recreation Department and was created to recognize those who served in the military during the Vietnam War. 
Vietnam veterans representing several organizations in Lewis, Maury and Williamson counties joined family members and others representing a Vietnam vet, such as Phoebe Davis and Gail Cox, to reflect on the past, remember those lost and honor all who served. A wreath was placed in front of the memorial wall.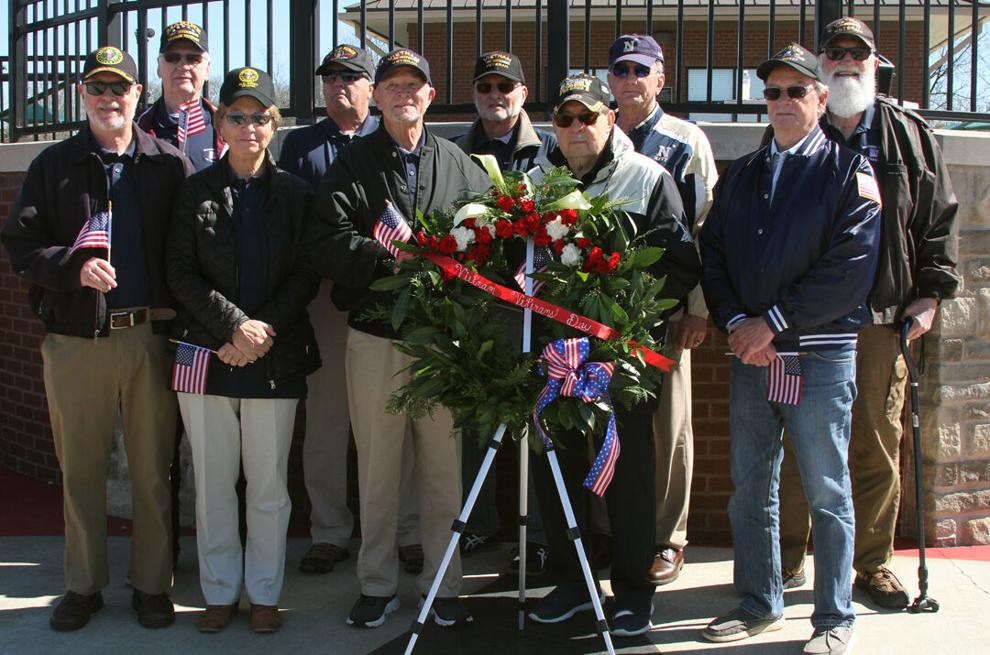 Davis attended the ceremony to honor her brother, James Edmund Peay, who was killed in Vietnam in 1968 while saving another soldier's life. Cox was there for her late husband, Clinton Cox, who died in 2003 from complications related to Agent Orange. 
In 2008, Tennessee, to recognize and honor those who served in Vietnam, enacted legislation that designates March 29 as Vietnam Veterans Day. Nine years later, the Vietnam War Veterans Recognition Act of 2017 designated every March 29 as National Vietnam War Veterans Day.  
The date is a reminder of March 29, 1973, which is the day the last United States military combat troops left Vietnam. Within the next few days, the last of Hanoi's "acknowledged prisoners of war" were released. 
In April 1975, all remaining U.S. personnel were evacuated from Vietnam. 
The objective of the Recognition Act is to unite Americans in thanking Vietnam veterans and their families for their service and their sacrifice. The DAR women did just that on Monday.  
"We are grateful for your great service," said Betty Chinery, the DAR chapter's Service to Veterans co-chair. "You are a source of pride and inspiration for your bravery. This day is about you." 
Chinery read Gov. Bill Lee's proclamation that designates March 29, 2021, as Vietnam Veterans Day in Tennessee. 
The Vietnam War lasted 103 months and "was one of the longest and most divisive conflicts in our nation's history," Lee stated in the document.  
More than 3,403,000 members of the U.S. military were deployed to Vietnam; 1,295 Tennesseans died in the war and about 160,000 Vietnam-era veterans live in Tennessee. 
"We see Vietnam veterans in our daily lives, as parents, grandparents, in rural communities and in the hearts of our cities," the proclamation reads. "Today, let us seek them out to express our deepest gratitude."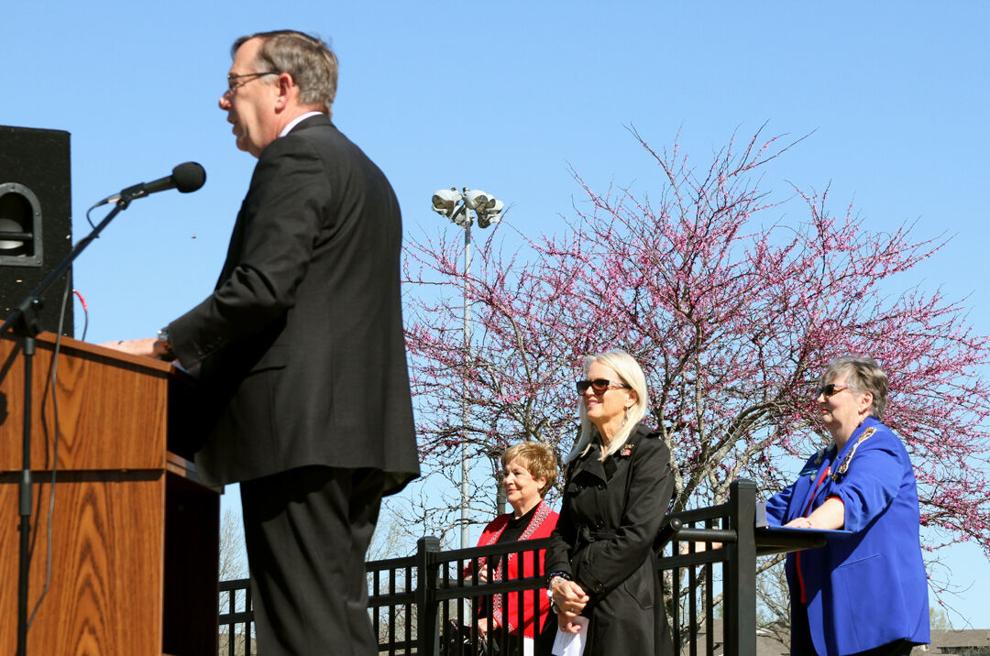 Retired U.S. Army Col. Sam Whitson, who is a state representative, was a second-semester freshman and ROTC cadet at Middle Tennessee State University on March 29, 1973. Too young to truly understand the significance of the day, Whitson did understand and fully appreciated the professionalism and dedication of the officers and NCOs serving as the ROTC cadre. 
"They were the quiet but dedicated professionals who saw it as their duty to serve when called upon by our national leaders," he said. "At the time when so many Americans turned their back on them, they never turned their back on America. … They were my role models, my mentors, my trusted leaders and my heroes." 
Those leaders prepared young men and women to be military leaders in future wars.  
"Thirty years ago today, I was in Iraq," Whitson said. 
The U.S. military had just liberated Kuwait by defeating and destroying the Iraqi Army, which was the fifth-largest military in the world. While many attribute the United States' swift success to high-tech equipment, Whitson said it was the Vietnam War veterans who "led us to victory and (were) committed that America would fight this war to win and win decisively."  
"They are our fathers, uncles, aunts and cousins, but also our heroes, for they served and never asked for anything in return other than the opportunity to live, work and raise a family in a free country," he said. 
Some may question why America entered a war that the French had been fighting for more than a decade. Whitson pointed to the "desperate boat people, the killing fields of Cambodia, the reeducation camps in Vietnam and the current unrest in that part of the world by a communist China" as possible answers. 
Whitson said that Vietnam War veterans showed uncommon courage in their service and devotion for the cause of freedom for Americans and other countries. 
"We honor you today and every day. God bless you and God bless the United States of America," Whitson concluded.