Every piece of art can truly be described as the work of a lifetime. That's what Gallery 202 owner Kelly Harwood has been saying for years, and on the Franklin Art Scene's eighth anniversary, he is showcasing his own life's work alongside a debuting artist from New Mexico. 
Harwood started the Franklin Art Scene in 2011 with Mike Damico, Autumn Bethea and Nancy Williams, utilizing Harwood's and Damico's galleries in partnership with local businesses to feature artists in the Franklin area. 
Well, this month, Harwood is simultaneously reaching back to the event's beginnings and reaching out beyond its typical scope as he features a mixed collection of his own abstract and realistic paintings and a series of metal sculptures and mobiles from New Mexico artist Al Nahman. 
"I'm honored to be showing with him. … It's a good combination — the abstracts especially — with his modern sculptures," Harwood said. "We normally represent mostly local, so he is the farthest artist away from the gallery." 
Harwood said he was already planning on showing some of his own work at this month's Art Scene, and when he heard about Nahman's interest in making the trip to be featured at Gallery 202, he invited him to show his sculptures during the event as well. 
At 82 years old, this will be Nahman's first art show. 
"I never had any exposure except for my family and friends that saw what I did," he said. "This is the first show. It's so very, very exciting." 
Nahman said he inherited a knack for art from his older brother Samuel, who taught him a lot about drawing during his childhood in Brooklyn, New York. His skills only grew when his mother brought home a collection of encyclopedias and Nahman began to copy some of the famous paintings pictured in the pages. 
A little later in life, Nahman began to work with metal. While in Long Island in the '70s, he scraped up enough extra money to learn to weld and was immediately hooked. 
Nahman has worked his love of welding into many different sculptural forms — wire sculptures, mobiles and, most recently, steel figures. 
Up until now, with the exception of a few pieces that were sold, Nahman's art was primarily kept for the enjoyment of himself, his family and his friends. He said he used to send his children off to school with little wire sculptures to place at the corner of their desks. 
Gallery 202 will showcase some of his metal mobiles, inspired by Alexander Calder, as well as his "Angular Man" series, a colorful collection of steel figures resembling the human form.  
Nahman explained that he is inspired by the movement of the human body and the emotions discerned by its positions. 
"God's made such beautiful things in people," he said. "Different movements mean different things, and it's just the flow of our nature. I like the way people move, how they walk, how they sit, how they stretch out, how they run, what their heads do to a piece. You can make a statue of somebody and twist the head different directions, and it has different meanings." 
Nahman's figures will appear alongside 20 of Harwood's paintings — a collection of abstract pieces and realistic animal portraits. 
"I paint in a lot of different styles because I get bored easy," Harwood said. "If I were going to paint animals over and over and over, I'm like, 'No more hair. No more fur. I want to do an abstract.'" 
Harwood said he also got into art early on in his childhood, realizing he was good at doodling. In school, teachers would ask him to draw things in class, which developed into creating sets for plays and banners for the football team to burst through. And what started as providing a basic hillside for an amateur production of "Sound of Music" has turned into Harwood's living. 
Harwood opened Gallery 202 in 2010 with Ira Shivitz, and while he does plenty of work on commission (he is currently painting a landscape for the new Harpeth Hotel in Franklin), he also produces art to populate the gallery. 
While the inspiration of his animal portraits is apparent, Harwood said his abstracts are a bit harder to pin down. An idea could come from a mood, a color scheme or even another painting, and the vision often changes as he paints. 
Harwood's current favorite abstract, for instance, started as a horizontal painting and ended up vertical.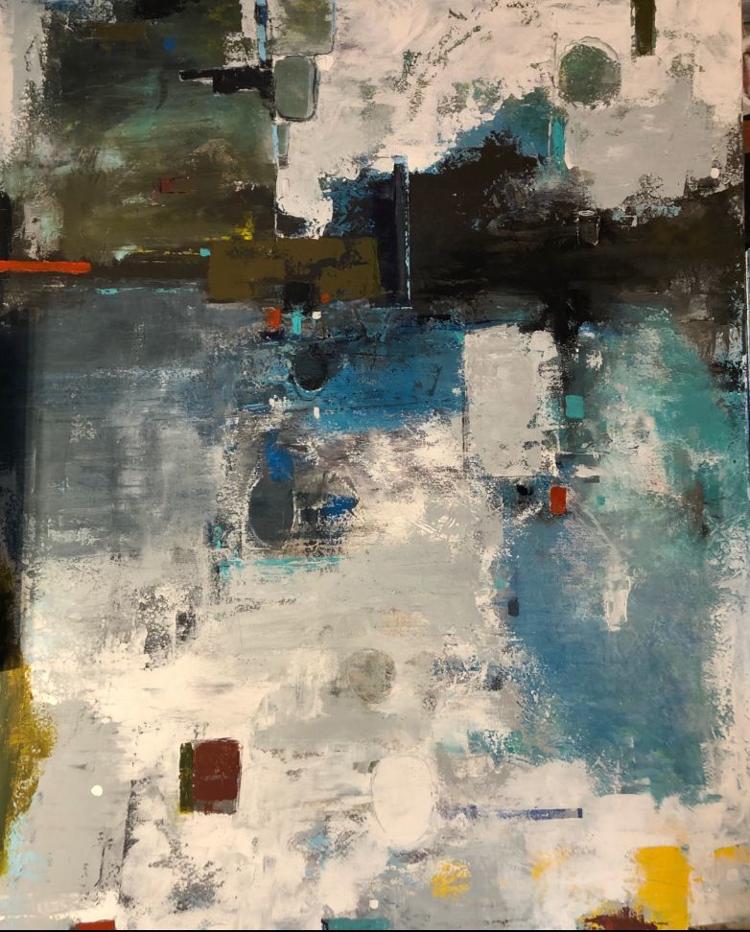 "It was sideways if we would turn it to the left," he said. "And I literally walked outside to let it dry, and when I walked outside … I was like, 'Huh.' And I turned it this way, and I turned it (that) way, and I'm like, 'You know what? I like it this way.'" 
He said paintings can also evolve in even more dramatic ways by adding a little more paint here and there or painting over a piece entirely.
He shared that, after his mother died, he wanted to paint a life-size angel. And he did, but he wasn't happy with it, so he did it again and again until he had painted over the original six times. He named this piece "Seven Angels" for all the angels on the canvas, seen or unseen. 
Harwood's and Nahman's work will be featured at Gallery 202 for the Franklin Art Scene, which is set for 6-9 p.m. Friday. For more information about the gallery, visit gallery202art.com. To learn about the Franklin Art Scene, visit franklinartscene.org.