Franklin promotes itself to the world as a Civil War town, a city bearing ancient marks of a conflict far in the past. But more has happened in the heart of Williamson County than just the Battle of Franklin, and as some of that history seems to be swept aside to make way for modern developments, some wonder if the conflict isn't so buried after all.
"It's almost kind of like an island here," Franklin resident Brooke Wanser said. "You especially feel it when you try to cross the street down here and there's no crosswalk."
Wanser is a freelance reporter for the Williamson Herald and a resident of the Hard Bargain neighborhood in Franklin. She created a new podcast about the neighborhood she has lived in since early last year.
"Oh, my goodness, we really needed a [traffic] light years ago," added Derrick Solomon, a Hard Bargain resident and the executive director of the Hard Bargain Association. "We need speed bumps. … I've been thinking of basically some community ideas where I can bring up and upscale the entire neighborhood at one time. Like [Brooke] said, sidewalk improvements — something."
Hard Bargain is a small, square-shaped neighborhood located in downtown Franklin. Its northern boundary is marked by Mt. Hope Cemetery and Toussaint L'Ouverture Cemetery and to the south New Highway 96, bookended on the east and west by Ninth and 11th avenues.
In September, Wanser released a three-episode podcast about the past, present and possible future of the Hard Bargain neighborhood, which dates back to 1873.
She said she had a few goals with the making of the podcast. She wanted to clear up some common misunderstandings — the name "Hard Bargain" and the neighborhood's original 15 acres of land belonged to Judge W. S. McLemore, not Harvey McLemore. Former slaves, including Harvey McLemore, then became the primary buyers of those lots. Harvey McLemore's 1880 home, known today as a museum called the McLemore House, remains the oldest standing home in the neighborhood.
Wanser also wanted to call attention to the community development side of the Hard Bargain Association, a nonprofit geared towards the preservation and support of Hard Bargain, in addition to its more widely known work of building affordable homes. But even more broadly, she wanted to show the neighborhood's positioning in greater Franklin — what its six streets mean to those living in and outside of them.
"The overall story is a community sort of in flux," she said.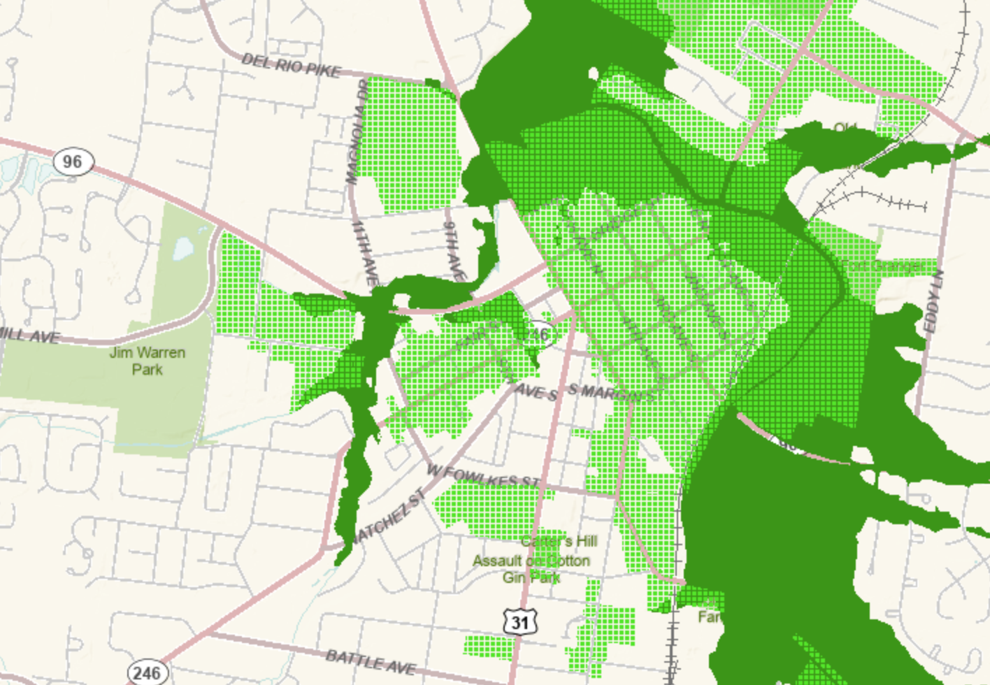 In the podcast, a track mixed by Dan Haseltine from Jars of Clay featuring a hopeful gospel choir harmonizing with an edgy, almost brooding bass line sets the tone. Wanser points out that most of the downtown Franklin area is included in a historic preservation overlay district in the city's zoning map. However, Hard Bargain and the Natchez Street community — two of the city's historically Black neighborhoods — are left out of that district.
She shares history about former efforts to include those communities in a historic district, what went wrong and the dilemmas a revamped zoning proposal would present today. And the conversation naturally leads to gentrification.
"There are around 100 homes in Hard Bargain, and it feels intimate, partly because the lot sizes aren't as large as in much of the county," Wanser says in the podcast. "Some homes are smaller and older, some are run down. There are duplexes and a few mobile homes. While some of the older buildings have been restored and renovated, a few have been torn down to make way for much larger, multistory homes, like across the street from my house."
The changing landscape of Hard Bargain is something many longtime neighborhood residents are very concerned about, but even more than that, Solomon expressed disappointment in the greater community's lack of commitment to the neighborhood in general.
"They really don't understand the struggle that still continues today with these families. And my whole concern is that the story of Hard Bargain itself has never really been shown in the light it should have today," he said, explaining the reason why he supported Wanser's podcast. "You've got all these historic landmarks, and trust me, it's all great at the end of the day, but they really don't invest or really even do tours as much … on our side of town."
He said he was recently at a fundraiser event for a different local nonprofit at which the Hard Bargain Association was a partner and sponsor, and he loved being there, but one thought kept nagging him in the back of his mind.
"Here we are raising three quarters of $1 million, and you know, we really don't see any type of impact or any kind of community impact to help the families that are over here," he said. "It's great using our name in the light and showing, but what are you really doing?"
For Wanser and Solomon, hope lies in upcoming affordable housing projects, such as the one slated for "The Hill" property on A.N.C. Williams Way, and the Hard Bargain Association's plans to rebuild community in Hard Bargain, rooted in relationships.
The two discuss the complexities of this hope in more detail with several other Hard Bargain residents and prominent Franklin voices in the "Hard Bargain" podcast.
To listen to the podcast, search for "Hard Bargain" by Brooke on Spotify or visit www.anchor.fm/hardbargain.