The 2016 Veterans Day Parade Grand Marshals include Tom Bain, Williams Gilmore, Coyle Hazelwood, Leo James and Carl Schneider. 
The annual parade through downtown Franklin takes place Friday morning at 11 a.m. 
Tom Bain
An ROTC scholarship helped Tom Bain get his college degree, but it also meant he owed the Army two years of service.  A few months after graduation, in September 1967, his debt came due and 1st Lt. Tom Bain was officially inducted into the Army. He was assigned to the 1st Cavalry under Gen. William Westmoreland. After serving a year in country, in 1968 Bain was sent to Vietnam as a platoon leader for the 1st Calvary, 9th Division.
"We were the only ground troops in the western delta from Saigon to the ocean," Bain said.
As the only ground troops, the 9th Division — nicknamed "Old Reliable" — escorted convoys, secured artillery battalions, participated in ambushes and trail watched.
Trail watching could be torturous because the soldiers had to remain quiet and still. They couldn't even swat a bug because of the noise it could make — and there were plenty of biting bugs. For protection from the bugs, they doused themselves in Deet, an insecticide still used as protection from biting insects.
At that time, helicopters heavily sprayed the forests and jungles with Agent Orange (a defoliant and herbicide found later to cause residual health affects). If a pilot was shot down, Bain's platoon was charged with the rescue mission, and during the operation were often sprayed with the agent.
Bain's platoon regularly spent more than 30 days at a time on patrol in the jungle and sleeping on the ground.
During those patrols, "We got sprayed everyday with Agent Orange," Bain said. "When we got back to camp it took forever in the shower to get it off. We mostly concentrated on our exposed skin."
In base camp the TOC (Tactical Operations Center) was the safest place to be, Bain said. The sandbag walls were 3-feet deep and a pencil padlocked door. The troops were quartered outside the TOC, but when mortar fire began they ran "full speed" to the TOC. 
"The first one there hit the gate with his shoulder and broke the pencil," Bain said. 
 One time, Bain recalled, a new guy used a screwdriver instead of a pencil. When the mortars came in, as they did every night, and the soldiers ran for the TOC, they were hit with a surprise.
"The first guy hit the door, stopped suddenly and we all looked like a scene out of a 1920s Keystone Cops movie," Bain said, chuckling at the memory. "Battles were mostly skirmishes," Bain said. "Like playing football scrimmages instead of games."
As happens during war, the 9th division was assigned some odd details. Bain recalled one that occurred during a convoy escort assignment. While the front of the convoy was ambushed, his platoon, a mile away at the rear of the convoy, played football.
"We had machine guns mounted on jeeps and they [higher up] didn't want us to leave them unprotected," he explained.
When he completed his year in Vietnam, Bain was sent back to the states. 
"I landed at Fort Lewis, Wash., and took a bus down to Los Angeles," he said. "When I got off the bus I was spat on." 
Bain lacked four days of making captain. If he accepted the offer to reenlist, he would have, but he didn't. It was time to go home to Tennessee.
Years later, while waiting for a business flight out of the Nashville airport, Bain got a chance to meet the general whom he served under. According to Bain, they talked for 30 minutes. When Bain worked for Vanderbilt University in the 1970s, he also got to meet World War II hero and five-star Gen. Omar Bradley, who came to the college to speak about the ROTC program.
"I really treasured that meeting," he said.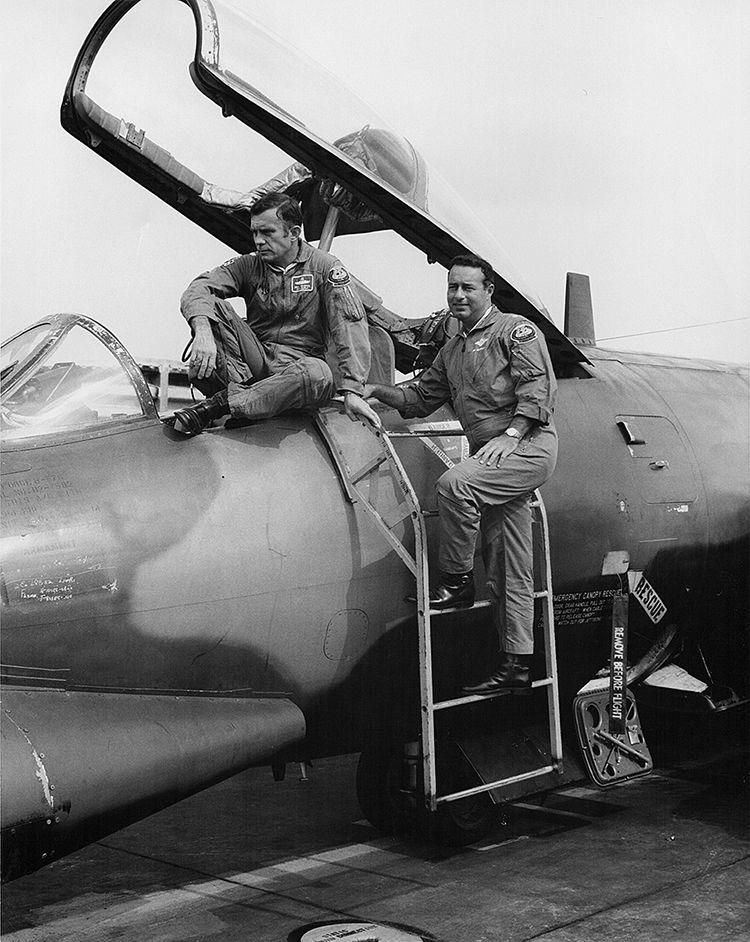 Lt. Col. Williams Gilmore (ret.)
Williams Gilmore has always been somewhat fearless and up for adventure. Soon after he graduated from college in 1955, Gilmore enlisted for some of his biggest adventures. He joined the U.S. Air Force and entered pilot school.
Flying wasn't a childhood passion. As a boy, the only interest he had in planes was attaching a lit matchstick to paper airplanes and sailing the blazing planes out a window. 
As a young man, "I wanted to know how to fly planes," he said.
Gilmore learned how to and became a pilot who flew 138 combat missions and later the world's first supersonic jet, but not right away. 
On his pilot test, "I did great in the air but I didn't do well enough on the written test," said the 85-year-old Franklin resident.
He was assigned the copilot seat on a B-47, where he "worked his tail off" to earn his full wings and his own plane, a B-57 with a two-man crew making night combat flights over Southeast Asia, primarily over Laos, he said.
During those night flights, pilots couldn't use lights to read the instrument panel, but "I could read the instruments from the light of flack (anti-aircraft fire) going on around me," Gilmore said. 
One night when cloud cover was low, Gilmore had to fly above the clouds but he had difficulty reading his instrument panel. 
"I saw a hole in the clouds so I went down — there was flack going off all over so I went right back up," he said. 
Gilmore had a reputation for taking out a high number of enemy trucks, tanks and troops on his missions, but one night, he said, the number of hits was so high he knew officers on the ground wouldn't believe him so he provided numbers they would believe.
When Gilmore finally flew his maximum missions, he was sent back to the U.S. where he and his family moved to bases in Florida, Indiana, Arkansas and Montana where he continued flying and eventually landed in the pilot's seat of a B-58. 
Introduced in 1960, the B-58 was the world's first supersonic, long range plane intended for the Strategic Air Command (SAC) fleet. Developed during the height of the Cold War, the B-58 was designed to fly at very high altitudes to avoid Soviet fighters. 
It was equipped with the newest technology, "but it wasn't anything like the technology they have on-board now," Gilmore said.
The B-58 was Gilmore's favorite plane.
"You don't often get a chance to strap something like that on to your butt," he said chuckling while gazing back in time.
The B-58 was capable of Mach 2 flight (twice the speed of sound) and the most optimal bank (for turning) was 60 degrees, Gilmore explained, adding he took it further — he liked to fly the plane upside down. 
On one flight over the high plains of the west, Gilmore was flying upside down when he saw an unusual shadow across the landscape. 
"I got closer, looked up and saw it was Devils Tower (in Wyoming)," he said. "On vacation a few months later we stopped at Devil's Tower. It looked a lot different [from the ground]."
After 20 years, in 1975 Gilmore retired from the military with eight air medals and three Distinguished Flying Crosses. His first retirement job was an operations manager for oil fields in the South Pacific run by RMI (Resource Management, Inc.) based in Jakarta, Indonesia. After several years of hopping across the world to work, he retired to another job — at a golf course in Florida before moving close to family in Tennessee.
"He used to say he saved more money working on the golf course than he made because he could golf free," said his son, Greg Gilmore.
Coyle Hazelwood
Coyle Hazelwood didn't start school until he was 8 years old, so he was 20 when he graduated in May 1942, six months after Pearl Harbor was attacked and the United States entered World War II.
Since he was older than his classmates, in his junior year of high school Hazelwood was allowed to join the local Pulaski National Guard unit. 
He also worked part-time in a restaurant where he met a Naval Reserve recruiter.
"I experienced Army life and I had a chance to decide whether I wanted to sleep on the ground with the bugs or in a bunk on a ship," Hazelwood said. He chose the bunk on a ship and right after graduation Hazelwood went to Nashville to be sworn into the Navy.
From Boot Camp in San Diego, Hazelwood was sent to diesel school on Treasure Island in San Francisco Bay where he learned about the engines that power LST (Landing Ship Tank) ships, which transported supplies and troops into war zones. 
Upon graduation Hazelwood was assigned to LST 476, where he remained for two years, traveled the South Pacific and participated in six battles or campaigns. 
Hazelwood's adventures began shortly after he arrived on LST 476 and the ship headed north to the Aleutian Islands of Alaska to participate in retaking the two islands, Kiska and Adak, the Japanese had already taken over. By the time LST 476 arrived in Aug. 1943, they found just one elderly Japanese person. 
"The scuttlebutt was the troops escaped by submarine," Hazelwood said. 
LST 476 arrived at Kwajalein in the Marshall Islands in November 1943 with a large load of supplies and troops. Kwajalein was important because it was long enough for an air base and its extended arm-shaped coral reef provided natural protection from enemy ships.
Later that month they arrived at the Makin Atoll in the Gilbert Islands where the Japanese had established a seaplane base. As troops headed to shore in a night invasion, Japanese were shooting at them from the water. Once the off shore sunken ship where they were hiding was discovered, that ended.
"We put troops on Roi-Namur Island in the Marshall Islands," Hazelwood said.
While on a return trip to Kwajalein the convoy of LST ships in which LST 476 was attacked. LST 476 was loaded with gasoline drums and hundreds of boxes of ammunition, 100 Marines and one admiral.
"Because of our position in the convoy, four torpedo planes were heading for us," said Hazelwood, who was the triggerman on a .20 mm anti-aircraft gun shooting at the oncoming plane. "He was heading straight at us — there was no way he could miss."
The pilot banked too early and missed his opportunity. The next plane was on them.
"Because the second plane made exactly the same mistake, I'm here to tell the story," Hazelwood said. 
The LST traveled to New Guinea, Saipan and Guam before returning briefly to San Francisco on Nov. 17, 1944. The Red Cross was there with a notice of a death in Hazelwood's family. He was allowed to go home for the funeral, but when he arrived back to San Francisco the ship had already left. Hazelwood hitched a ride on another ship to return to LST 476 where he remained until he was discharged from the Navy on Jan. 9, 1946. 
The men who served on the ship were awarded five Battle Stars and the deep appreciation of all they assisted from April 1943 to August 1946.
Leo James
PFC Leo James was drafted into the United States Army in 1951 when he was 22 years old. He found himself in South Korea at the 38th parallel in mid-August 1951, a year after China and the Soviet Union got involved in a civil war between North and South Korea causing the Nations Security Council to issue a complaint of aggression on the Republic of Korea. The UN got involved in the conflict and dispatched forces from 21 countries to Korea — with almost 90 percent of the forces being American soldiers. 
James was assigned to the 1st Cavalry, 7th Regiment, 2nd Battalion, Fox Co. Their job was to "hold the fort while peace was being negotiated," James said.
Just six weeks after he arrived in South Korea, James was wounded in the right leg during a skirmish with the Communist-backed North Koreans on Hill 14 at the 38th Parallel. He spent the next six months healing in a hospital in Japan. Once the wound healed sufficiently, he was sent back to Korea. 
"If they were able to patch you up sufficiently, they sent you back," he said. "They had to keep the front lines supplied."
Due to his injury, James didn't go back to the front lines. He earned a Purple heart and was given a an office job in Inchon, South Korea.
The one thing Alabama-born Leo James remembers about Korea is the cold.  
"Most days in the winter it didn't get above 32 degrees," he said. "I've seen enough snow for a lifetime."
James much prefers the warmth of southern states to the cold of Korea or northern states, he said.
Several months ago, Leo James went on an Honor Flight to see the World War II, Korean and Vietnam memorials.
"The most moving memorial was the [Korean Memorial's] field of soldiers clearing a mine field," he said. "When going through a mine field, you have to be very careful. We had several wounded or killed sweeping a mine field."
James left Korea in February 1953 — six months before the July 7, 1953, armistice was signed and the conflict ended — and was honorably discharged a few weeks later.
For 65 years, James has carried a piece of shrapnel in his leg and at the age of 85, serves as caregiver for his 80-year-old wife, a job he performs with much love.
"That's pretty important to me," he said.
Maj. Gen. Carl Schneider
A small plane doing acrobatics over a Texas cotton field touched the imagination of a young boy and shaped his future in one swoop. Carl Schneider grew up working on his father's cotton farm chopping weeds through the summer and crawling along the bushes pulling the cotton off. 
"I hated working on the farm," he said. "When I saw that plane fly over I knew that's what I wanted to do."
Schneider listened to stories his father told of his serving in the Balloon Corps, the forerunner of the Air Force organized during World War I, but it was that small air show over the cotton field that set him on his course — a course that took him around the world, allowed him to earn several degrees and fly supersonic planes.
He spent a year at Texas Technical College, before enlisting in the Army Air Force in September 1946. After basic training, he went on to remote control turret mechanics school and in June 1947, Schneider began aviation cadet training. A year later he began advanced pilot training on an experimental class of the P-51 Mustang, a single seat fighter plane that earned its stripes in World War II. 
During training Schneider was commissioned to 2nd Lieutenant.
His first flight assignment was piloting a P-84 with the 20th Fighter Group under the newly organized Air Force, which became a separate branch of the military with the implementation of the National Security Act of 1947. 
By September 1949, Schneider joined the 51st Fighter Group stationed in Okinanwa where he served as squadron commander and completed 100 combat missions over Korea in the F-80 fighter jet. 
"I got hit somewhere in the plane almost every mission but I was never hit," he said. "It was a pretty tough war — I lost 22 brothers. I volunteered for another 100 flights, but didn't get it." 
Schneider was sent back to the U.S. in 1951 and assigned to Luke Air Force Base as a gunnery instructor, then an F-86 fighter jet air combat tactics instructor at Nellis AF Base in Nevada, with future Apollo 11 astronaut Buzz Aldrin as one of his students. 
"When I went to Europe he was a captain and operations commander of his squad," Schneider said. "We still keep in touch."
As Schneider's career advanced he helped organize the Fighter Gunnery School at Pinecastle Air Force Base (now McCoy), completed Squadron Officer School and served in several leadership capacities while continuing his own military and academic education. 
Part of his military training included a 10-month exchange program at the Marine Corps School. 
"I enjoyed running up and down hills with Marines," he said.
Schneider spent three years in Germany at Bitburg Air Base with the 36th Fighter-Day Wing as an operations officer and F-100 pilot, then returned to Luke Air Force Base as an F-100 squadron commander and a flight instructor.
"One of my 200 students in 1969 was George W. Bush," he said. "He was a very good student — graduated at the top of his class." 
Two years later Schneider was sent to Vietnam assigned to the 2nd Air Division to establish a Forward Air Control/Air Liaison Officer program which involved working and flying with the Republic of Vietnam Air Force. 
"We helped develop airways and ground missions with the Vietnamese Army, special forces and the Canadians," he said.
When he returned to the U.S. he returned to college and earned his bachelor of science degree from Arizona State University. 
"I had one year of college when I came in," Schneider said. "It took me 19 years to get my undergraduate degree."
He went on to earn a master's degree in international relations, graduating from the Air War College two years later. 
Schneider continued his distinguished career serving as executive officer to the assistant secretary of the Air Force, deputy commander for operations of the 3550th Pilot Training Wing and later commander. 
He was vice commander of the 314th Air Division at Osan Air Base in Korea in 1972 and became Assistant chief of staff, Operations (J-3), United Nations Command/U.S. Forces Korea and Director, U.S./Rep. of Korea Operational Planning Staff in Seoul. 
Back on U.S. soil his duties included Vice Commander, Warner Robins Air Logistics Center at Robins Air Force Base, Commander of Oklahoma City Air Logistics Center and Chief of Staff, Air Force Logistics Command at Wright Patterson Air Force Base. 
Since he left home in 1946 Schneider has lived in 35 houses and is credited with military service in four wartime periods. 
During his 32-year career Schneider, flew more than 5,000 hours in jet fighters, rose from "buck" private to major general and "had a lot of different experiences" and received many military decorations and awards. They include the Distinguished Service Medal, Legion of Merit with one oak leaf cluster, Distinguished Flying cross with one oak leaf cluster, Meritorious Service Medal, Air Medal with six oak leaf clusters and the Air Force Commendation Medal.
Since his retirement in 1978, 88-year old Gen. Carl Schneider started six businesses, continues to serve on several boards and has enjoyed four additional careers, his most recent working with collegiate student veterans services, and author of two books.
Little House on the High Plains is the story of growing up in Texas during the Dust Bowl, the Depression and World War II and can be found on Amazon.
Jet Pioneer — a Fighter Pilot's Experience will be released in December. It relates his life as a pilot in the Air Force and also will be available on Amazon.