Bredesen makes campaign visit to Westhaven Clubhouse as Election Day nears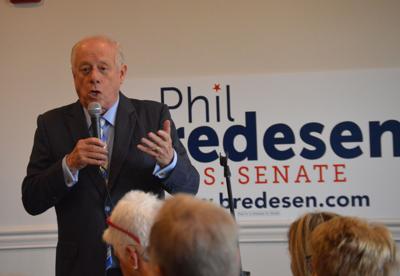 Candidate for U.S. Senate Phil Bredesen, former two-term Democratic governor of Tennessee, stopped by the Westhaven Clubhouse in Franklin for a campaign luncheon where he addressed approximately 200 supporters.
"It is a very close race," Bredesen said, which is what he expected against his Republican opponent U.S. Rep. Marsha Blackburn. "I think it is going to depend on how enthusiastic everybody is [about getting out to vote]."
Bredesen said, in politics today, more respect toward others is needed and that is what he would bring to the U.S. Senate.
"I want to be able to move forward and make things happen."
Bredesen described his background in rural upstate New York as the son of a single working mother, who was a bank teller. Promising his mother he'd one day pay her back for her wisdom and sacrifices, Bredesen said, instead, his mother told him to "pay me forward" in the world by being his best.
A lifelong Democrat, Bredesen said he has a "conservative" background.
"Many of my family members are Trump supporters," he said. 
"They are not stupid. They are not racists and not crazy."
Bredesen concluded that he'd "pay you back by being the best Senator you've ever sent up to the Senate," he told the audience.
Supporters gathered around the former governor after the talk to take photos and talk one-on-one about issues important to them.
Bredesen supporter and Westhaven resident Bridgett Garratt said she is "disheartened with what's going on."
"I think Bredesen follows the path that would be great for our country," she said.
Westhaven resident and 13-year resident of Franklin Heather Lynch seemed to agree.
"I am a moderate, and he is moderate. I don't support the far right," Lynch said.
Franklin resident Matt Magallanes said Bredesen also has his support due to his responsiveness and concerns about education.
"I've been a lifelong Republican," Magallanes said.
"I have been a donor, a sponsor, a door-knocker over the years ... I think the comparison between Phil Bredesen's capability and his ideas is miles above Marsha Blackburn's positions. Over the years, I have reached out to Marsha about the issues, written letters and left phone calls and donated to the party, but she has never gotten back to me, never responded to my concerns about public education.
"Also, the negative advertising [by Blackburn], most of which I know to be untrue, is a stain on our process. I can't get behind a candidate who does that."  
Meanwhile, Bredesen said he would work hard to address high pharmaceutical costs by organizing a bipartisan coalition to tackle the "complex" issue. Bredesen also said health care would be on the forefront of issues to confront in Congress, explaining that since the Affordable Care Act (ACA) is the "law of the land," he would work within its bounds.
"Let's make it work," he said.
Blackburn held a campaign rally and early voting kick-off event Oct. 17 in Franklin where he was introduced by Mayor Ken Moore, Sen. Jack Johnson, gubernatorial candidate Bill Lee and joined by other supporters.