City tries to make amends for FSSD sales tax revenue 'oversight'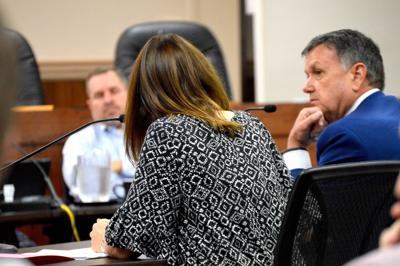 Some Franklin aldermen tried to make amends Tuesday following an "oversight," which omitted the Franklin Special School District from collecting a portion of revenue generated by the recent countywide sales tax increase to fund school capital.
Alderman Dana McLendon, 2nd Ward, introduced a new resolution, clarifying the city's original intent to include FSSD in the new revenue distribution and to encourage Williamson County government to be a part of the solution.
The Franklin Board of Mayor and Aldermen unanimously approved the resolution clarifying their intent.
However, McLendon and three other aldermen voted Oct. 9 against a previous resolution, proposed by City Administrator Eric Stuckey and city staff, which acted as a compromise that would have divided the city's portion of revenue between Williamson County Schools and FSSD for an extra six months beyond the existing three-year contract between Franklin and Williamson County government. The resolution proposed dividing revenue gained from the .5 percent sales tax increase (2.25 to 2.75 percent per the Feb. 2 referendum), into two parts with 92 percent dedicated to WCS capital projects and 8 percent dedicated to FSSD capital projects. Percentages are based on Average Daily Attendance (ADA) of students in each district.   
McLendon rejects the idea of extending the city contract for six more months but supports FSSD getting their fair share.
Extending the contract would result in WCS getting more money than what was agreed upon and keep the city (and taxpayers) from benefitting from the new sales tax revenue for a longer period of time, McLendon explained.
An 'oversight'
The city already divides half of its portion of sales tax revenue between county and city schools. However, how to distribute the new revenue to FSSD, gained from the .5 percent increase, was never included in the legal interlocal agreement between the city of Franklin and the county, which the city later called an "oversight."
"The reason I did not support this is not because I did not want to support FSSD," McLendon said.
 "My intent was for the county school system and FSSD to participate and receive benefits – that they would both benefit. That was the way it was pitched to us.
"It was so pervasively pitched in the community, it never occurred to me, FSSD would not get their share."
McLendon further explained his perspective, through the new resolution, encouraging the county to rectify the issue.
Failed proposal leads to new clarification
In the previously failed proposal, McLendon disagreed with extending the city's interlocal agreement with the county for six months beyond the agreed upon three year agreement to make up for any lost revenue in FSSD after the sales tax increase was implemented April 1.   
"It was not my intent to solve this problem [in a way that would cause] city citizens to forgo another six months of sales tax to fix this problem, but [I wanted to encourage a solution to this problem]," McLendon said.
"It was the city of Franklin's intent for the FSSD to share in both sides of the sales tax, and I thought they would get their share just like their sales tax dollars are usually split."
"I want to make it clear, it was our intent to have that money split.
"We were not attempting to deny FSSD money but insisting they get the money that was their share from the very beginning."
"I didn't really get an opinion on this and hope people will interpret our resolution as a [desire to reach a solution]."
McLendon still emphasized that the solution should reside between the county and WCS.
"It's not to pick a fight or compel but to be persuasive," McLendon said.
Alderman at Large Pearl Bransford emphasized that McLendon's proposed resolution still does not solve the problem of FSSD not receiving revenue.
"I don't think any of us here would not want FSSD to benefit from this," Bransford said.
"However, we are not going to solve this problem just by doing this. It will still be out there in limbo … I don't see how we can go to the next step. We are saying one thing, but the action has to be from somewhere else. It wouldn't be coming from us. That's an interesting position to be in."
"They are getting their 8 percent of the half of the half," Barnhill said, referring to the percentage FSSD already receives from the city's sales tax revenue before the .5 percent increase is factored into proceeds. 
Before the BOMA voted down the compromise introduced by city staff and Stuckey, the County Commission voted unanimously Oct. 8 to accept the new agreement.
However, a solution has not been reached by any governmental body in how to distribute revenue from the .5 percent sales tax increase to FSSD.