Maury sheriff gives update on murder-suicide that left five dead, including four children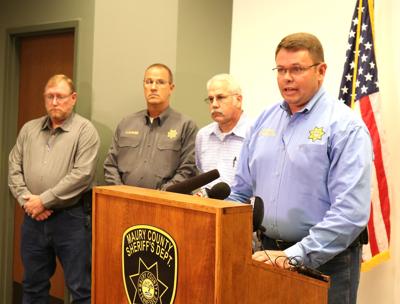 The Maury County Sheriff's Department is actively investigating a murder-suicide which occurred at 1075 Carter's Creek Pike in Maury County Monday night. 
An unidentified family member, who lived in the home, returned from work to discover five deceased family members and immediately called 911. Sheriff's deputies responded to the scene at 6:19 p.m. Monday.  
In a press conference held Tuesday, Sheriff Bucky Rowland released the identity of the five deceased individuals found in multiple areas of the home. 
The adopted girls were identified as Lia Lin, 15, Meigin Lin, 14, and Kaileigh Lin, 17. The adopted boy was identified as Bo Li, 14. 
The stay-at-home mother, Cynthia Collier, 55, was discovered to have a "self-inflicted gunshot wound," according to Rowland. 
"We're still trying to determine what would be a motive in this situation," Rowland said. "We don't have any call of domestic violence coming from that residence." 
Rowland also said that they found two different firearms that "appear to have been used," along with a suicide note left by Collier. 
"There was some information left; it was very brief and vague that would indicate it would be a murder-suicide note," Rowland said. 
"It's an immaculate home, very loving family, so a motive would be very important to know what would lead someone to do this to her loved ones." 
Rowland could only speculate, but said "mental health issues" could have been a factor. 
"Don't be embarrassed, don't hesitate, always try to seek professional help anytime you feel a loved one or yourself may be suffering from that," Rowland said. 
Rowland also asked those in attendance and watching the press conference to keep everyone involved in the incident in one's thoughts and prayers, including the first responders involved. 
"We deal with difficult situations, we deal with carnage each and every day, but the magnitude of this is more than what we are used to on a day-to-day basis," Rowland said.