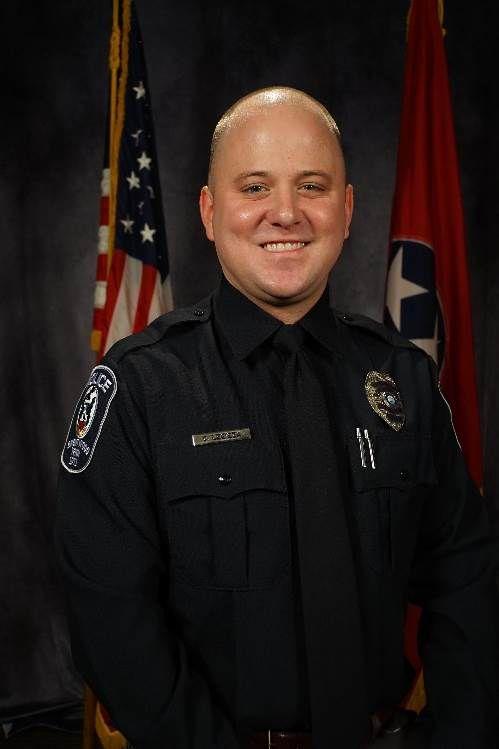 Almost one week after the Brentwood Police Department lost officer Dustin Legieza in a car crash while in the line of duty, the community came together on Wednesday at ClearView Baptist Church to honor Legieza, his family and his colleagues. 
Jason Cruise, pastor of ClearView Baptist, said that the procession, which began at Williamson Memorial Gardens at 11 a.m. before the 2 p.m. service, was "miles long" and that the solidarity shown by the community will be remembered by all who were close to Legieza. 
"It's difficult to know what to try and what to attempt to show your love," Cruise said. "But I want to leave you with this: The very fact that you are here … the fact that thousands of people will be here — that is what the family will remember. They will remember that that thin, blue line is very wide, that it is wider than anything they even dreamed." 
Legieza joined the Brentwood Police Department in 2015. In the early morning of June 18, while Legieza was driving on Franklin Road, a female motorist crossed the center lane and crashed into his vehicle. Legieza died at 30 years old. 
Over the past week, the community has held a vigil for the officer, raised over $42,000 through a GoFundMe page and shared words of encouragement with Legieza's family and the police department. 
"I had the privilege to have his father (Scott) working with me for 16 years when I was the chief," said former Franklin Police Chief Jackie Moore, who watched the funeral procession as it passed in front of the Franklin Police Department. "I got to meet his young son, Destin, at the time, who grew up in the Franklin police family. All I can say is this is a very sad day, a very emotional day." 
Photo gallery — Destin Legieza's funeral
During the funeral service, Jamon Martin, chaplain of the Brentwood Police Department, talked about his personal friendship with Legieza and also read words from Legieza's parents. 
"Everyone here knows that Destin was such a blessing, and he is one of my greatest accomplishments," Martin read from a note written by Legieza's mother, Julie. "I take great pride in making him into the man that he is, and I am so very proud to be his mom." 
Martin also shared with Legieza's brother, Seth, how much he was loved by his brother, and he read a note that Legieza wrote to his wife, Heather, on their wedding day. 
Brentwood Police Chief Jeff Hughes said that when the department looks to hire an officer, it looks for someone with a servant's heart and a guardian's mindset. 
"Trust me when I tell you, Destin possessed every quality, characteristic and trait that we were looking for in a Brentwood police officer," Hughes said. "We are so blessed that Destin was part of our family, part of our agency, for just a little over five years." 
Legieza's friends mentioned some of the qualities that inspired them in their time with him. Officer Scott Willey spoke of his consideration of others. Sgt. Zach Hartman praised his consistent joy. Officer Tim Finney reminisced about Legieza's sincerity, kindness and the power of his smile. Officer Brent Rowsey revered his friendship. 
Throughout the service, attendees sat in reflection as music played. Country music singers Lee Brice and Vince Gill made special appearances to perform their songs "I Drive Your Truck" and "Go Rest High on That Mountain," respectively. Tennessee Titans play-by-play announcer Mike Keith also shared a few words, and Martin closed the ceremony with a prayer. 
"Destin was pursuing his relationship with Christ. Destin was a light to this world," Martin said. "He touched lives, and he made a difference wherever he was. He had a huge heart, not just for Heather, not just for his family, but for all his brothers and sisters and all that he came in contact with."