Williamson County's state legislative delegation discussed several hot topics Friday during Williamson, Inc.'s monthly Policy Talks event, including proposed gun legislation, a sports bill affecting transgender athletes and a letter concerning student-athletes kneeling during the national anthem.
Some hesitate over gun permitting changes 
Recently, local faith leaders spoke up in opposition to a proposed bill (SB318/HB18) that would allow those 21 and older who have not committed a felony to carry a gun without a permit and without undergoing the current education requirements.
State Rep. Sam Whitson, District 65, said he has received emails from people both for and against this legislation, saying, "surprisingly, a lot of gun shop owners are against this bill."
While Whitson did not express how he would vote on the bill, he said he appreciated what he learned during the process of obtaining a permit even after serving in the military, also noting his support of Second Amendment rights, as he himself is a licensed gun owner.
"It's not so much knowing how to use a pistol, but also the most important thing I learned from the permit class, even after being in the military for 26 years, is knowing when to use it," he said.
State Rep. Glen Casada, District 63, and state Senate Majority Leader Jack Johnson (R-Franklin) expect the legislation to pass the House and Senate, respectively. Johnson said he believes this bill is aimed towards protecting the rights of "law-abiding citizens."
"The thing about gun control is it doesn't do much for the criminals, because they don't respect the law anyway, but it does infringe on the liberties of law-abiding citizens," Johnson said.
State Rep. Brandon Ogles, District 61, said while he owns several guns and supports Second Amendment rights, he has concerns about the legislation as well, particularly around ensuring gun owners have proper training and the ability to verify if a person is carrying a firearm legally.
"That's something that you need to work on a lot, not once or twice a year; it's not like riding a bike," he said. "It's important to be sure that we give these bills a good look and especially support our law enforcement community and their rights and responsibility to verify, if somebody has a firearm, if they're carrying that lawfully. That's one of the biggest complaints." 
Transgender athlete bill headed towards vote
Another bill headed for its final votes in the legislature (SB228/HB3) would require middle- and high-school athletes to participate on sports teams according to the sex on their birth certificate, not allowing transgender athletes to compete on teams based on their gender identity.
Johnson echoed Gov. Bill Lee's recent statement on the matter, saying allowing transgender women and girls to participate on female teams will limit females' abilities to receive certain scholarships. He added he is unaware of any instances where it's happened in Tennessee, as of now.
Casada said he believes the bill is "no-nonsense."
"[Males] are born biologically, physically superior. Their muscle mass is bigger. Their bone density is bigger. Everything about them gives them a distinct athletic advantage over females when it comes to sports," Casada said. "This bill protects the rights of high-school and junior-high girls to participate and not get hurt by more stronger males and to continue to achieve scholarships."
Ogles cautioned people to be kind and sensitive when approaching this subject.
"This is always going to be in the news because this is a topic that people feel very passionately about on both sides of the aisle," he said. "I just hope we're kind in what we do and we pass things that don't specifically target people and are done with kindness."
Senators discourage national anthem protest at state schools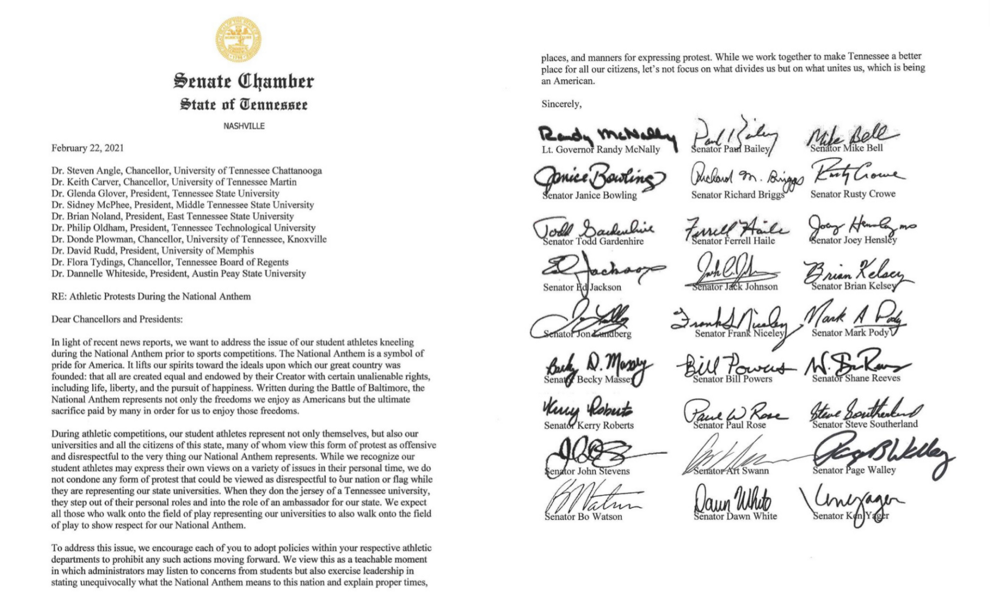 The group also addressed a letter recently signed by Republican state senators encouraging presidents and chancellors of state-funded colleges and universities to instate policies that would not allow student-athletes to kneel during the national anthem in their uniforms.
Johnson said he believes the majority of Tennesseans are offended by this specific protest and that it should not be allowed under certain circumstances.
"Your First Amendment right is sacred, and we all celebrate that, but it doesn't necessarily protect you from the consequences," he said. "When you're wearing the jersey of that team, you're representing that school that is paid for, subsidized by Tennessee taxpayers, so should you be allowed to kneel during the national anthem? If you want to do that on your own time when you're not representing the university, then absolutely, have at it. But I think it was inappropriate."
Whitson said he considers kneeling "a sign of disrespect to the flag" but pointed out that this kind of protest is not new.
Ogles agreed with Johnson's and Whitson's sentiments and added he heard a new perspective on the issue from a legislator.
"One member told me that you kneel to pray and you kneel on sporting events when you're showing respect to somebody that's recovering from an injury," he said. "It was strange that I never really thought about that in that context, so I do look forward to the conversation of what context and for what reason are these people kneeling. Is it out of disrespect for the flag, or is it simply to say we're in a recovery period, we're in a period of healing?"
To learn more about Policy Talks and other upcoming Williamson, Inc. events, visit WilliamsonChamber.com. Watch the full event from Friday on the Williamson County Television YouTube channel.