Those searching for how to get a COVID-19 vaccine in Williamson County can now register for an appointment to receive their first dose.
The Williamson County Health Department and Williamson County Emergency Management Agency (EMA) shared a registration form on Monday that will allow those eligible for a COVID-19 vaccine to sign up for a time slot, during which they may receive their shot.
"You're going to hear some counties that are telling people just to drive out and get in line and get your shot," said Williamson County Mayor Rogers Anderson during a recent county meeting. "Our preferred method is by appointment only so that people are not waiting in line three and four hours, the vaccine runs out, and the people beyond that certain point no longer get a shot."
Who is currently eligible for a vaccine?
During the county meeting, Williamson County Health Department Director Cathy Montgomery shared that Williamson County is currently administering both the Moderna and Pfizer-BioNTech vaccines at the Williamson County Agricultural Expo Center to those eligible within phase 1a of the Tennessee Health Department's vaccine distribution plan. This phase, broken down into 1a1 and 1a2, includes health care workers, long-term care facility staff and residents, first responders and others in potential exposure to the virus.
Additionally, as of Saturday, the state amended its distribution plan to include age-based distribution, allowing those aged 75 years or older to receive the vaccine now as well.
The update additionally added a few others to phase 1a, such as laboratory staff working with COVID-19 specimens and those 18 years of age or older who cannot live independently due a chronic medical condition or disability.
"COVID-19 vaccines remain limited at this time, and Tennessee's allocation plan prioritizes those most at risk of illness and death from COVID-19," Tennessee Health Commissioner Lisa Piercey said. "The plan also prioritizes critical infrastructure workers who have direct public exposure or work in environments posing a higher risk of exposure to the virus that causes COVID-19."
In addition to doses being limited, Montgomery shared that the logistics of administering the vaccines is complicated, noting that the Pfizer and Moderna vaccines both require two doses spaced different periods of time apart, and they must be stored at certain temperatures, allowed to sit at room temperature for a certain period of time prior to administration and used within their short shelf lives in addition to other requirements.
She said requiring appointments for patients will help the health department better monitor all the details and keep track of the number of doses available so each recipient will have a second dose ready when the time comes.
"There's a whole lot of complexities that are involved with just the vaccine itself, and we're really trying our darndest not to waste any vaccine," Montgomery said.
When can I get a vaccine?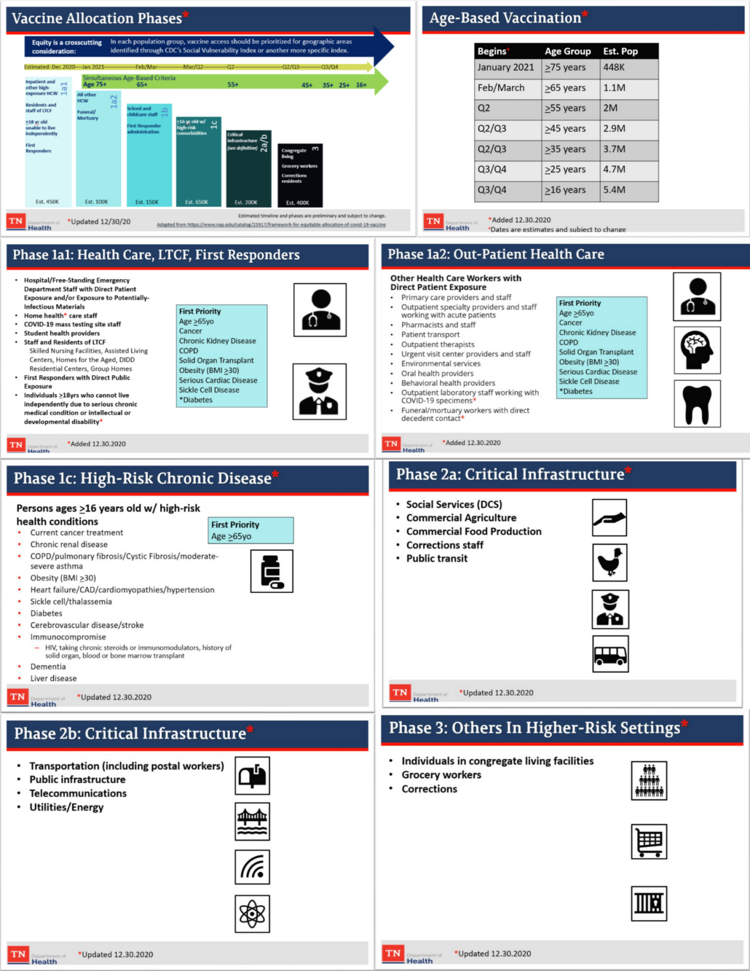 The county health department and EMA also shared a link at which local residents can sign up to receive text alerts concerning when they are eligible to receive the vaccine. These alerts will be specific to Williamson County, which may be in a different phase than neighboring counties at any given time.
"It is important to remember that every county in the state will move through these phases at a different rate, due to vaccine availability and population size," said Todd Horton, director of the Williamson County EMA. "We ask the community to stay plugged in to local sources to find the most up-to-date information."
Residents can find out during which phase they are eligible to receive a vaccine by using the state's eligibility tool at covid19.tn.gov/covid-19-vaccines/eligibility or by reading section 3 of the state's vaccine plan at tn.gov/content/dam/tn/health/documents/cedep/novel-coronavirus/COVID-19_Vaccination_Plan.pdf.
How can I register for an appointment? 
Those currently eligible to receive a COVID-19 vaccine in Williamson County can register for an appointment at signupgenius.com/go/805094fa5ae29a5ff2-vaccination. Patients will not be able to choose between the Moderna and Pfizer vaccines but will receive whichever is available at the time.
Those who are not yet eligible under the county's current distribution phase should not sign up for an appointment. Individuals who are unable to register for an appointment online should call the Williamson County Public Information Line for registration assistance at 615-595-4880, which operates Monday through Friday from 8:30 a.m. to 4:30 p.m.
To sign up to receive alerts for when your phase of eligibility has begun in the county, go to surveymonkey.com/r/QR3TZSL.
For more information about COVID-19 vaccine distribution in Williamson County, visit williamsonready.org/341/Health-Department-Vaccine-Distribution.
Williamson County Mayor Rogers Anderson on Monday urged the community once more to take the necessary precautions to prevent the spread of COV…