After a large group of people stormed the U.S. Capitol during a rally for President Donald Trump in Washington, D.C. Wednesday, a few Williamson County residents who attended the rally shared what they saw.
Paul Good, a Franklin resident, traveled to Washington after "feeling so helpless for months" to show his support for Trump and to be with fellow supporters, saying he experienced a "spirited" but "nonviolent" crowd.
During the rally, attendees heard from Donald Trump Jr., Rudy Giuliani and the president himself at the National Mall before marching to the Capitol, which was followed by dozens from the crowd storming past Capitol Police and into the building.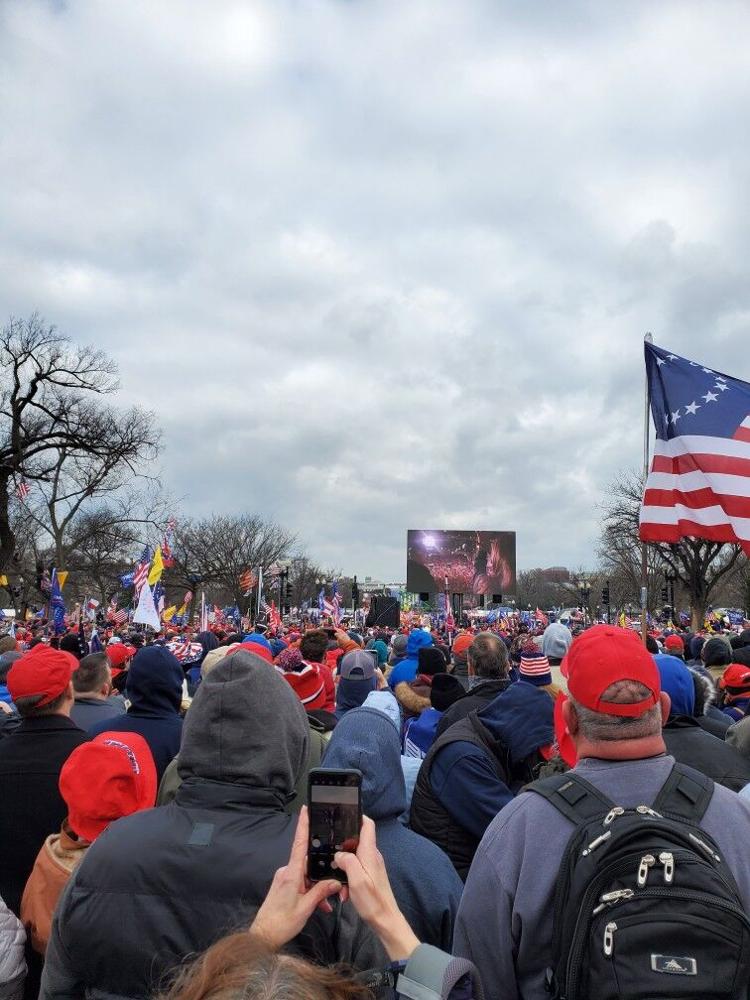 Members of Congress who were in session to determine the certification of the Electoral College's vote for Joe Biden's victory in the 2020 presidential election evacuated the building. Dozens were arrested. Five have died. Many more were injured. Police found two pipe bombs at the Democratic National Committee and Republican National Committee offices and a cooler of gasoline bombs at the Capitol.
Good said during the rally, Trump "was not inciting rebellion or violence in any way." In his hour-long speech, Trump addressed the crowd, saying both to "peacefully and patriotically make your voices heard" and to "fight like hell."
"We fight like hell, and if you don't fight like hell, you're not going to have a country anymore," Trump said.
Read the full transcript of Trump's speech here.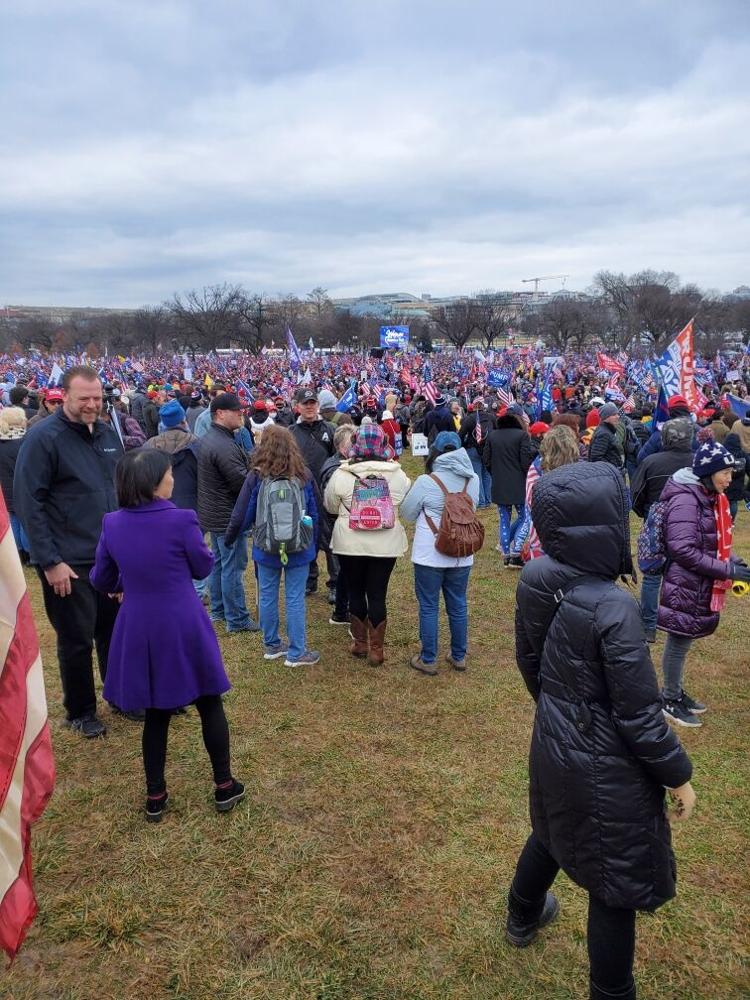 Good believed the crowd wanted peace, saying he didn't see anyone breaking into the Capitol from where he stood at the foot of the steps.
"There was no threatening spirit. We were encouraging the lawmakers to do the right thing by showing up outside the Capitol," he said. "And I was right at the foot of the Capitol, and what I saw [was] there was absolutely no breaking in. There was no forceful entry. There was no engagement with the law enforcement."
Video coverage shows a different account, as people from the crowd pushed past law enforcement up the steps, scaled exterior walls, broke windows and filed into the Capitol.
Another Williamson County resident, Martin Plumlee, said he and his group backed away from the Capitol when things started to escalate and could later see the clouds of tear gas near the building.
"I strongly condemn the violence. Anyone that committed those crimes need[s] to be arrested," Plumlee said. "They need to be put before a judge. Bail needs to be withheld, and they need to have due process."
He further said the Capitol Police officer who shot Air Force veteran Ashli Babbitt, who was among the crowd of people storming the Capitol and was later pronounced dead, should be held accountable for her death.
"That should not have happened. The person could've been shot in the leg, shot in the arm, … tased, mace," Plumlee said. "There's other ways to disarm people. I'm a military police officer, so I know how to do that. I've been trained on how to do that, so shame on that gentleman for taking an innocent loss of life. Was she doing something she shouldn't have been doing? It appears that way, but she should not have ultimately lost her life."
Good said he heard about those who entered the Capitol after he "left along with large masses" and was driving home.
"I figured it was staged and a setup because it did not go along with the spirit and vibe of the Trump supporters there," Good said. "I figured some opposition group wanted to make us look bad."
Both Plumlee and Williamson County GOP Chair Cheryl Brown said they are convinced anti-fascist activists, sometimes referred to as "antifa," were behind the break-in.
"If you look at the people, they were not Trump supporters. No," Brown said. "The picture looks staged."
Brown said she could tell by the way some of the people who stormed the Capitol were dressed that "they were not patriotic protestors."
"The guy that had on the lion thing — he was not around us. They were not with us," she said. "The difference between the Trump supporters and those who were in the Capitol were not dressed like that. … We don't cross-dress. We dress the way we — our patriot style, which is what we dress for America."
Several internet theories have circulated, including one that shows a shirtless man wearing a horned fur cap and face paint — the person to whom Brown was referring — in the Capitol and also at a Black Lives Matter protest earlier this year.
However, the man, identified as Jake Angeli, shared on Twitter that he is not associated with either Black Lives Matter or antifa and was "standing against the BLM mob." Angeli is a known follower of the QAnon conspiracy theory and is nicknamed "Q Shaman."
Another man who entered the Capitol on Wednesday, Richard "Bigo" Barnett, photographed with his foot propped up on a desk in the building, claimed to have entered Nancy Pelosi's office and left "a nasty note," according to the New York Times.
Additionally, many people who were at the rally were photographed inside the Capitol wearing, like those outside, Trump-related clothing.
Kelly Baker-Hefley, chair of the Williamson County Democratic Party, shared Wednesday evening that it does appear that the people inside the Capitol were Trump supporters but said she will wait for identity confirmation.
"There's no uniform to who supports what side, so I don't think you can draw any conclusions about what somebody's wearing, and I do agree that we're just going to have to wait and see and see what information comes out," she said. "The thing that I do know is that this is a very heartbreaking incident that has happened in our country and that democracy has been halted. And there's been lots of rhetoric coming out of the president's administration and the people who fall in line with him over the past few years that's really stoked the flames of anger and division."
Scott Golden, chair of the Tennessee Republican Party, sent an email Wednesday evening to the Williamson Herald, saying: "It's an extremely emotional day for all of us that poured our hearts into President Trump's campaign. We have the right to be heard, but not to the point of violence and destruction. The Republican Party is the party that supports law enforcement, rights, and the rule of law, and not defunding the police.
"Today's perpetrators will be brought to justice and the truth will come to light. For now, let's act responsibly, pray for our country and our leaders, and get ready to Make America Great Again."
When the joint session of Congress resumed, Tennessee's U.S. Senators Marsha Blackburn and Bill Hagerty voted to uphold the Electoral College's vote for Biden's presidential victory.