Infrastructure changes may seem slow going to those stuck in traffic, but there are plenty of projects soon to be completed, according to city officials, that will accommodate Franklin's fast growth. 
Franklin Mayor Ken Moore, City Administrator Eric Stuckey and City Director of Engineering Paul Holzen spoke about Franklin's top projects at the Williamson, Inc. Legislative Update Friday, a gathering at Columbia State Community College to share the progress on road improvements, new parks and recreation ventures and other public building construction. 
"We're not sitting around idly and just saying, 'Well, we're growing,'" Moore said. "We're working hard to make sure that we're preparing for this growth that we're experiencing and the growth we're going to have in the future. This whole region is on fire, so it's not just us that are growing, it's the entire region." 
Two years ago, city planners had their eyes on about $376 million worth of projects to complete through 2026. Now, in 2019, that number has jumped to $710 million, nearly $500 million of which relates to transportation, according to Stuckey. 
"That tells you where our biggest focus is from a capital project standpoint," he said. "(It's) how we move people — primarily roadways, but it's also multi-use trails so that people have options and other connections to get to school, to work, to church, to downtown. So, sidewalks and trails are important too." 
For this fiscal year, Stuckey explained, the city will start with a top-13 list of projects, created by merging a prioritized list put together by the city Board of Mayor and Aldermen and the projects most highly mentioned by the board members. The top item is a Long Lane and Old Peytonsville Road connector, estimated at $22 million to construct. It will provide a bridge over Interstate 65, allowing drivers to cross the interstate without routing through Goose Creek Bypass or Highway 96. 
"I think we all remember the tragedy about five years ago when the gasoline tanker had a fire underneath the current Peytonsville Road bridge," Moore said, referring to an accident in August of 2014, which took the driver's life and set the Peytonsville bridge project back about two years. 
"Fortunately, TDOT worked with us to get that bridge back in shape in a very quick order. I think that was a good lesson, and I think that's the reason the board has ranked this project No. 1 right now on our list, because they see it's important to have additional connectivity."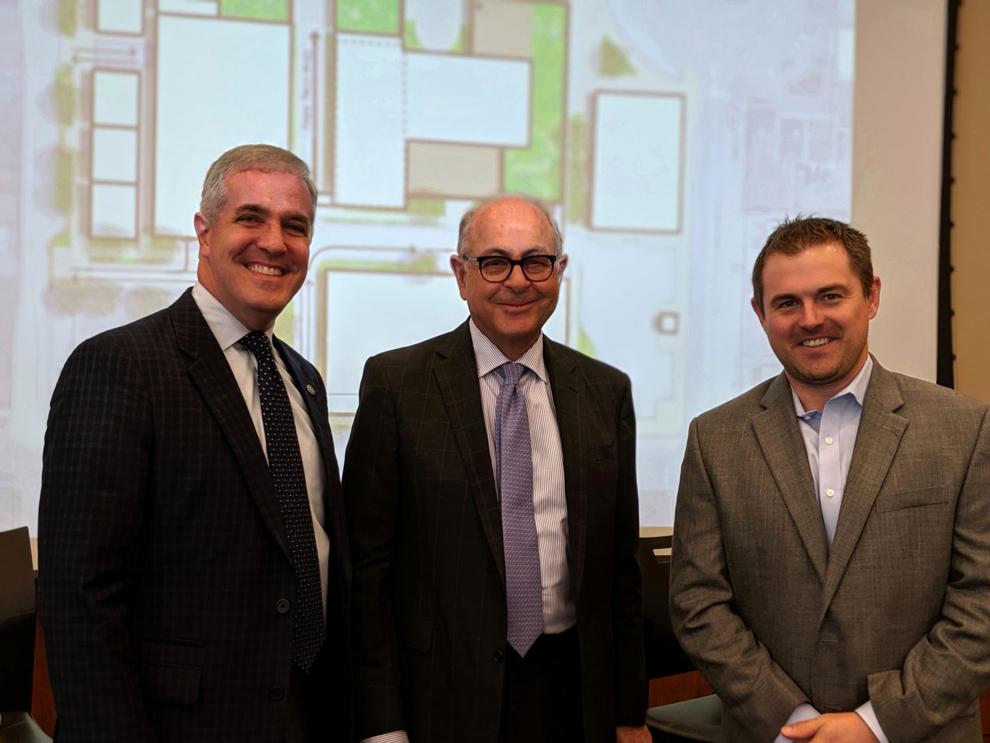 Other notable projects on the list are the construction of a public parking lot east of 5th Avenue North; an expansion of Bicentennial Park, including a parking lot and pavilion; improving the baseball and softball fields near Freedom Middle School, adding a batting cage and a concession and restroom facility; and the addition of a sidewalk on the north side of Lewisburg Avenue. All 13 projects on the docket for this year total just over $100 million. 
One project Moore was particularly excited about will link existing trails in the Chestnut Bend subdivision area and add a pedestrian bridge across the Harpeth River, connecting the subdivision to the Park at Harlinsdale Farm. 
"I love this one. It's got state money in there," Moore said. "This is just a great opportunity for our citizens to be able to get to the park, and it would be a great opportunity when there are events at Harlinsdale Farm." 
This is about a $3 million project, and Moore said the state is pitching in about 2/3 of the cost. 
The most expensive project charted for this year is a new City Hall building, coming in at about $24 million. Moore said the current building is nearing its end, as they have experienced problems with the roof, HVAC system and nonfunctional space in general. 
"Our building is a very old building, and we've looked at opportunities to refurbish it, repurpose it — whatever we might say — but the building has outlived its usefulness," he said. 
The panel also discussed four projects prioritized by the Tennessee Department of Transportation: the Mack Hatcher Parkway Northwest Extension and the widening of Franklin Road, Murfreesboro Road and Columbia Avenue. 
The Mack Hatcher project is currently underway with an estimated finish in November of 2021. This project will extend the road from its intersection with Hillsboro Road, past state Route 96 and into the Westhaven area. 
The widening of Franklin Road from Moores Lane to Concord Road is also in the works. The project was originally set to end in the spring of 2022 but is running ahead of schedule and is now expected to finish around the same time as the Mack Hatcher extension. 
The Murfreesboro and Columbia projects are still in the beginning stages — right-of-way acquisition and design, respectively. 
Despite the mass number of projects — both ongoing and upcoming — city officials have not raised the property tax rate a penny, keeping it at 41 cents per $100 of assessed value. However, they did add room for some new positions, some of which will assist in the city's response to growth. 
"We've got some key staff members that will help us enhance our capacity to oversee a larger group of projects and get them done," Stuckey said. "One of our main focuses is to serve a growing community operationally but also build the infrastructure that's needed as this community grows so that we're able to implement it and do it in as timely and as effective a manner as we can.
"These projects are big, they're complicated, and you need some staff capacity to do it. And it's a balance between what you hire in terms of staffing and what you use in terms of consultants, and as we grow, these positions make sense to help us have more of that capacity in house."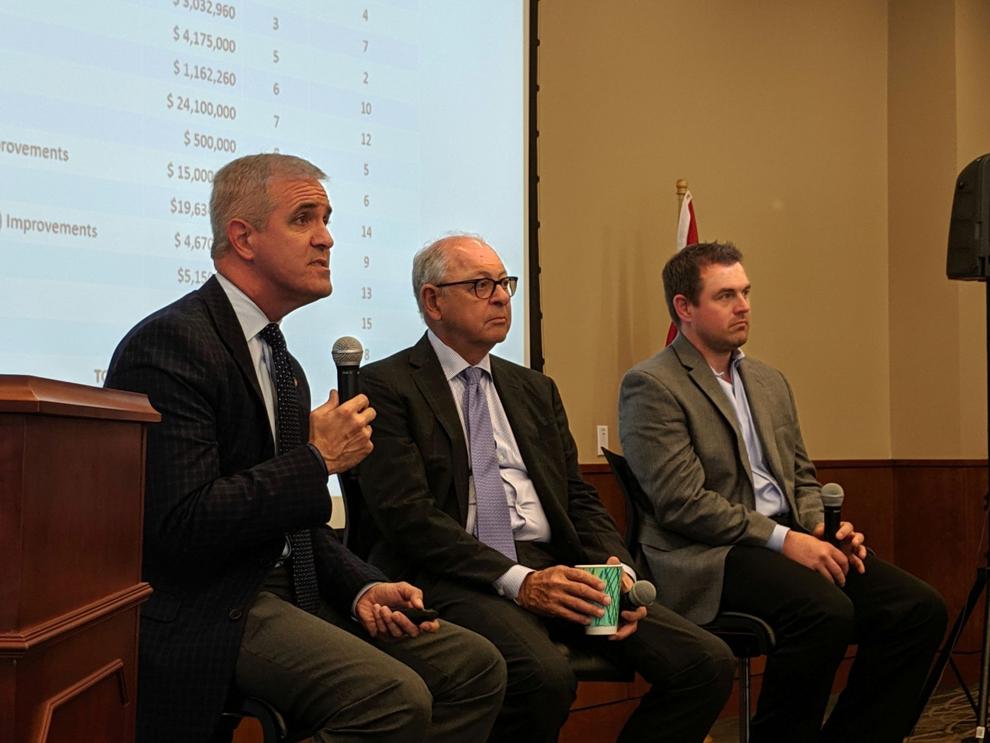 Additionally, Stuckey explained that development-related fees and grants have brought in more money than expected, allowing the city's debt-to-cash ratio to lean more on the cash side than expected — a little over 40%. 
Responding to the common frustration that the city's growth doesn't pay for itself, he said fees that affect new development and take some of the burden off existing residents and businesses, such as the Road Impact Fee, have made up about 1/3 of that cash. 
"Realistically, (the growth) can't pay the entire impact, and I don't know that it should but the right balance of it, and it's paying a significant portion," Stuckey said. 
But regardless of where the money is coming from, some city residents are frustrated by the growth because they feel it has stripped away some of the feeling of community. Alderman at Large and lifetime Williamson Countian Brandy Blanton spoke up to address this common concern. 
"I understand that you're frustrated, but look at your life now based on where we've come, the success that you've been able to realize professionally," he said. "People get frustrated that there's change and that they don't feel that sense of community anymore, and I told them quite bluntly, … 'Roll up your sleeves, and find a way to get involved because gone are the days where community comes to find you.'" 
One way to get involved in a major change — namely, the update to the Franklin zoning ordinance — is to attend the city's open house meeting on the subject Aug. 15 from 5 p.m. to 8 p.m. at City Hall. Stuckey said this meeting will allow the public to give input and receive information about the effects of the rezoning, which will go through approval and could take effect as early as the first quarter of next year.