Blackburn backed by locals at GOP rally in Franklin as early voting gets underway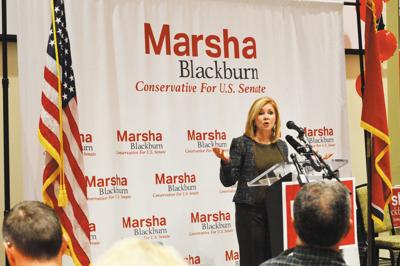 Top Williamson County Republican leaders, those elected and those running for election, gathered in support of U.S. Senate candidate Marsha Blackburn at a voting rally at the Williamson County Enrichment Center on Wednesday, the first day of early voting.  
Franklin Mayor Ken Moore gave opening remarks, while Republican gubernatorial candidate Bill Lee introduced Blackburn to a crowd of almost 200 supporters. Rep. Jack Johnson, R-Franklin, also spoke to the crowd in praise of Blackburn's track record and the importance of electing Republicans. 
The first day of early voting in Williamson County drew almost 5,000 voters countywide. "It has been overwhelming," Sandy Wray, poll official coordinator said. Early voting lasts until Nov. 1. Election Day is Nov. 6. 
"We are seeing strong numbers," Chad Gray, election administrator said. "That is only 700 votes shy of the presidential election early voting two years ago."
A line formed down the hall at the Williamson County Administration Complex Wednesday and other polling locations buzzed.
Bill Lee said he will not disappoint
While at the podium, Lee said if elected, he would not disappoint Tennessee voters. 
Lee, who faces challenger Democrat Karl Dean, former Nashville mayor, said he would never forget the feeling of humbleness when he shook the hand of a gentleman who had just voted for him though they had never met. 
"I won't forget that day," Lee said. 
"That people place their confidence in me is incredibly humbling and honoring. I don't want to disappoint that guy or the inner-city kids I've met or the rural kids on farms in Tennessee, or firefighters, teachers, and small business owners."
Lee has traveled to all 95 counties in 95 days multiple times over, meeting people, he said.
"Let's share hope and vision in what we can become," Lee said. "This nation needs some states to lead. You are my home county, [and you] have supported us from the beginning."
Blackburn will deliver
After photo opportunities with various Williamson County legislators and leaders, Blackburn took the stage to a warm welcome from the crowd.
"Some thought it ended in August, but we need more votes," Blackburn said, encouraging all attendees to pick up a sign to place in their yards for the next 20 days.
Hoping for a large voter turnout, Blackburn said she believes there is an air of excitement and eagerness among voters as they head to the polls. 
Blackburn outlined what she believes voters want in a Republican voice, emphasizing that she can deliver.
Praising the current administration for its accomplishments over the past 20 months, Blackburn highlighted record low unemployment, economic growth due to tax cuts, defeating ISIS in Syria, fully funding the U.S military, moving the U.S Embassy from Tel Aviv to Jerusalem and starting construction on the wall to secure U.S. borders. 
Blackburn also denounced Democratic candidate Phil Bredesen's leadership. 
"A vote for Bredesen is a vote for Chuck Schumer, Diane Feinstein and Elizabeth Warren," Blackburn said, as someone in the audience called out, "Pocahontas."
"Phil Bredesen wanted Hillary Clinton to be president," she said.
"If Hillary Clinton were president, you wouldn't have the economic growth we have now," Blackburn said, or penalties removed from the Affordable Care Act (ACA) or the wall. 
"I am going to win this race. You are going to have a conservative in the U.S. Senate."
Meanwhile, Bredesen held early voting rallies across the state this week, including a health care talk Wednesday in Franklin at Kimbro's Pickin' Parlor, addressing trying to lower the price of prescription drugs.
"If Tennesseans are looking for more of the same negative, partisan shouting, then they have Congresswoman Blackburn," Bredesen said in a statement. "However, if voters are looking to get Washington back to work for the people here in Tennessee, tackling big projects like prescription drug prices, then Governor Bredesen is ready for the job."