Retired Franklin Fire Battalion Chief Andrew "Gentry" Fox, who died Nov. 15 at the age of 70, will take one last ride through Franklin on Sunday, Nov. 21 at 11 a.m.  
Fox's casket will be placed upon Franklin Fire Engine 2 and carried on one last journey through the city. The Williamson County Rescue Squad and Franklin Police Department will also join in the procession.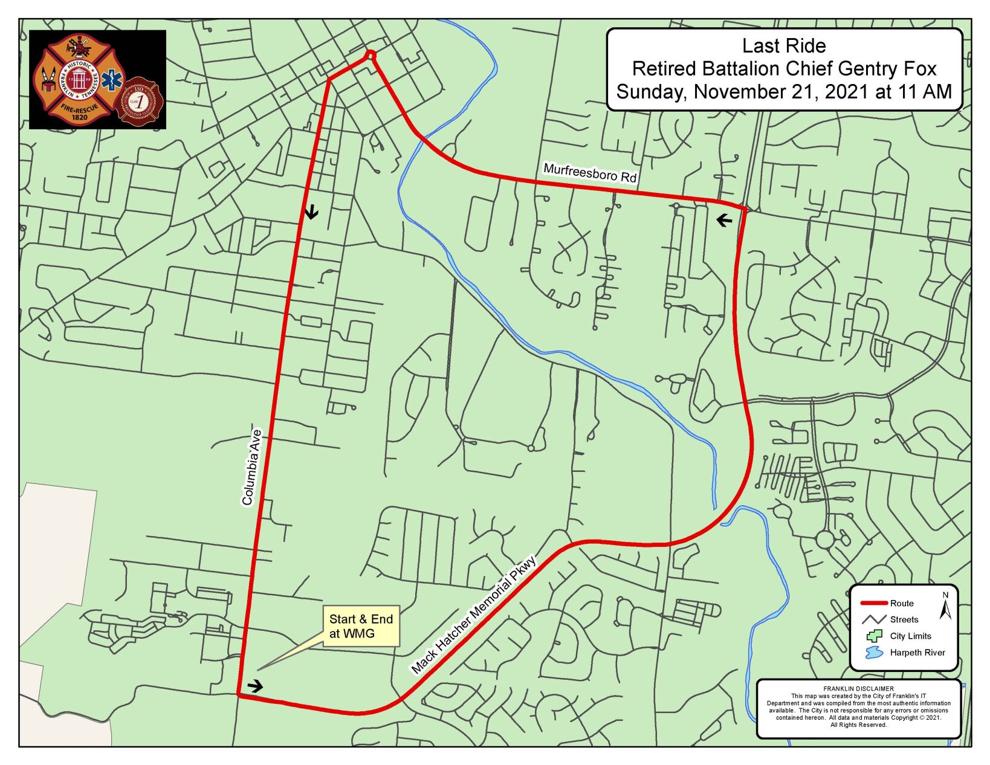 The public and other public safety agencies are invited to pay their respects along the procession route, which will include the downtown Franklin public square. The event will be brief and is not expected to create a significant traffic impact. 
The entire route will go from Williamson Memorial Funeral Home down Columbia Avenue to Mack Hatcher Parkway, then to Murfreesboro Road, around the public square to Main Street, then back to Columbia Avenue and return to Williamson Memorial. 
Fox retired from the Franklin Fire Department in 2012 after 38 years of service. Additionally, he was a lifetime member of the Williamson County Rescue Squad. He was also an instructor at the Tennessee State Fire School, which then became the Tennessee Fire and Codes Academy, where he trained firefighters across the state for nearly three decades. Learn more about his career at www.franklintn.gov/Home/Components/News/News/1783/.
Visitation will be held at Williamson Memorial Funeral Home from 2-6 p.m. Sunday and noon-12:45 p.m. on Monday. The funeral and interment will be held at 1 p.m. Monday at Williamson Memorial.