Tennessee's former top vaccine official filed a lawsuit on Thursday against the state's health commissioner and chief medical officer after her termination from the Tennessee Department of Health garnered national attention.
Included in the suit — a letter stating under penalty of perjury that she did not send herself a dog muzzle she received from Amazon that was found to be purchased under her name with one of her credit cards.
Dr. Michelle Fiscus, a Franklin resident and the state's former medical director for vaccine-preventable diseases and immunization programs, was fired from the health department on July 12 amid statewide controversy concerning vaccination and children. As elements related to the event unfolded publicly over the following weeks, Fiscus believes damage to her reputation has made relocation outside Tennessee a necessary step if she wishes to continue to work in public health. In fact, the former Williamson County pediatrician plans to move to Virginia with her husband, Brad, who is a member of the Williamson County Schools Board of Education, later this month.
One of the major elements of the discussion around Fiscus' firing is a letter from Tennessee Chief Medical Officer Tim Jones to Tennessee Health Commissioner Lisa Piercey recommending Fiscus' termination that lists feedback seemingly incongruous with Fiscus' recent performance reviews, in addition to a dog muzzle Fiscus received at her office from Amazon, which she has said she perceived as a threat.
In response to the widespread discussion, in late July, Fiscus' attorneys requested of Tennessee Health Commissioner Lisa Piercey and Tennessee Chief Medical Officer Tim Jones a post-termination name-clearing hearing for Fiscus, which was denied in an email stating that Fiscus "has not established the elements necessary to show entitlement to a name-clearing hearing." The email did not state which elements were missing, and Fiscus and her attorneys proceeded to file suit in the U.S. District Court of Middle Tennessee against Piercey and Jones for injunctive relief and compensatory damages.
"The complaint and declaration speak for themselves," Fiscus said. "I look forward to my name being cleared despite the Tennessee Department of Health's denial of my right to do so."
Suit points to 'defamatory' letter
Fiscus' official complaint highlights Jones' letter, sent on July 9 to Piercey recommending Fiscus' termination, as one of the main elements that Fiscus believes led to a damaged reputation, stating the letter contains "false, stigmatizing, and defamatory statements concerning Dr. Fiscus and her character for honesty and morality."
This letter was featured in numerous news articles and included Jones' recommendation for termination based on Fiscus' alleged "failure to maintain good working relationships with members of her team, her lack of effective leadership, her lack of appropriate management, and unwillingness to consult with superiors and other internal stakeholders on [office] projects."
Fiscus claims that she had not been made aware of the letter or its contents before it was made public. Two days after her termination, Fiscus told the Herald that she was told part of the reason for her firing was that she should have been more "politically aware" and that she had "poked the bear" by sending information about the state's "mature minor" doctrine to medical providers months ago.
Back in May, Fiscus had asked the health department's general counsel for a statement about the doctrine, which holds that physicians may "treat without parental consent" 14- to 18-year-olds under certain circumstances, as it applies to COVID-19 vaccination. She sent the statement verbatim, which she was told was "forward facing" and "blessed by the Governor's office," along with some general information about the COVID-19 vaccine to medical providers, and a screenshot of her email was later spread online and kickstarted public controversy about vaccination and children.
Jones stated in his July 9 letter that Fiscus' email featured "her own interpretation" of the state's "mature minor" doctrine. The state's statement regarding the doctrine features the exact language included in Fiscus' email and is currently published on the state's website.
The lawsuit further states that the reasons Jones listed for Fiscus' termination contradict her "glowing performance reviews." Reviews written by Fiscus' supervisor, John Dunn, in April include positive comments concerning her work objectives, team relations, leadership, even her work concerning child vaccination.
"The program has been under very intense scrutiny and performance expectations," Dunn wrote. "I've appreciated [Fiscus'] availability for consultation on COVID while also bringing the overall decline in childhood immunizations from 2020 into focus."
While the reviews suggested "team rapport" and "staff morale" as focus points for Fiscus moving forward, noting the "tremendous stress" Fiscus' team had been under, Dunn made no mention of the "failure to maintain good working relationships with members of her team" that Jones purported of Fiscus in his letter.
Fiscus denies purchase of muzzle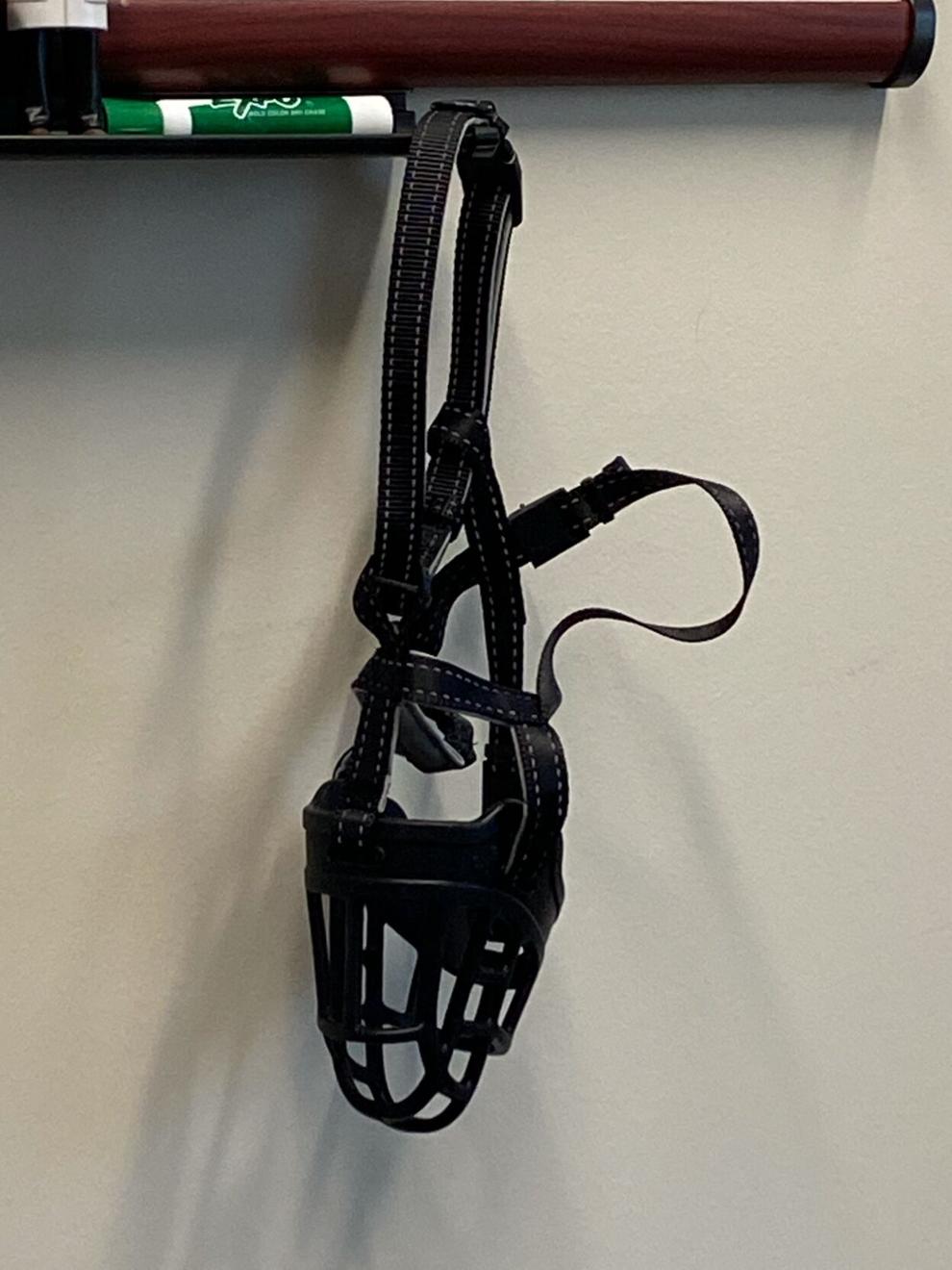 Another piece of the puzzle mentioned in the suit is the muzzle that Fiscus received in an anonymous Amazon package at her state office prior to her termination. After checking with friends and family to ensure the muzzle was not sent as a joke, Fiscus said she asked the Tennessee Department of Safety and Homeland Security to investigate the package.
On Aug. 16, the department concluded that "there is no evidence to indicate that the dog muzzle was intended to threaten Dr. Fiscus," noting that the Amazon account through which the muzzle was purchased was one of two accounts under Fiscus' name and was created with a phone number. The card used to purchase the muzzle was an American Express that had been used on the other account under Fiscus' name as well.
In a statement signed by Fiscus under penalty of perjury, she stated that the credit card had been canceled over a year before it was used to purchase the muzzle but was allowed for use by Amazon due to prior activity with the card. She also stated that the billing address for the card was incorrectly listed as her office address.
"I did not order this muzzle from Amazon and I do not know who ordered the muzzle from Amazon," the statement reads.
Fiscus attested that she believes the implication that she purchased the muzzle herself further injured her reputation, reflected in her signed statement and in the complaint itself.
"The muzzle controversy was a further effort to discredit Dr. Fiscus and malign her reputation," the complaint reads.
Her attorneys filed a public records request for emails and text messages from seven Tennessee Department of Health employees in an attempt to further investigate the matter themselves, and the department said the request would take up to a year and $654,241.95 to fulfill.
The Metro Nashville Police Department has launched an investigation into the muzzle issue upon Fiscus' reporting it to the department.
Fiscus is represented by Christopher Smith of the Nashville firm David Randolph Smith & Associates.