The first transitional home for the homeless in Williamson County is inching closer to its opening date, and the local pastor heading up the project is calling on the community to assist in this heavy lift, as he says there's a long way to go.
Franklin Community Church Pastor Kevin Riggs has been working with the homeless for about seven years through his church's ministry arm, Franklin Community Development. But over the past couple of years, supporting Williamson County's homeless population has been a particular emphasis for him and his colleagues with the establishment of a nonprofit, the Williamson County Homeless Alliance.
"We're the only nonprofit in Franklin whose sole purpose is [serving the] homeless," Riggs said.
He noted that he has partnered with other nonprofits, such as GraceWorks Ministries, Mercy Community Healthcare and One Generation Away, to serve this population, but their missions are much broader. The Williamson County Homeless Alliance has spent over $200,000 to provide emergency shelter in hotel rooms to locals without a home during the COVID-19 pandemic and has helped many residents throughout Middle Tennessee acquire homes by assisting with rent payments. Pretty soon, the nonprofit will open a transitional home to help people get back on their feet.
Riggs already operates a men's group home on Natchez Street through Franklin Community Development, which offers month-to-month housing for a small fee, but this transitional home will not require rent payments.
This home, on West Meade Boulevard near Pueblo Real Mexican Restaurant, will be called the John and Joyce McMillen House, named after the major donors who helped the nonprofit purchase the property. Once renovations are complete — sometime in October or November — it will house up to eight people for 90 days each as they work with one of the nonprofit's four case managers.
"[A resident is] really going to be someone who, with the right case management around them, in 90 days, there's a really, really good chance they'll be back on their feet, so it won't be for everybody," Riggs said.
He said those struggling with addiction and substance abuse are more difficult to place. There are a few spots he can send them for shelter, he explained, but the waiting lists tend to be long, and without insurance, which most people who are both homeless and struggling with addiction wouldn't have, sending them to detox and rehab can cost thousands of dollars.
"One of my long-range plans is to have a trust fund, basically, that people can give to," Riggs said. "Then, if somebody needed to go to detox, that trust fund would be there to send them to detox right away."
This is part of a large vision Riggs has for the nonprofit, as he recognizes that services for the homeless are limited in Williamson County. He shared that homelessness is a complex issue with complex needs, and as the Williamson County Homeless Alliance grows, the team hopes to be able to serve more and more.
Eric Boucher, the nonprofit's office manager, said each case is unique, and that's how the team approaches each situation.
"We don't think that we know it all when we reach somebody, [so] we can still say, 'How best can we help you?'" Boucher said. "We don't want to have any preconceived notions."
One major barrier to getting new programs off the ground is simply — or not so simply — money.
"In this kind of work, finances are always going to be the major thing. It costs money to provide the wrap-around services with the case managers, and we want to have a holistic program. We're really trying to help people get back on their feet," Riggs said. "Unfortunately, that's just the way it works; this is a money-heavy endeavor."
Making people aware of the need in Williamson County — and of the local homeless population in general — poses a challenge in the fundraising process, Riggs said. In contrast with major metropolitan areas, Williamson County residents won't often see someone sleeping outside in plain sight.
"There's a lot of people living in cars, and that's increasing," Riggs said. "And then there's a lot of people who are couch-surfers."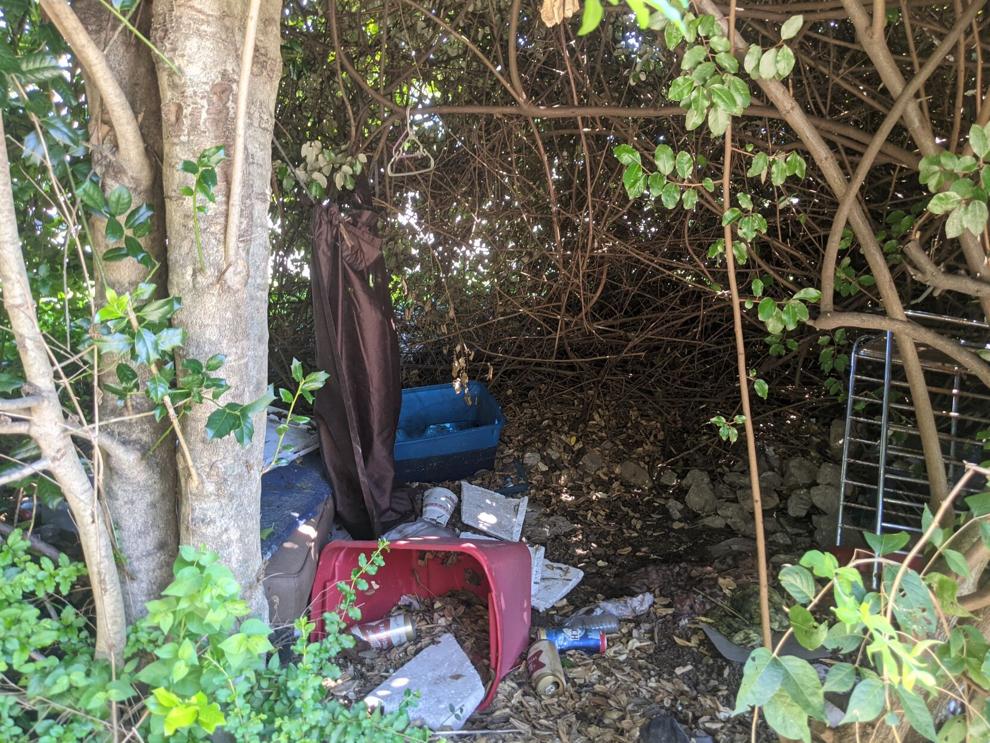 However, that doesn't mean there aren't people staying out in the open air as well. Riggs pointed out a hollowed-out area in a shrub at the back of a church parking lot, just across from his nonprofit's new office. Inside the bush was a cushion half-hidden behind a curtain, a couple plastic bins filled with leaves and water, and trash, including a few beer cans. The space has seemingly been abandoned for months, and Riggs only recently discovered it.
Because Riggs has worked with the homeless for years, he is sure he knows who used to stay there. He said the man, who suffered from alcohol abuse, died early last year. Riggs recognized the discarded cans as his "beer of choice."
Riggs said he believes, at the end of the day, the solution is in the community's priorities.
"It's a complicated problem, but the solution is to make sure that we're putting people ahead of profits and ahead of maintaining this perfect image of Franklin, which is not, by any means, perfect," he said.
He noted that certain businesses and organizations throughout the county, particularly restaurants and hotels, are struggling with staffing at the moment, and he sees that issue as stemming from people not being able to afford to live in Williamson County on the wages of these jobs, saying realistically the livable wage for Williamson County sits somewhere around $30 per hour.
"The answer you get from some people is they don't care. They want it that way. 'If you can't afford to live here, that's good,'" he said. "But then you're going to complain that you've got horrible service at a restaurant because there weren't enough waiters and waitresses. You can't have it both ways."
He said he believes many people hold a "not in my backyard" attitude when it comes to low-income housing, and he hopes the church will lead a change.
"[It's] odd that you live in the buckle of the 'Bible belt' with a church on every corner, and people who sit in church on Sunday are going to have an attitude of 'don't put that in my backyard,' which is the totally opposite attitude of Christ," he said. "You should want it in your backyard. These are people created in God's image, and they're beautiful people."
As he works to address issues around low-income housing and wages in the county, Riggs is working in the meantime to serve those with immediate needs, asking the community to come alongside him in his efforts. Next month, the Williamson County Homeless Alliance is holding a fundraiser, Stop the Cycle of Homelessness, where people can register for a 200-mile bike-riding challenge over the month of October. More information about the event can be found on the nonprofit's Facebook page at www.Facebook.com/wcha19.
To learn more about the Homeless Alliance, visit www.WilcoHomeless.com.