Editor's note: This story discusses mental illness and suicide. 
The holiday season can be the most wonderful time of the year, but for some, the increased stress can lead to physical illness, depression, anxiety and substance abuse.  
There are organizations in the community ready to help. The Tennessee Department of Health (TDH) and Tennessee Department of Mental Health and Substance Abuse Services (TDMHSAS) work to aid those having trouble navigating those challenges and strengthen community connections. 
Locally in Williamson County, in hopes of reducing the stigma of mental health and bringing awareness to this epidemic, Franklin Mayor Ken Moore and the city of Franklin began the Find Hope Franklin initiative to offer residents help when they're in crisis. 
Suicide has shown to know no age — it impacts every demographic, from old to young, rich to poor, and everything in between. Data from 2020 shows Williamson County holds the second-highest suicide rate in Tennessee for juveniles ages 10-19 years old. Adults ages 35-64 made up more than 50% of the county's suicides.  
"Psychological emergencies are the leading call for service for the Franklin Police Department," Franklin Police Chief Deb Faulkner said. "I am sworn to protect our citizens, and the growing number of mental health issues in our community is very alarming."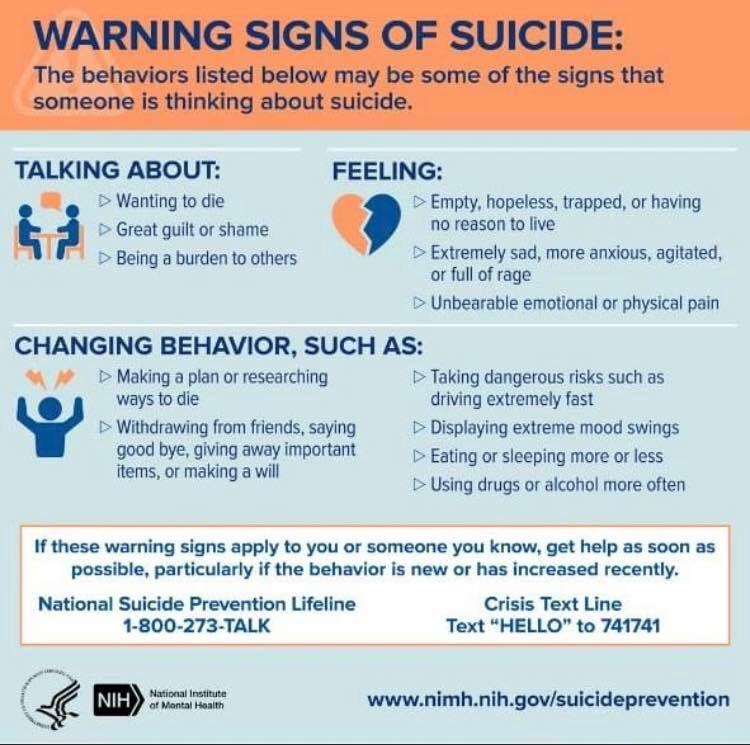 Faulkner said from January through November of 2021 in the city of Franklin, there were 142 suicide attempts, 95 threats and eight completed. The oldest person who attempted suicide was a 92-year-old, and the youngest was only 8.  
Unfortunately, Franklin is not alone. The city of Brentwood has seen a fourfold increase in the number of mental health calls since the start of the COVID-19 pandemic, according to Brentwood Police Department Assistant Chief Richard Hickey.  
"So far in 2021, we have responded to 119 calls that we classified as mental health calls for service," he said. "Most of these calls involved someone who was either threatening self-harm or had already harmed themselves in some method. 
"Mental health is truly a crisis for police and has been for several years now, but we know it is multiplied during the holidays." 
Hickey said police departments are having to alter tactics and go through new, rigorous training. 
"As America has drastically changed how it deals with people who are experiencing some level of mental illness and shifted away from inpatient care, our country really hasn't developed a good avenue for getting people the help they need during a crisis," he said. "For police officers in America, we are the entity that people call when they have nowhere else to turn. This traditionally hasn't been a law enforcement role, but we are trying to fill the gap until a better solution is discovered. 
"In Brentwood, we are committed to training all our police officers in crisis intervention methods and hope to have this accomplished in the next two years." 
Amy Alexander, executive director of The Refuge Center for Counseling in Franklin, said from 2019 to 2020, there was a 42% increase in suicides in Williamson County, and 93% were men. 
Alexander explained that men 35-65 are at the highest risk. It's often due to living in a society that thrives on success and high achievement, and men can feel alone and pressured.  
While there are many warning signs indicating a person may be in acute danger and may urgently need help, there are two Alexander highlights. 
"First, if someone is talking about being a burden to the people they love, this is a warning sign," she said. "The second is feeling like they don't belong." 
Other warning signs, according to Alexander, include talking about wanting to die or kill oneself, talking about feelings of hopelessness or no purpose, feeling trapped or in unbearable pain, an increase in the use of alcohol or drugs, sleeping too much or too little, withdrawing or feeling isolated, showing rage or talking about revenge, or displaying extreme mood swings.  
Alexander partnered with Moore to encourage the community at Unite Williamson, an event created to bring together and connect all of the faith-based organizations in the county and spread a feeling of hope.  
She challenged everyone to become radical in their actions to prevent stress by using radical grace, or offering oneself goodwill; radical boundaries by setting firm boundaries around one's own needs; radical adventure, or committing to move; and radical rest. 
"In 2020 and 2021, we saw unprecedented levels of suffering, loss, isolation, etc.," she said. "Everyone across the globe experienced pain at some level. We have been resilient and strong and brave beyond measure. And yet, this does not come without a cost. … Our ongoing ability to persevere and remain a place of respite … will require some radical action." 
There is support available for those living with mental health challenges. The Find Hope Franklin initiative offers hope and help, and the Refuge Center is a great resource for counseling and intervention.  
Visit www.findhopeinitiative for more on the Find Hope Franklin initiative, and learn more about how the Refuge Center can help at www.refugecenter.org.   
Some of the statewide mental health and suicide prevention resources include the Mental Health and Suicide Prevention Services Resource Directory, Tennessee Statewide Crisis Line (855-274-7471), ResilienTN and Tennessee REDLINE.