On his way from Dubai to Abu Dhabi, a Williamson County native came across a scene of devastation, pulled off the road and saved a life.
While he is a trained U.S. Marine, John Ed Auer credits much of his knowhow and quick thinking to his Boy Scout days in Troop 137 under a nationally known scoutmaster and longtime Franklin business owner, the late John Green.
Green would meet with scouts every Saturday, Auer explained, to learn and practice various life skills.
"He would teach these young boys, including myself, everything from land navigation … to first aid to anything that helped you with your merit badges or your progression through the ranks in Boy Scouts," Auer said. "He taught us how to build tourniquets and stop extensive bleeding and just was a very knowledgeable man that kind of laid the foundation for me as I went into the Marine Corps."
Auer grew up in Franklin with his parents and two siblings. His dad was in the Navy before marrying a teacher in the Department of Defense, whom he met in Japan. They then moved to Williamson County and he became a professor at Vanderbilt University.
Auer said upon graduating high school, he didn't know what he wanted to do, but in respecting his father's military career and having been positively influenced by his parents' friends, he decided to go to The Citadel, a military college in Charleston, South Carolina.
"I did my four years there and then decided to join the Marine Corps for just one term as an officer, and then I had planned on going to law school," Auer said. "I never made it to law school."
Auer enjoyed his time as a Marine. He did two tours in Afghanistan, a tour in Iraq, served in the Honor Guard in Washington, D.C., was stationed in California, and then became an advisor to the United Arab Emirates (UAE) military, starting in July as a major in the Marine Corps.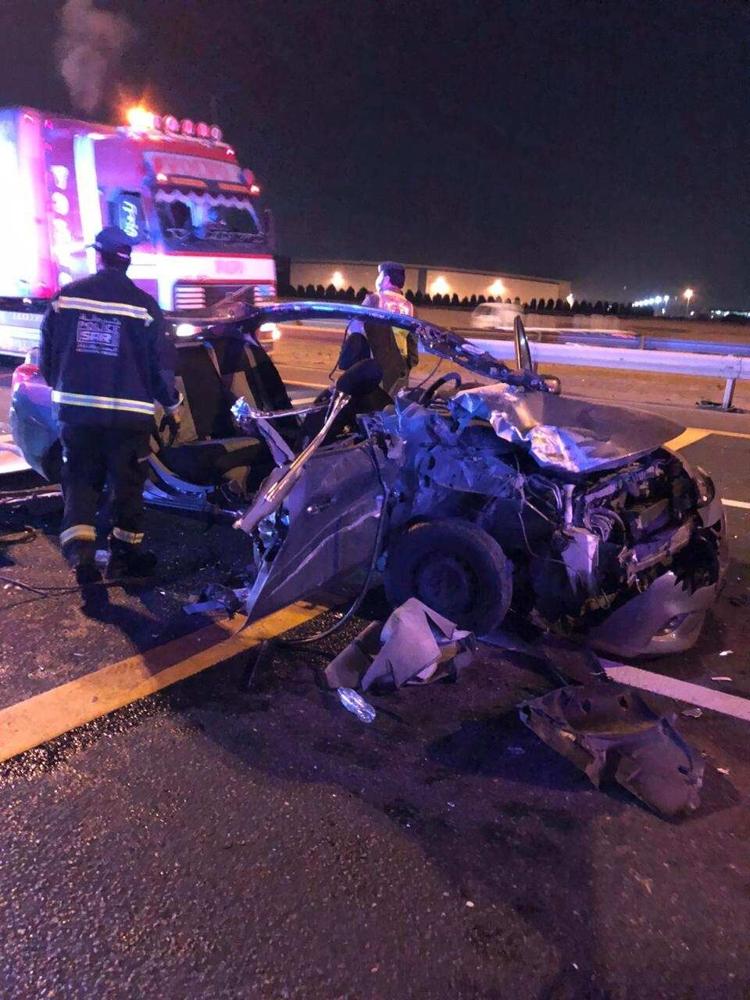 In early December, Auer was driving to Abu Dhabi on a high-speed road he compared to Interstate 840 and witnessed a wreck just after dark.
"The car in front of me did something to where he had a collision with a semi that was on the slow lane, and he was in the fast lane," he said. "I didn't see exactly what happened. It was just a big cloud of dust and whatnot, but essentially the car got totaled."
Auer his car over and instinctively jumped into what he knew needed to be done.
He grabbed the first aid kit that he happened to have and looked for anyone who was hurt. The truck driver didn't have injuries, the sedan driver had a minor head injury and a backseat passenger was stuck in the car. Another sedan passenger was coughing and choking on his blood. This is the person Auer rushed to.
He referenced his Marine and Boy Scout training and went through his ABCs — airway, breathing and circulation — and performed the head-tilt-chin-lift maneuver.
"He just took a big gasp and started breathing again," Auer said, sharing that he held the man's head until ambulances arrived and medics were able to use a car jack to free the backseat passenger and get everyone into ambulances.
"I was at the right place in the right time."
Auer has never seen "the level of trauma that I saw from this guy in a civilian context before."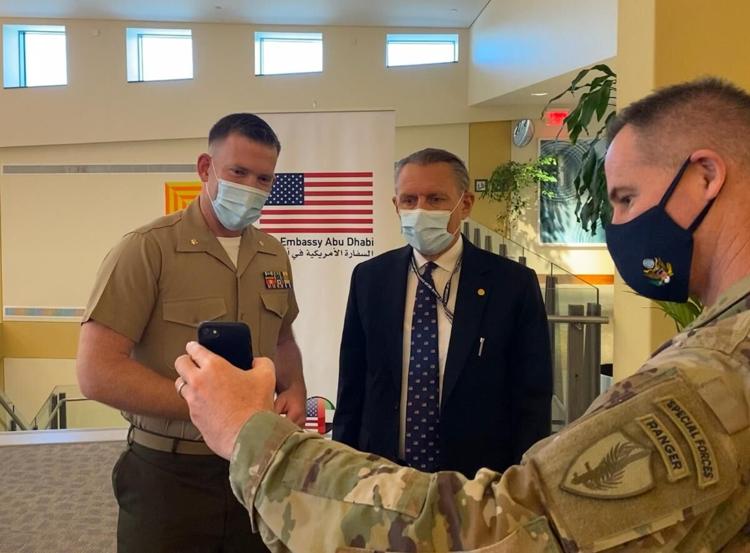 "In my Marine Corps time, I've seen some stuff, but we're ready for it then, right? Like, we have combat medics, and we have a helicopter a radio call away, and so on and so forth," he said. "My biggest takeaway from the whole thing was just I didn't think about it, and my reaction to what I observed was absolutely from training that started with first aid under John Green."
A couple weeks later, U.S. Ambassador to the UAE John Rakolta recognized Auer for his heroic actions.
Auer said he was glad to see how his training kicked in and allowed him to act with ease, encouraging others to pursue first aid training to be prepared.