Williamson County Schools released a draft of its reopening framework during the WCS Board of Education work session Thursday evening.
Earlier this week, the state released suggested guidelines for reopening schools, sharing that it plans to allow individual districts to determine their own reopening plans. WCS Superintendent Jason Golden said now that the district knows it has the authority to determine its own plan, it will begin discussions with the community about WCS reopening in the fall.
Golden shared the district's goal for this coming school year is "to provide students the maximum possible direct teacher instruction within the state and local health department COVID-19 safety guidelines."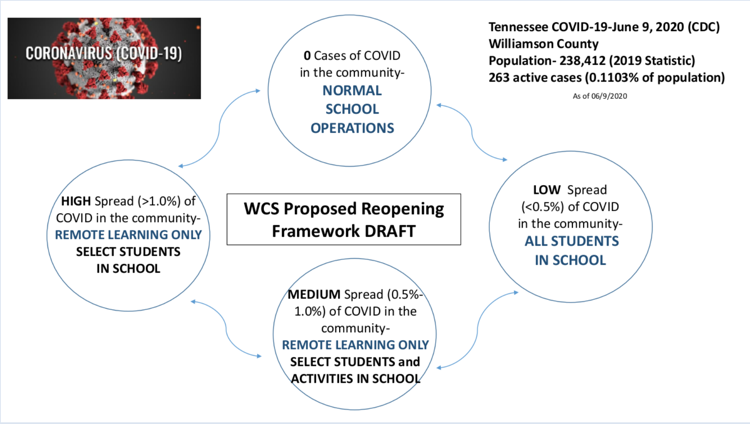 He said if there are no COVID-19 cases in the community (in Williamson County), school will operate normally. Good hygiene will be encouraged, and schools will be cleaned regularly. Additionally, staff will monitor the state of the virus, and the district will depend on families to keep their kids home if they feel ill.
Schools will plan to have some "remedial assignments," Golden said, for students who stay home due to sickness, and the district will do away with chronic absenteeism notifications for the time being to encourage staying home when sick.
With low community spread of the virus (less than 0.5% of Williamson County's 238,000-plus population), students and staff would be screened before entering school buildings, social distancing would be implemented when possible, and masks would be recommended for students and staff members.
"We will recommend masks for students and staff, especially when in close contact or shared space for more than 15 minutes," Golden said. "We are not requiring masks. We recognize the practicality that it's a practical impossibility ... for us to truly require the masks."
Under a medium spread of the coronavirus (between 0.5% and 1% of the population active with the virus), remote learning would begin with select activities on school campuses. Under these conditions, masks would be required of students and staff if feasible while on campus.
If the number of active cases exceeds 1% of the county's population, remote learning would be implemented, masks would be required, social distancing would be maintained, and no mass gatherings would occur.
Golden said the district will give families the option to choose remote learning.
This plan draft will be discussed with more details than have been made public with the district's parent advisory groups and with business leaders and will also be informed by community surveys.
Parents and WCS employees will receive a survey the week of June 22. The school board is scheduled to have a final review of the reopening plan on July 20, but the board discussed calling a special session to review the plan earlier than that date.
District 3 board member Eliot Mitchell recommended the district ask the Tennessee Department of Health to provide more localized COVID-19 data, such as Nashville's "hot spot" maps, to assist in COVID-19 response throughout the school year.
Several board members debated whether or not the percentage of the population active with COVID-19 should necessarily affect schools if the students aren't affected. District 12 board member Nancy Garrett suggested that the schools encompass more than just students.
"We have to have healthy teachers to have kids back in school. We have to have healthy bus drivers to be able to drive buses. We've got to have healthy staff," she said. "We've got to give some thought to these folks too. While we all want to be back in school, ... we've all got to do our part to make that happen."
Read the full draft of WCS's reopening plan below. For more information, visit wcs.edu.