It's the season of new leadership in Williamson County Rotary as all the clubs in the area introduce their new officers for the 2019-2020 year.
The Brentwood Morning Rotary got a characteristically early start, meeting June 25 to introduce Cherie Hammond as the new president, taking over for Mark Cleveland. The club also named Harris Mitchell as secretary and Lynn Tucker as treasurer for this year.
Cleveland expressed his confidence in a note to the club that this new team will continue to move towards the goals set the prior year.
"We had four top priorities this year (membership, leadership, literacy, impact), and I'm confident we will maintain that focus going forward," he said. "My goal now is to be helpful to Cherie Hammond as our incoming president and also to support our current and future leadership team."
The new team will continue to lead the Brentwood Morning Rotary in their meetings every Tuesday at 7 a.m. at City Cafe on Franklin Road.
The Downtown Franklin Rotary, one of the country's fastest-growing Rotaries with nearly 140 members, got right down to business the first day of the month, swearing in John Reynolds as the new president, Patrick Shairs as president-elect and new board members Jeff Ledbetter, Mark Grosvenor and Bill Kreager.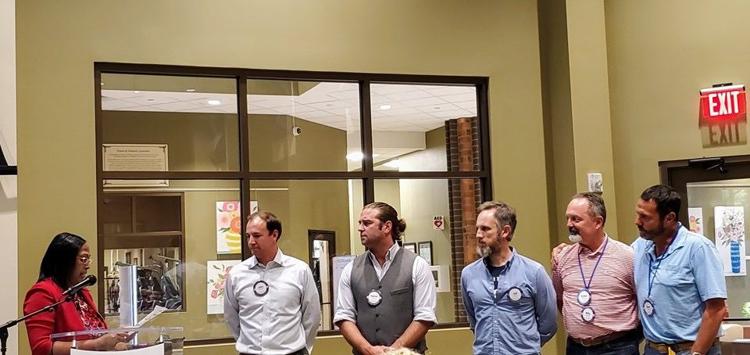 Reynolds succeeds Immediate Past President Lorrie Graves.
"As a lifetime member of the Franklin community, I was drawn to the Downtown Franklin Rotary Club as a way to give back and serve others," Reynolds said. "My experience has exceeded all expectations as I've met so many others who share my passion for the Rotary motto: 'service above self.' I'm incredibly humbled to serve as president and look forward to a great year."
The Downtown Franklin Rotary meets the first and third Monday of each month at the Williamson County Enrichment Center at 5:30 p.m.
The Brentwood Rotary, which meets Fridays at 11:45 a.m. in the Fifty Forward Martin Center, inducted their new officers July 5, introducing President Sarah Johnson, President-elect Keely Hall, Vice President Jennifer Bourne, Secretary Betsy Crossley and Treasurer Jeff Talley.
Johnson, taking the reins from Immediate Past President Michael King, shared her goal for big community projects in the club's bulletin.
"The last local project our club did on a large scale was the Granny White pavilion," Johnson wrote. "I would like to ask that we come together and start the process at looking at doing something else in the community that will have a lasting impact."
The Franklin Breakfast Rotary met Wednesday, July 10 at the Vanderbilt Legends Golf Clubhouse, where they meet weekly at 7 a.m.
The club welcomed Doug Kidd as the new president, taking over for Greg Lewis, as well as Vice President Kathie Moore, Secretary Luke Bottorff and Treasurer Phyllis Molyneux.
Kidd shared that Rotary has impacted him since he was a kid and has played a major role in his hometown community, so he's excited for the opportunity to lead the club he's been a part of for seven years.
"I like to give, and that's what I want to do. So, this is an organization that I'll be a part of for life," Kidd said.
For more information about the Rotary clubs in Williamson County, visit the district's Rotary site.