There are way too many memories to list from a chaotic 2020. There are so many moments of overcoming adversity and so many more what ifs.
In no particular order, here are a few Williamson County moments that stood out the most to me this year in covering high school athletics.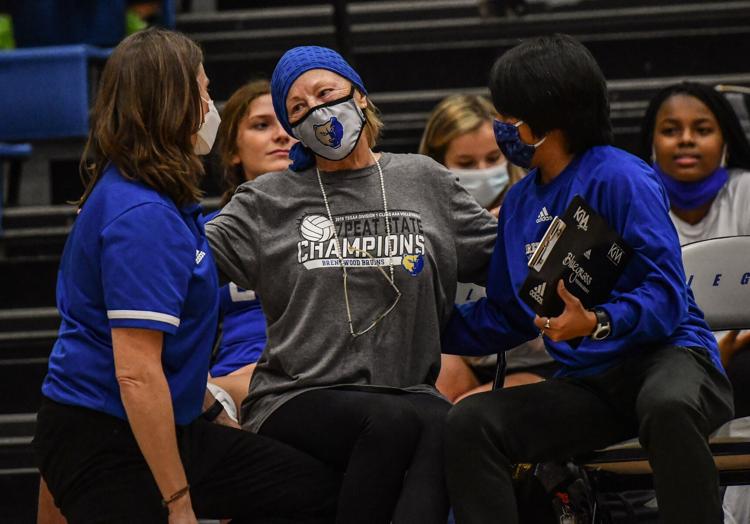 Barb's back.
The Brentwood volleyball captured a record-setting eighth consecutive Class AAA championship on Oct. 23, 2020. The Lady Bruins reached the final and pushed through the postseason without veteran coach Barbara Campbell on the sidelines after she was hospitalized after a stroke in late September. A queen's crown for the legendary coach occupied her seat at the end of the bench each match without her.
Brentwood reached another final and was set to face Siegel – the state tournament host – on the Lady Stars home floor. The Lady Bruins last loss was on the same floor on Sept. 23 against Siegel, just days before Campbell was first hospitalized.
The rematch was set, but the queen was still missing.
"I just knew she should be here," assistant coach Angie Noble said of Campbell. "She started this whole thing and she needs to be here as it continues."
Rumors that coach Campbell might make an appearance seemed to subside as warmups ended. After the National Anthem was played and starters announced, it was back to business without their leader one more time for Brentwood.
However, Noble, who has served as an assistant the last eight seasons, had a surprise – an ace, or better yet, the queen, up her sleeve: Just before the opening serve of the championship, a side door to the Siegel gym opened and in walked coach Campbell, flanked by two of her daughters, her sister and husband – staples at Brentwood matches themselves.
She walked toward the end of the bench and took her seat where a queen's crown has been holding her spot for 10 matches. The gym buzzed as if everyone's favorite celebrity walked by and for the Brentwood volleyball family, she just did. Barb was back.
"This is the movie that I had in my head," Noble said. "This is the way it played out."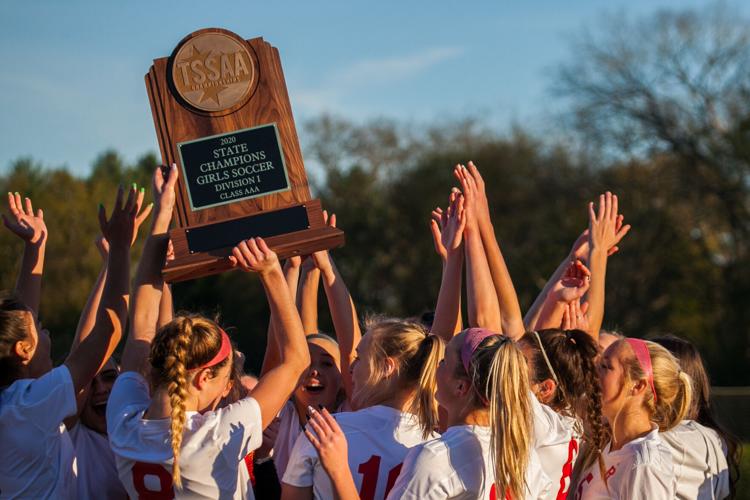 Twice as nice.
A shootout decided a second consecutive all-Williamson County girls' soccer championship on Nov. 2, 2020.
It swayed in favor of the defending Class AAA champion Lady Raptors of Ravenwood.
Kendal Curran didn't play a single minute during regulation or overtime in the championship match against Franklin, but the sophomore goalkeeper appeared on the state's biggest stage when her team needed her most – during a penalty kick shootout to decide the state soccer championship.
"I was standing on the line waiting for that whistle to blow and saw my teammates at midfield, I knew I just wanted to do it for them," Curran said. "I don't know, I just dove and they were there. It's just amazing."
The sophomore energized the Lady Raptors with back-to-back diving stops as Ravenwood went on to repeat as state champions with a 1-0 shootout victory over the Lady Admirals.
Lady Raptor seniors Anna Major, Nora Henderson, Maddie Gleason and Josie Ricketts all converted on their PK attempts, capped by Ricketts' goal that sent the team into a frenzy and cap a season that nearly never was while cementing the Lady Raptors in state soccer history as repeat champions. Ravenwood defeated rival Brentwood in the 2019 final.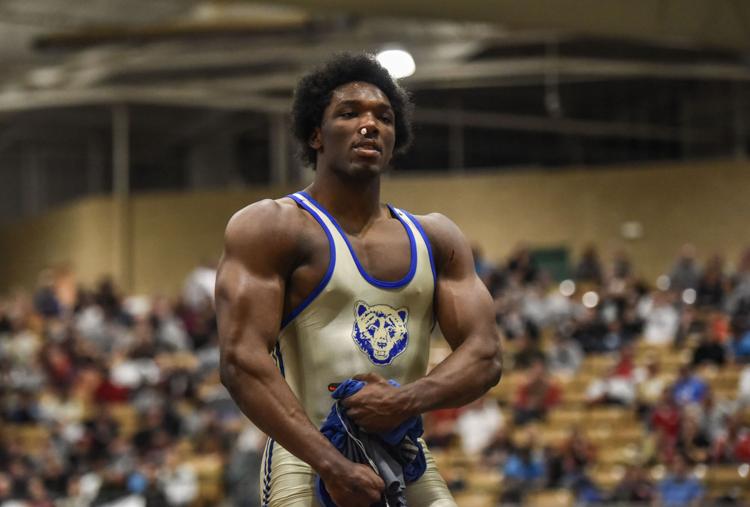 The flip.
Anytime Skylar Coffey took to the wrestling mats, the Brentwood star brought the crowds with him. On Feb. 23, 2020, he exited with a title and more.
Each time the powerful Coffey flashed his burst double takedown in the final, Walker Valley's Jadon Langford was pushed back and twice picked up for a crushing takedown in the 285-pound heavyweight division. That's right, picked up. Late in the first round, Coffey turned Langford to his back for a near fall, but the fellow senior survived to reach the second round where another Coffey burst put Langford on his back one more time for the early second-period pin and championship.
As a parting gift to everyone who watched Coffey cap his career with another title, he impressed the Williamson County Ag Center crowd one more time with a handspring and backflip.
"I give myself a 10 out of 10 on that flip," he said. "I thought it was pretty awesome."
"Yeah, I'll give him a 10 as well," Brentwood wrestling coach Damon Smith said smiling. "I guess if he never makes it in wrestling or track and field, he can go out for gymnastics and probably be alright."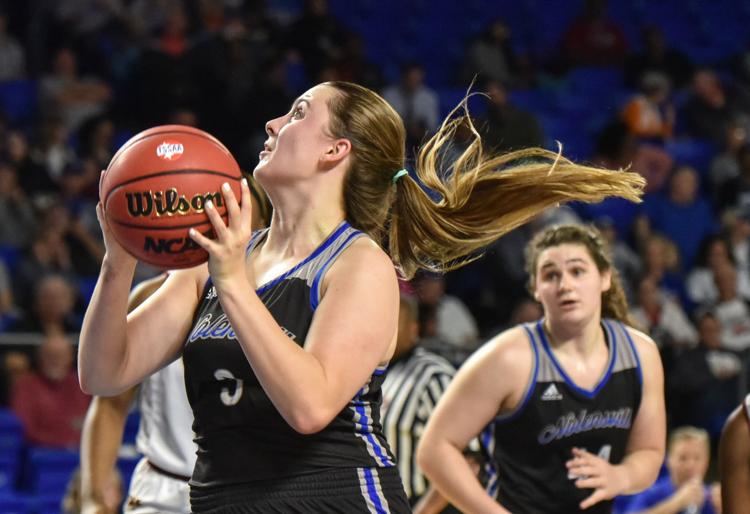 Four-way tie.
March 12, 2020. The premature end to the high school basketball season.
The Nolensville girls had just won their Class AA opener – 59-44 over Melrose – in their state tournament debut.
A semifinal showdown awaited against a tough Macon County team was scheduled for March 13. It never happened, nor did the Westview vs. Upperman state semifinals. The four teams were left without a determined champion as COVID-19's impact on the world became all the more evident overnight in mid-March.
"It was hard to digest," said Nolensville coach Chris Ladd, whose team was following the footsteps of banner year for Lady Knights athletics. The volleyball team won the school's first state title months prior, while the girls soccer team played for a championship as well.
"Our school has been pretty successful and it's been exciting to be a part of," said then-junior Caymin Ladd, coach Ladd's daughter and a middle blocker on the Lady Knights volleyball team. "After that last game, we left thinking we will see you tomorrow and work on our game plan, and then, we just ended. It didn't feel right without any closure."
"Life is going to happen, we are just going to have to deal with it," coach Ladd said.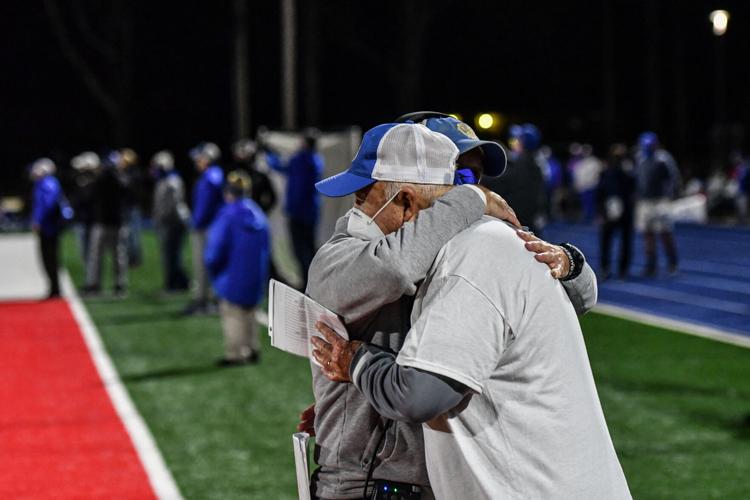 For Pat.
On Nov. 27, 2020, the Brentwood football team advanced to the school's second-ever state championship game with a 24-14 win at Bartlett in Memphis.
Throughout the postseason, the Bruins overcame injuries, COVID-19 contact tracing and ultimately, the loss of team football matriarch Pat Crawford, coach Crawford's mom and assistant coach Tom Crawford's wife.
"I just wish my mom was here to see it, but I think she did see it," Ron Crawford said after Brentwood's historic win to reach the state finals. "It's kind of hard right now to be fully excited personally, but I look around at this joy for this team and these guys have worked so hard for this. It's just unbelievable.
Mrs. Pat was laid to rest the Sunday before the semifinals after a battle with COVID-19 and pneumonia. She was 80.
"We are obviously heart-broken and sad, but we have felt a lot of love from our community and beyond," Ron Crawford said. "We are grateful for everybody that has reached out to us. We are loved and mom was loved."
Brentwood turned to backup QB Davis White to escape the first round after Granzow injured his leg, rallied to stun Independence in the second round and pushed past rival Franklin in the county's oldest rivalry in the state quarterfinals. All the while, they played through injury, missing personnel and with heavy hearts for the Crawford family.
Brentwood fell to unbeaten Oakland in the state final, ending a whirlwind season.
"This has been a heckuva season and 2020 itself has been something," Brentwood senior quarterback Cade Granzow said. "With coach Crawford's mom passing away, all the COVID stuff, we just kept prevailing and getting through it all. I give all the glory to God."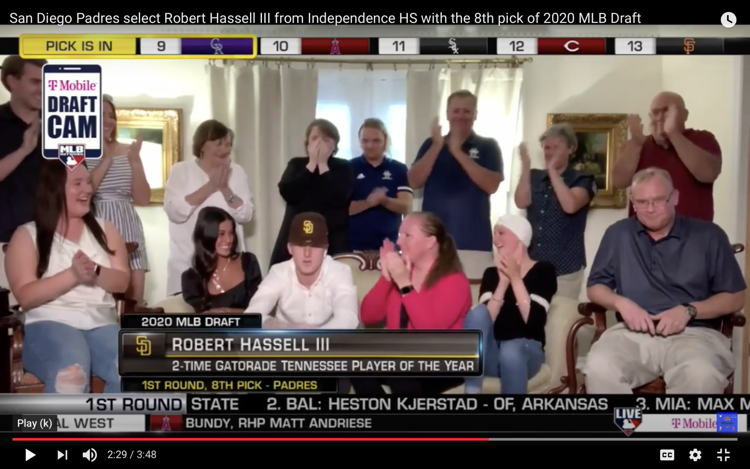 Draft Day.
Despite only getting to play two games as a senior at Independence High School, baseball star Robert Hassell III was drafted by the San Diego Padres with the eighth overall pick in the Major League Baseball draft on June 10, 2020.
Hassell, a two-time Tennessee Gatorade Baseball Player of the Year, was selected in the league's first virtual draft thanks to the COVID-19 pandemic.
"It's real exciting," Hassell said on the broadcast after putting on a brown Padres cap surrounded by his family and friends. "So there's nothing but excitement."
The Thompson's Station standout was coming off a busy fall leading up to his senior year when he was the top hitter on the US under-18 National Team that earned a silver medal at the World Cup in South Korea. Hassell was later named the World Baseball Softball Confederation (WBSC) International Baseball co-Player of the Year at the III WBSC Congress.
He led the national team in 10 offensive categories, including batting average (.514), hits (18), doubles (five), home runs (two), RBIs (14), total bases (31), slugging percentage (.886) and on-base percentage (.548). Hassell started all nine games of the World Cup in the outfield.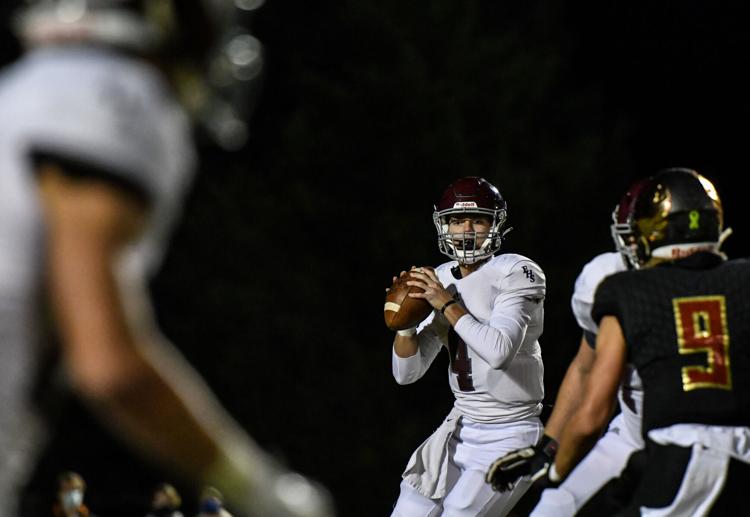 The catch.
Twice this season Franklin senior Taylor Spierto has hauled in a game-winning touchdown from longtime teammate and Admirals quarterback Connor Beavon. None were bigger than the go-ahead score with four seconds left in the Class 6A second round at Ravenwood on Nov. 13, 2020.
With four seconds remaining – and just 47 seconds after a go-ahead score by the host Raptors – Beavon peeled to his right as a Ravenwood defender quickly closed in and lofted a ball to the corner of the endzone. Spierto – with a defender hanging on him – came back to the pass and got two hands under the ball and rolled over for the game-winner.
The Admirals overcame a late turnover, a Ravenwood touchdown with 51 seconds to play and marched 73 yards to score and claim a 31-28 win on the road to advance to the quarterfinals for the first time since 2016.
"Man, this feeling, there's nothing like it," said Beavon, who passed for three touchdowns and 304 yards. "I told Taylor to run to the corner of the end zone and I'm going to throw it up. It wasn't the perfect pass, but he made an adjustment and caught the ball."
"It's just amazing," said Spierto, who finished with 12 catches for 116 yards. "Connor made the throw and sometimes the underthrows are the best throws … so I just made the play."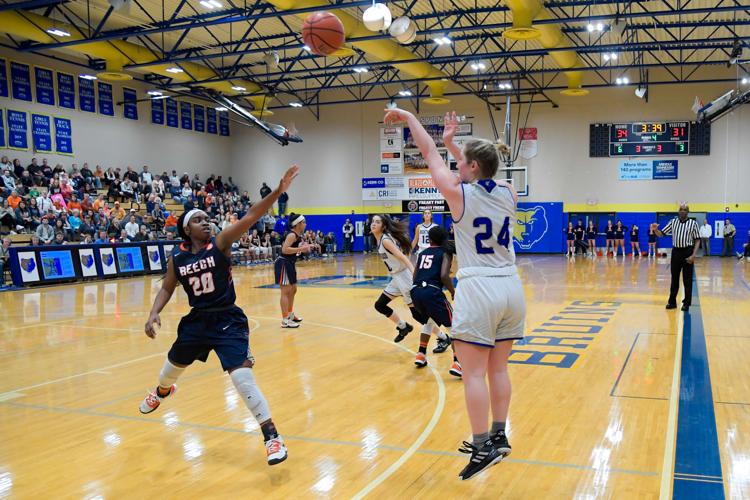 Wampler for the win.
With Brentwood's first Class AAA state tournament berth hanging in the balance, then-junior Chloe Wampler provided two of the biggest baskets of her career late in a 44-38 win over Beech on March 7, 2020.
Leading 34-31 midway through the fourth quarter, Wampler got free in the corner and knocked down a deep 3-pointer to extend the Lady Bruins' lead to six points with 3:32 to play. Just 40 seconds later, Wampler struck again, this time with a mid-range jumper for a 39-31 advantage.
Things got dicey down the stretch, but the cushion provided by Wampler's big buckets helped keep Brentwood in front. Wampler also was fouled and sank two free throws to give Brentwood a 43-38 edge with 15 seconds remaining to seal the state berth.
"This is something we have been talking about … for the last three years," said Wampler. "Always, every day at practice, it's 'Let's get to the Glass House' (the nickname of the Murphy Center, the host site of the Class AAA tournament)."
Wampler finished with a team-high 15 points, including nine massively-important points in the fourth quarter, to help Brentwood (29-2) fight off the talented and determined Lady Buccaneers to reach the state tournament for the first time since 2013.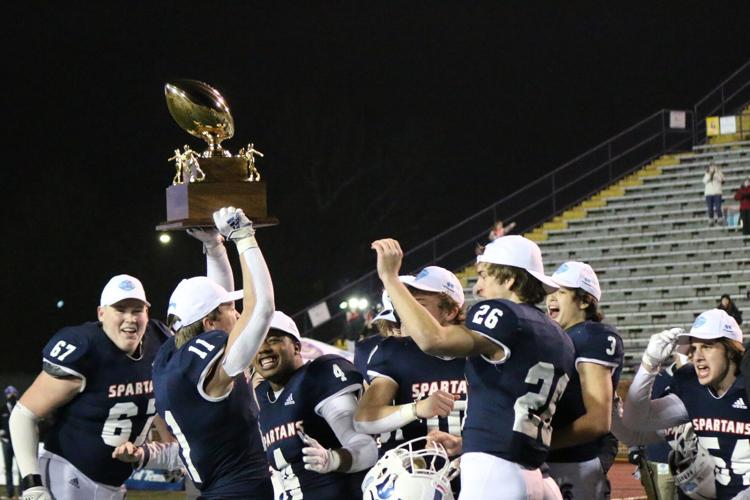 The vindication.
After reaching the school's first state championship in 2019, the Summit football team made another run to the Class 5A title tilt and did it during the strangest year on record due to COVID-19.
They were blasted in the 2019 final 30-7 by Knoxville Central, but battled through 2020 and eventually made quick work of Oak Ridge to win the championship 28-7 on Dec. 4, 2020 in Cookeville, while enduring a penalty-riddled final.
"I'm just excited," said Summit coach Brian Coleman, whose team endured a more than 40-day stretch without playing a game due to COVID-19 protocols. "This is awesome for these kids and this community. It's just a great feeling for sure."
It took less than eight minutes for the Spartans to score the first two touchdowns. They led 21-0 with 5.48 to play in the second quarter after Mr. Football finalist Destin Wade pounded in a 3-yard touchdown run.
"It is just an unreal feeling," Wade said. "I give all the glory to God."
The junior quarterback completed 82-of-130 passes for 1,405 yards and 19 touchdowns with five interceptions on the season. He racked up 1,507 yards on 165 carries with 18 TDs on the ground.
"It was just a special, special year," Coleman said. "He's just special. He's just so special."
What could have been.
From the senior-laden Franklin boys soccer team to the star-powered Independence baseball and Brentwood softball teams, 2020's spring high school sports came and went without ever getting to compete. The coronavirus swept through the globe and ultimately meant a shutdown for all athletic events.
The Grace Christian Academy boys soccer team was primed to repeat as state champions. The Brentwood tennis teams dominated their division with the girls winning four-straight titles heading into 2020. Neither were able to play for another title in the spring.
When the TSSAA ultimately canceled all sports in mid-April, it was a crushing defeat.
Coffey, or Mr. Backflip, swept the discus and shot put in 2019 as a junior for the Bruins. He said he wanted to leave a two-time state champion in both events.
"I trained and trained," Coffey said. "This is my last chance. My last year. I had plans to beat the state record and I didn't get to have that opportunity to even have one track meet. I mean, I hate it. It sucks."
The 2019-20 athletics season ended with a gut punch of way too many 'what could have beens.'