Division II-A State Tournament
Championship Soccer: CPA captures school's second title in PK shootout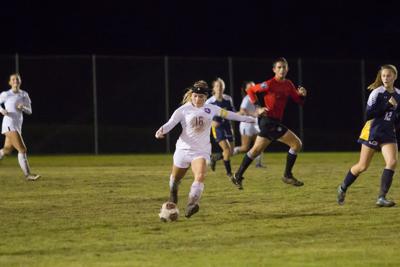 MURFREESBORO — Their jerseys were filthy and their tanks were empty.
But the smiles on their faces made the other details seem irrelevant.
The Christ Presbyterian Academy girls' soccer team captured the Division II-A state championship on Friday night in perhaps the most dramatic way possible, downing Chattanooga Christian in the sixth round of penalty kicks for a 1-0 win at Richard Siegel Soccer Complex.
The victory enabled the Lady Lions to complete an undefeated season — finishing 18-0-1 — and secure the second state title in program history. The previous championship came in 2012.
"This is a special group," said CPA head coach Tom Gerlach. "I've been coaching for 25 years, and this is my first undefeated season. These girls, wow, it was all heart tonight. I told my wife after the game, this would have been an amazing game to watch if I wasn't the coach."
Championship Soccer Photo Gallery – Christ Presbyterian Academy vs. Chattanooga Christian
After battling to a scoreless tie through 110 minutes of soccer, Christ Presbyterian Academy clinched the Division II-A Girls' State Championship in the sixth round of penalty kicks for a 1-0 win over Chattanooga Christian. 
Indeed, it was a game that dripped with drama, from the rainy onset to the mud-caked finish. And in the end, the CPA squad felt a mixture of exhaustion and elation.
"There is just something about this team," said sophomore Sylvie Keck. "Yes, we were running on fumes — but we were really running on love for each other."
The two teams slogged their way through 80 minutes of scoreless play in regulation, then continued to swap defensive gems during the two 10-minute extra sessions, followed by two more five-minute "golden goal" periods.
Eventually, it came down to penalty kicks — and even that went longer than normal. During the round of five, each team converted two shots each. That set the stage for the sixth round, where CPA got what it needed.
First, Keck converted her PK attempt on a shot that appeared to be stopped by the Chattanooga goalkeeper, but trickled through to the back of the net.
It was then up to CPA keeper Kayla Wegner to make a stop, and she delivered with a diving effort that clinched the victory.
Facing a deficit for the first time all season, the Christ Presbyterian Academy Lady Lions t…
"It was a lot of pressure," said Wegner. "But I was most nervous for the seniors — it was their last time, and I wanted to win it most for them."
CPA finished with a 25-13 advantage on shots on goal, including a 19-9 edge in regulation. CPA also finished with a slight 2-1 edge in corner kicks during the intense contest, which featured one clutch play after the next.
"It was toe-to-toe and blow-for-blow," said Gerlach. "Throughout the game, it was 'oh-so-close' on this end, and then 'oh-so-close' on that end."
Gerlach said his heart ached for Chattanooga Christian players and coaching staff.
"You wish there could be a co-champion because (Chattanooga head coach) Cal (Sneller) is a class act, and he had a phenomenal team."
Chattanooga Christian goalkeeper Lucy Sandhoff made a series of big plays throughout the night, and finished with nine saves. Katelyn Dirkse took over the keeper duties for the Lady Chargers on the penalty kick shootout. Wegner was credited with three saves for CPA.
CPA's Caroline Betts, who had been a goal-scoring machine throughout the season, had a rare scoreless performance, although she converted one of the penalty kicks. She had 13 shots for the game, including five on goal.
"Caroline was very frustrated," Gerlach said. "Her strength is her stop-and-go and her movement with the ball. She is a very finesse, technical player and this field wouldn't allow for technical players, and wouldn't allow her to do her trait."
Mollyanne Thorne also converted a PK for the Lady Lions, who prevented Chattanooga Christian from capturing its first state title since 1998.
When it ended, the players from both were visibly spent, but the Lady Lions found enough energy to celebrate with their fans, families and friends.
"After we won, I screamed something and I literally got light-headed," said Keck. "And that was when it really hit me hard — that I was actually dead. I seriously don't think I could go one more second."
In Thursday's semifinal match, the Lady Lions had to fight back from deficits of 1-0 and 2-1 before rallying for a 3-2 win over St. George's. Sophomore Meredith Finucane provided the decisive goal in the 75th minute for the Lady Lions, who hadn't previously trailed in a game all season.
Gerlach said it took contributions from all over the roster to win a championship. He also praised the unity among his players.
"This team is the closet team we've ever had, and they wanted to stay together as long as they could," he said. "And so, we kind of laughed about the fact that they literally played together as long as you can play — with the game not only going to overtime, but then going beyond the five shooters."
Now, the Lady Lions can start to look ahead to next season. After they get some rest, that is.
"This gives us a big future," said Wegner.
Girls Preparatory School 3, Father Ryan 2, DII-AA Championship 
Father Ryan's bid for its fifth state championship in program history came up just short on Friday night, when the Lady Irish dropped a heartbreaker in the title game at the Siegel Soccer Complex.
Girls Preparatory School's Lane Lawrence broke a 2-2 tie by converting on a free kick in the 75th minute, and it proved to be the difference. Her goal came less than two minutes after Father Ryan had tied the match on Brandie West's goal that was assisted by Lily Rummo.
It was the second time in the game that West and Rummo had teamed up. They also accounted for Father Ryan's first goal just four minutes into the game, when Rummo scored on a cross from Rummo to give the Lady Irish a quick 1-0 lead.
GPS scored the equalizer in the 39th minute, and then took a 2-1 lead in the 52nd.
Father Ryan keeper Allison Kirchhoff was credited with six saves. GPS finished with a 20-15 advantage in shots on goal, and a 6-5 edge in corner kicks.
Father Ryan, making its 14th overall appearance in the state tournament, most recently captured a title in 2016.