Four honored as Centennial's first Wall of Fame inductees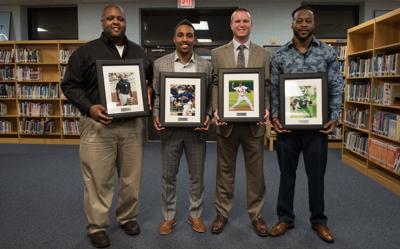 As part of its 20-year celebration, Centennial inducted the charter members of its athletic wall of fame Friday.
A reception to honor baseball standouts Corey Kemp, Tony Kemp and Matt Williams and football star Curtis Steele was held prior to the Cougars' District 11-AAA basketball doubleheader with visiting Independence, with the four recognized at halftime of the boys' game.
Photo Gallery: Centennial Alumni Wall of Fame Ceremony
Four former Centennial High School athletes were honored as the charter members of the Alumni Wall of Fame Friday, Dec. 9, 2016 in Franklin. Corey Kemp, a 2004 graduate, Tony Kemp, a 2010 graduate, Matt Williams, a 2008 graduate, and Curtis Steele, a 2005 graduate, were all inducted as part of the school's 20-year anniversary. 
"This is a great time to reflect on the great accomplishments and celebrate the people that have walked our halls," Centennial principal Leigh Webb said. "These four are not only stellar athletes, but incredible people, and they're still involved in our community. They're great individuals and great role models, inside and outside the athletic arena."
Former Centennial football coach Greg Gregory and veteran Cougars baseball coach Rob Baughman shared heartfelt recollections about each of the honorees during the induction ceremony, followed by remarks from each of the four.
Corey Kemp, a 2004 graduate, was a three-time all-district selection at CHS, the school's all-time home run leader and an all-state selection his senior year. He played collegiately at Tennessee Tech, Young Harris (Ga.) and East Carolina, where he was the 2008 Conference USA Player of the Year. A 45th-round selection of the Pittsburgh Pirates as a high school senior, he signed with the Milwaukee Brewers as their 14th-round pick in '08. He played two professional seasons, advancing to the Class AA level in the Brewers' organization, before retiring in 2009.
"I've been around longer than most of the guys," said Kemp, the oldest of the inductees. "I played with a lot of great guys and saw a lot of great guys after me. A lot of great athletes have come through here. I'm not the most talented or the most accoladed. To be a part of the first (class of inductees) is one of the proudest moments of my life."
Tony Kemp, a 2010 graduate, was a two-time all-district honoree and an all-state pick his senior season. He played at Vanderbilt, where he was the 2011 Southeastern Conference Freshman of the Year as the Commodores made their first College World Series appearance. In 2013, he was named the SEC Player of the Year and selected as an all-American, before the Houston Astros picked him in the fifth round of the MLB Draft. He appeared in the 2015 All-Star Futures Game, received his first major league callup this past spring and made his Astros debut on May 17.
"This is definitely an honor, especially being inducted with my brother," Kemp said. "When I came to Centennial, I was 'Corey's little brother'. To go in with him is truly a blessing. The one thing is, this is really a tight-knit community. We always come back, we're always close friends. These relationships are what it's all about."
Williams, a 2008 graduate, was a two-time all-district pick and led the Cougars in hitting both his junior and senior seasons. He played collegiately at Liberty University and was a two-time all-Big South Conference performer before the St. Louis Cardinals selected him in the 15th round of the 2011 draft. In his first pro season, he helped Johnson City to the Appalachian (rookie) League championship and was honored as an organizational all-star by Baseball America. He spent the past two seasons with the Cardinals' Class AAA affiliate, the Memphis Redbirds, and was chosen earlier this week by the Los Angeles Angels in the minor league phase of the Rule V draft.
"This is very big to me personally, because I've stayed in contact with a lot of people here," Williams said. "Centennial holds a special place in my heart. To be one of the first inductees with these guys is a huge honor."
Steele, a 2005 graduate, rushed for 2,983 yards and 32 touchdowns during his junior and senior seasons at Centennial and earned all-region honors both years. He was a participant in the 2005 Tennessee/Kentucky All-Star Game, and played two seasons at Northwest Mississippi Community College before transferring to Memphis. In two years with the Tigers (2008-09), he rushed for 2,462 yards and 22 TDs, including 1,239 yards and 15 TDs his senior season. He signed as an undrafted free agent with the Baltimore Ravens of the NFL in 2010 and was in the team's 2011 training camp. After playing two seasons with the Toronto Argonauts of the Canadian Football League, he signed last winter with the CFL's Saskatchewan Roughriders, where he spent the past season.
"I hope that by being up there (on the wall), we can be a motivation and an inspiration to students, to let them know they can do it, too, because it's been done before," Steele said. "It's an honor to be the first. It means a lot to be the first of anything. I'm blessed to be on the wall of fame."
A committee of Centennial teachers, athletic administrators and parents met to establish criteria for wall of fame selection, according to Webb. Only athletes who have been out of school for a minimum of five years are eligible, and may be honored based on their high school, collegiate or professional exploits.
"We're hopeful this (induction class) will ignite some of our older alumni, so that next year's class will be just as impressive," Webb said.