NASHVILLE – Simply playing high school basketball in the midst of global pandemic is something not lost on most at the NXT LVL Hoopfest at Christ Presbyterian Academy, but finding ways to win as well definitely carries its perks.
"This just feels good," said Brentwood senior Amelia Osgood after leading the Lady Bruins to the tournament title Wednesday at CPA. "It's been a year of ups and downs and lots of uncertainty, but we are really glad to come out and play and just try to play as hard as we can when we come out on the court every chance we get."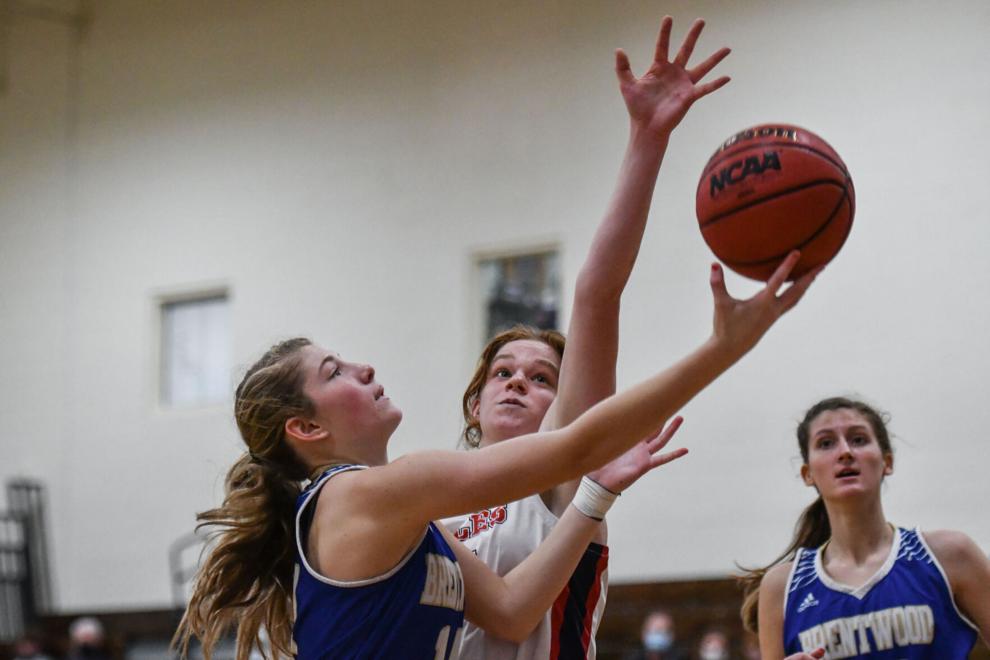 Osgood hit four 3-pointers and scored a game-best 22 points to lead Brentwood past neighborhood rival Brentwood Academy 57-54 Wednesday in the tournament final – one in front of only several dozen fans in a tightly restricted setting for safety purposes. It was the second time in eight days that the Lady Bruins held on for a win against BA. They claimed a 59-53 victory over the Lady Eagles on Dec. 22.
"It's a battle of the neighbors, so we knew it was going to be a tough game," Brentwood coach Myles Thrash said. "It's great competition and we knew it was going to come down to making plays.
"It means a lot just for these girls to be playing basketball in this difficult time right now and to go out and win a championship, it means a lot. We are going to cherish this."
The two teams traded buckets all afternoon. The see-saw action stretched into the fourth quarter as neither team could move more than three points in front.
Brentwood Academy senior Jaila Lee scored on back-to-back possessions with her shot in the lane at the 4:40 mark inching the Lady Eagles in front 50-47. Osgood responded with a deep 3-pointer from the top of the key on the next possession to make it 50-50.
Lee, who finished with team-high 18, matched Osgood with eight points in the final frame.
The senior said she was proud of her team for battling despite missing several players, including post Savannah Dews. Brentwood was also boosted off the bench playing without starter Chloe Wampler.
"We had a lot of adversity to overcome, but I felt like our team worked really hard together," Lee said. "A lot of girls stepped up and helped get us into this championship."
Lee swiped a pass and went the length of the floor for a layup for a 52-50 edge with 3:40 to play, but Osgood provided another triple to give the lead back to the Lady Bruins. Trinity Fields, who closed with 12 points for BA, scooped up a loose ball and fed a cutting Caroline Clemmer for a layup with 1:29 remaining. The Lady Eagles again moved in front, 54-53.
At the other end, Brentwood's Sophie Roston was fouled and knocked down both free throws. Brentwood Academy came up empty and with 38 seconds to play, Sydney Ryan sank two more freebies in the bonus for the Lady Bruins to move in front, 57-54.
Hoops Photo Gallery – Brentwood girls vs. Brentwood Academy
The Brentwood High School girls basketball team captured the NXT LVL Hoopfest championship with a narrow 57-54 win over Brentwood Academy on Wednesday, Dec. 30, 2020 at Christ Presbyterian Academy. 
The Lady Eagles missed on three shots and ultimately settled for free throws from Lee with just over a second to play. After missing the first, Lee purposely missed the second, but Roston came down with the rebound to seal the win.
Ryan finished with 14 and Kaitlyn Lorenzi added 11 for the Lady Bruins, while Finley Dennis also reached double figures with 10 for BA.
The Lady Eagles defeated Clarksville Academy 69-55 on Monday and tipped Beech 64-33 on Tuesday to reach the final. Lee said her team stepped up and played "championship basketball" in the final.
"You never know what Corona is going to bring," she said. "So, it's like we were just in a championship and it could be our only championship, you just never know what 2021 is going to bring.
"We just came up a couple points short."
Brentwood improved to 9-3 overall with three District 11-AAA games looming early in the New Year, including another rivalry matchup with the other Brentwood school – Ravenwood.
"It was really good to be able to play over this break," Osgood said. "We want to keep going strong. We want to play our best basketball at the end of the season."
Beech captured third place at the tournament with a 39-27 win over the home-standing CPA Lady Lions, while Livingston Academy took fifth after a 50-42 win over Clarksville Academy on Wednesday. The Fairview girls won the early game 59-41 over Clarksville Christian.
NASHVILLE – As if winning their first nine games wasn't enough proof that the Brentwood Academy boys basketball team is a contender, the Eagle…
Brentwood girls 57, Brentwood Academy 54, NXT LVL Hoopfest Championship
BHS – 13 16 10 18 – 57
BA – 11 18 11 14 – 54
BHS (57) – Kate Workman 4, Kaitlyn Lorenzi 11, Sydney Ryan 14, Sophie Roston 4, Amelia Osgood 22, Kai Jones 2.
BA (54) – Jaila Lee 18, Trinity Fields 12, Millie Brown 7, Taylor Crabtree 3, Finley Dennis 10, Caroline Clemmer 4.
3-point goals – BHS 7 (Osgood 4, Lorenzi 2, Ryan); BA 4 (Brown 2, Lee, Crabtree). Total Fouls – BHS 13, BA 13. Fouled Out – None.