After Williamson County Schools received an abundance of feedback following its first year of implementation, the curriculum Wit & Wisdom will undergo some tweaking next year in the district.
The Teaching, Learning and Assessment (TLA) department gave a long presentation before the WCS Board of Education June 17 about Wit & Wisdom, an English language arts (ELA) curriculum that has drawn both positive and negative reviews from the community, with concerns revolving around some of its content. 
While the district has proposed several adjustments for next year, some critics say the changes don't go far enough. 
The feedback
Great Minds' Wit & Wisdom curriculum aims to challenge student growth by placing texts before them that are slightly more advanced than students' reading levels. Assistant Superintendent of TLA Dave Allen said the strategy seems to be working for WCS — "kids are reading like they've never read before" and "discussions among our students in class are at a higher level than they've ever been" — but he believes it may also be the primary reason for some of the criticism.
"It's a good conversation to have," he said. "If we're reading higher-level … texts, is it putting content in front of students that's appropriate? And that's where our answer to that, from a TLA perspective, from day one has been, to make modifications and accommodations to those texts as we move along."
Some parents have expressed concerns over some of the content within the curriculum, particularly citing mentions of suicide ideation, infidelity and divorce, violence, and otherwise "dark" themes. Titles such as "Hatchet," "Woods Runner" and "Walk Two Moons," all read in fourth grade, and "The Boys' War" in fifth grade are some of the more controversial texts in that regard. "Hatchet" was also criticized for a mention of infidelity.
During recent school board discussions, District 2's Dan Cash expressed particular concern over the "degrading of the family unit," referencing divorced and orphaned characters.
"We need to be a little bit more upbeat, a little bit more patriotic, if you will, instead of all the down things that are going on," he said.
While Superintendent Jason Golden and other WCS staff have acknowledged that the fourth grade curriculum in particular has a lot of dark books, which the district plans to make adjustments to next year, he said there is a range of opinions on featuring these kinds of themes in the curriculum.
"Our staff has felt some of that too, and that's part of what they're working on," Golden said. "Now, we're also hearing from families that say, 'Hey, that's our experience,' and so to pretend it's not there is tough."
District 5's Jen Aprea shared she is "worried about throwing the baby out with the bathwater on Wit & Wisdom," and that it has sparked some good conversations between her and her daughter.
The district provides parents with "tip sheets" concerning books that contain potentially controversial subjects, and some lessons have received modifications this year.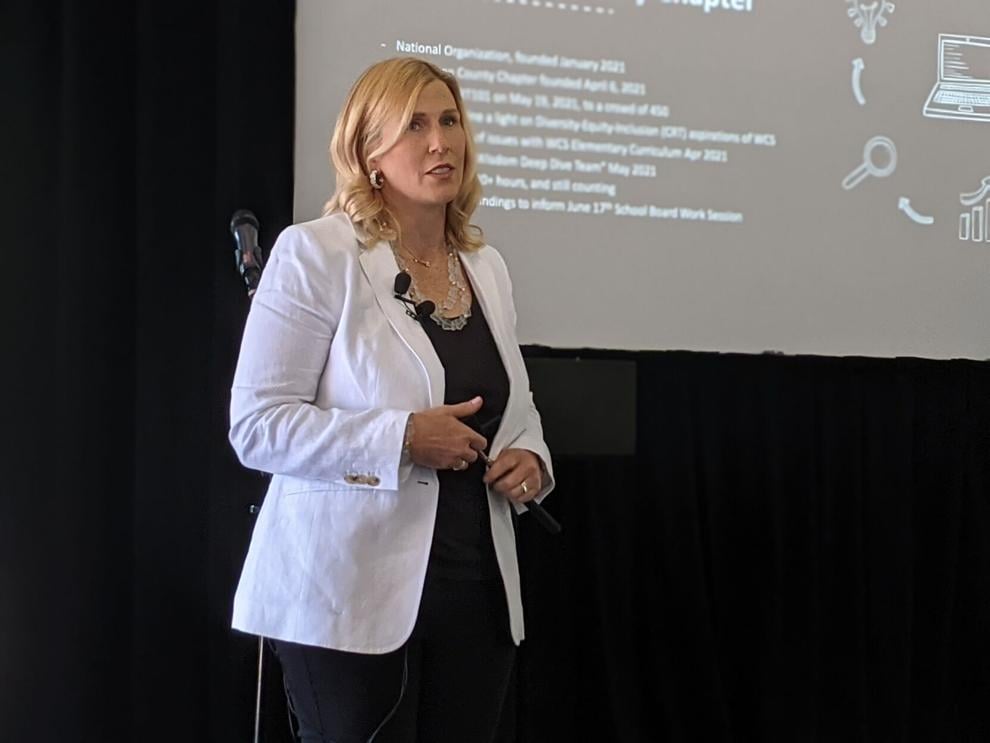 "Why have this book if you need all these warnings?" said Robin Steenman, the president of the Williamson County chapter of Moms for Liberty. "There's a lot of beautiful literature out there. Pick something in that pile."
Moms for Liberty has been one vocal group in community dialogue around Wit & Wisdom. It held a well-attended event last week discussing the members' concerns about the curriculum, at which school board members Jay Galbreath, Candy Emerson and Dan Cash, among other elected officials, were present. Over 30 members of the group spoke at Monday night's board meeting about the curriculum.
Some have also expressed concern that the curriculum introduces critical race theory. Moms for Liberty criticized books, particularly in the second grade "Civil Rights Heroes" module, that paint "white people in a negative light," "talk about Native Americans hating white men," are "racially divisive," and "[demonize] whites."
Moms for Liberty member Lori Fredhim said during last week's event that "the good, the bad, the ugly" of history needs to be taught, but "the content … needs to be age-appropriate."
"They're pushing our children to believe that our country is currently still oppressive," she said. "They emphasize that there is still a struggle against oppression."
Cash said he was unsure young students would be able to comprehend topics, such as Civil Rights. Gilbert shared that students can understand them as evidenced by their related writing assignments.
In spite of this criticism, Allen said teachers have reported that students are more engaged in their lessons and that he has received a "flood of emails" from parents asking the district not to change the curriculum. He also said he expects the district will take a closer look at benchmark data in the fall.
The district also surveyed ELA teachers, asking them for positives and negatives of the curriculum. Allen said three primary concerns emerged: the second grade Civil Rights module is repetitive, the fourth grade curriculum is heavy and there is concern over the fifth grade text "The River Between Us" and the theme of the "Breaking Barriers" module. 
The adoption
Some have asked why the curriculum changed at all after WCS used Wonders curriculum by McGraw Hill for seven years in grades K-5. Curriculum Specialist Marianne Gilbert said when Tennessee adopted new standards in 2016, some major curriculum developers had to scramble to adjust.
"The timing in that last adoption was a little wonky because the standards had just come out, … so big publishers like McGraw Hill, which publishes Wonders, had to hurry up and rush that version of their program out, so there were a few problems," Gilbert said, noting that the curriculum "doesn't do a great job of building background knowledge" that allows students to comprehend what they're reading.
The new standards required texts with more complex language, more writing exercises related to reading materials and more nonfiction texts to build knowledge — all qualities which Wit & Wisdom boasts.
However, Wit & Wisdom K-2 was not approved by the state because it was missing a "foundational skills," or phonics, component. Because WCS wanted a full K-5 curriculum for continuity reasons, the district zeroed in on three programs in its early review stages: Wonders, EL Education by Open Up Resources and CKLA by Amplify.
After three community review sessions and beginning work with a textbook adoption committee, the district learned if it provided a supplemental foundational skills component, the state would grant a waiver to use Wit & Wisdom K-2, making it an acceptable K-5 option. Wit & Wisdom was then added to the mix, and the district held an additional community review date, directly notifying previous attendees.
In the end, 23 teachers and seven parents (88.2% of the committee) voted for Wit & Wisdom, and one teacher and three parents (11.8%) voted for Wonders. The committee began with 28 teachers and 26 parents, but some didn't see the volunteer job all the way through. 
The adjustments
In response to feedback, WCS has committed to the following definitive adjustments for the 2021-22 school year:
• Broaden the lens of the "Civil Rights Heroes" module by introducing women's suffrage
• Replace "Woods Runner" with an alternative text in fourth grade, for which Wit & Wisdom has agreed to rewrite 11 lessons
• Adjust based on an internal review of "The River Between Us" in fifth grade
The district has also provided additional guidance to teachers concerning different areas. For example, teachers are advised to read passages with heavy or difficult content aloud, and the district has provided three options for teaching "Walk Two Moons," including using an alternative text altogether, at the discretion of each school.
Gilbert noted the district has adjusted curriculum in the past, including Wonders. The TLA department has decided to solicit teacher feedback concerning curriculum quarterly.
Allen said in adjusting, the TLA team aims to retain the integrity of the curriculum.
"We're not minimizing these concerns. These are real concerns," Allen said. "We just have to modify and be careful that we don't take the whole program apart and lose what the program has to offer."