The Brentwood football team is in the driver's seat in Region 6-6A — and the Bruins no longer have anyone riding alongside them in the shotgun spot.
Brentwood took over sole possession of first place in the region on Friday night when the Bruins, ranked No. 5 in the AP poll, posted an impressive 24-7 road win over No. 10-ranked Independence. Both teams entered the night with 2-0 region records, but Brentwood — which defeated Ravenwood two weeks ago — is now the lone team with an unbeaten region record.
Brentwood quarterback Cade Granzow threw two touchdown passes for the Bruins (6-1, 3-0), who scored the final 17 points of the game after the teams were locked in a 7-7 tie late in the second quarter.
"This was a really quality win for our program, no doubt," said Brentwood coach Ron Crawford. "It was good night for us on both sides of the ball, and the kicking game was solid, too."
Granzow showcased his abilities as both a pinpoint passer and a crafty runner against the Eagles (5-2, 2-1). He completed 20-of-30 attempts for 206 yards with no interceptions and two touchdown passes, both to Walker Merrill, for 19 and seven yards. Granzow also rushed for that team-high 77 yards on 16 carries.
"Our QB is a heck of a competitor," said Crawford.
Granzow delivered a sparkling — and zany — play in the final minute of the third quarter that resulted in Brentwood's final touchdown of the night. Just as he was about to be taken down for a sizable loss near the Brentwood sideline, Granzow managed to somehow flip the ball toward the end zone. The high-arching pass found its target — Merrill — for a 7-yard touchdown, giving Brentwood a 24-7 lead.
"That wasn't a designed play call," said a smiling Granzow, who confirmed that he threw the pass underhanded. "I was really just trying to get away (from the defenders) and I didn't want to get sacked. And I looked and I saw a wide receiver in the back of the end zone, so I just flipped it to him."
Merrill finished with nine catches for 81 yards, including the two touchdowns. Garner Jones added five catches for 85 yards for the Bruins, who defeated Indy in double overtime last year in the second round of the playoffs after falling to the Eagles during the regular season.
The Brentwood defense also delivered a strong performance in Friday's win, despite the absence of two key playmakers — Will Laughlin and Bryce Bergholtz — who are both out with injuries. The Bruins' defense yielded a second-quarter touchdown, but held Indy scoreless the rest of the night by coming up with timely stops again and again. Brentwood forced six punts on the night, and also came up with a turnover when Sterling Ambrose intercepted a pass in the second half.
"Missing two starters on defense (is tough), but we've had guys who have stepped up and filled in and just done a wonderful job," said Crawford.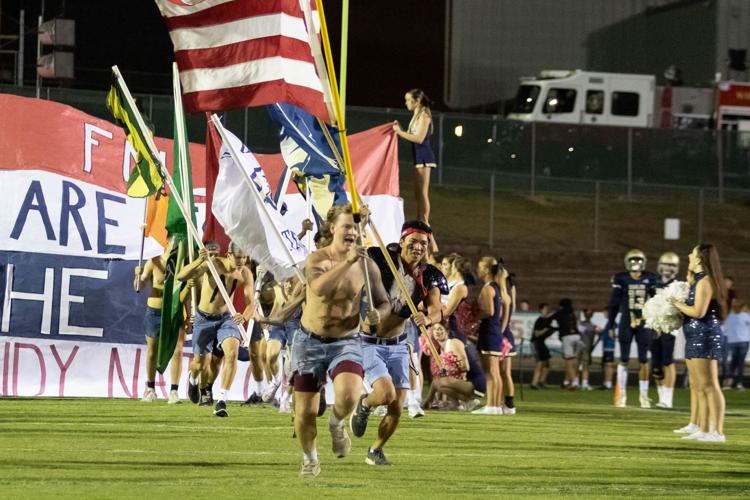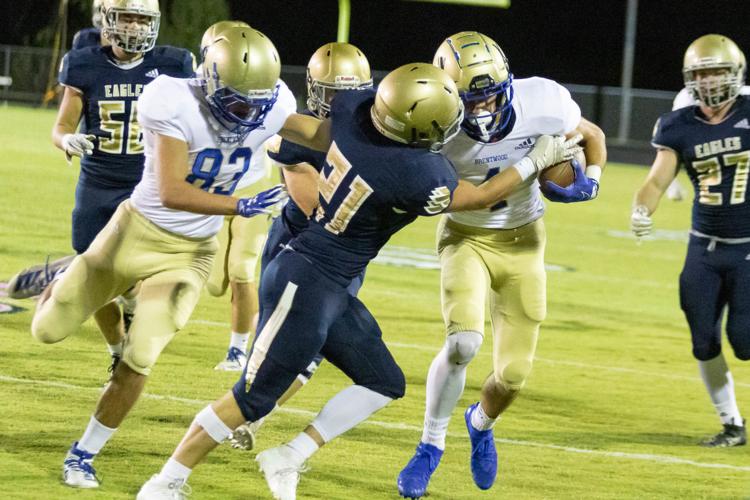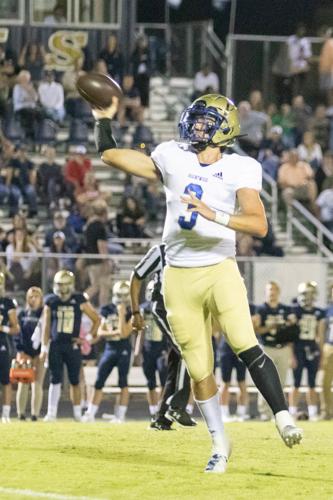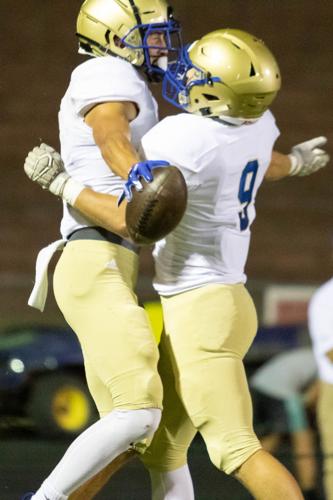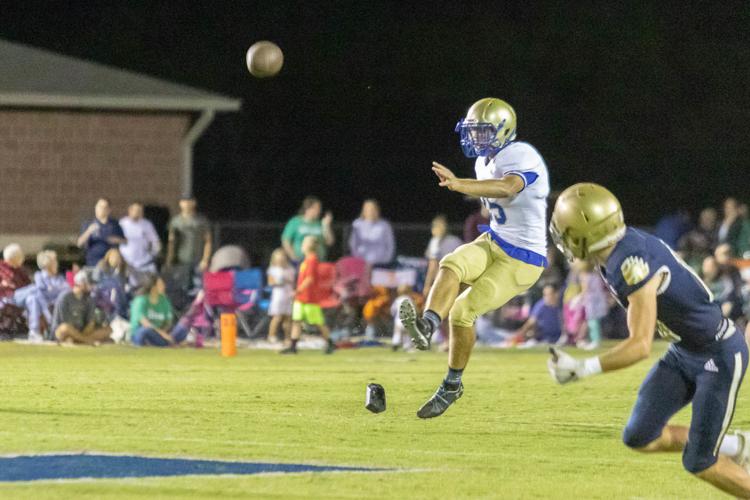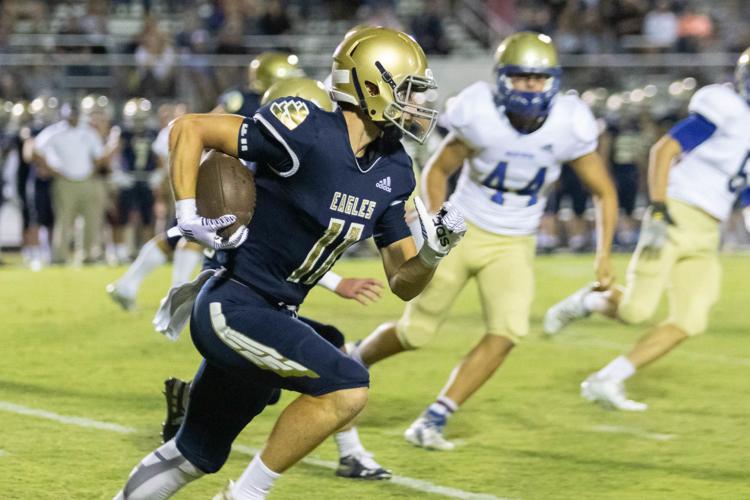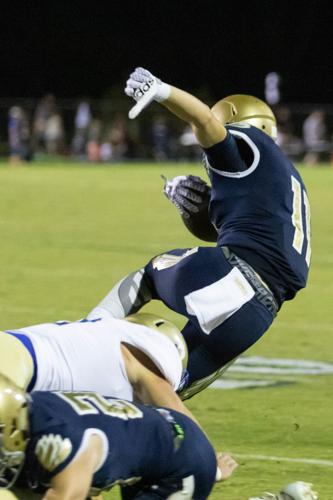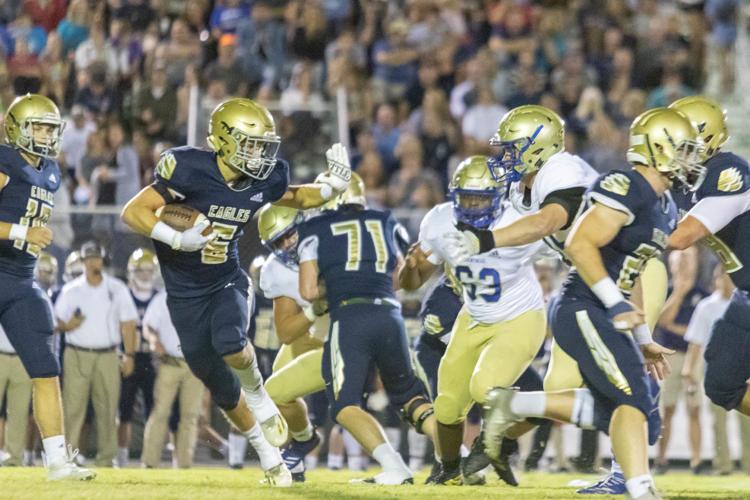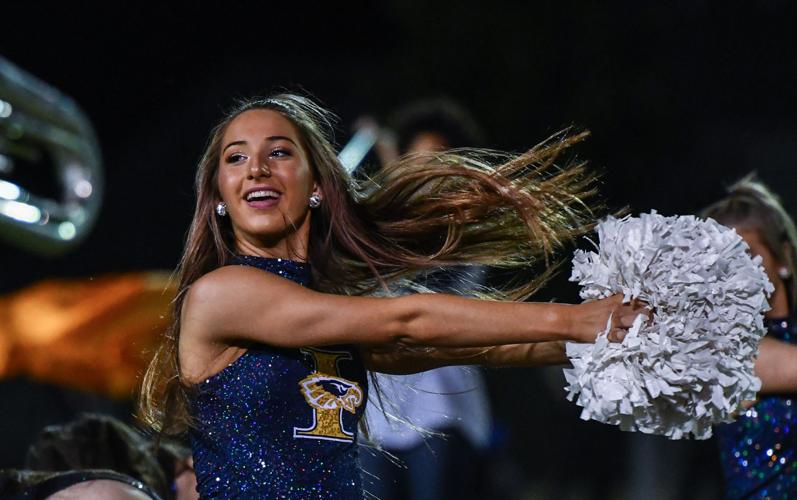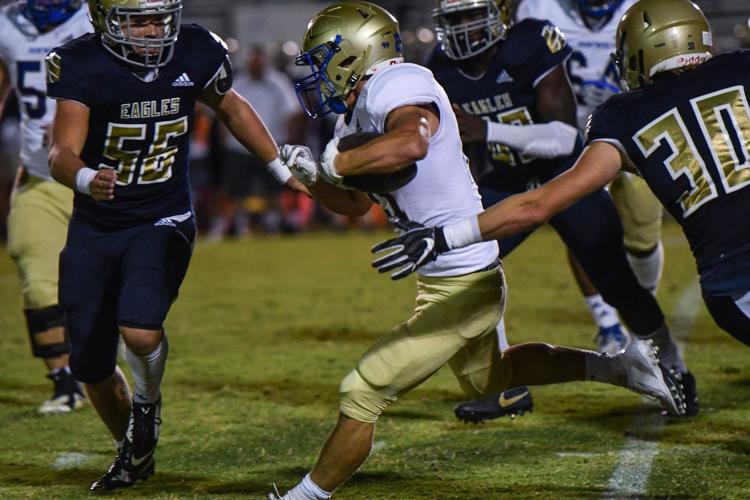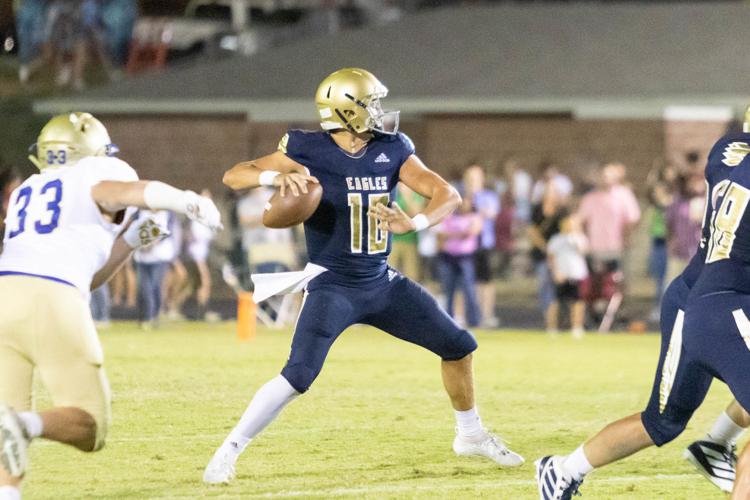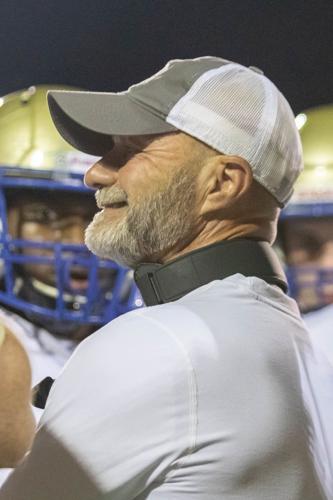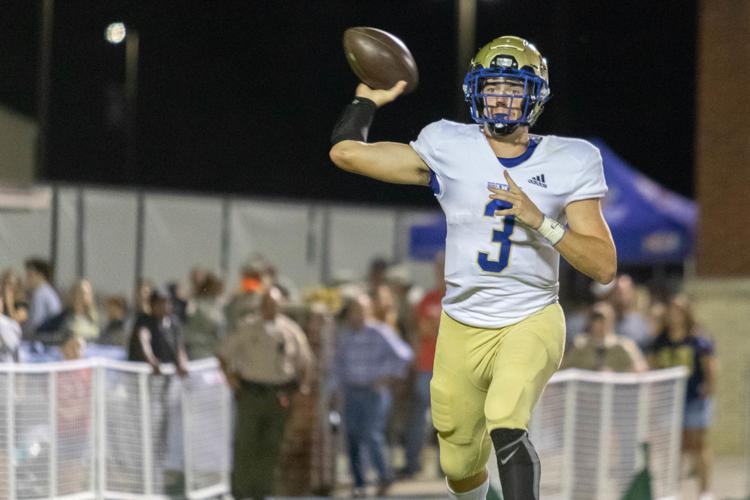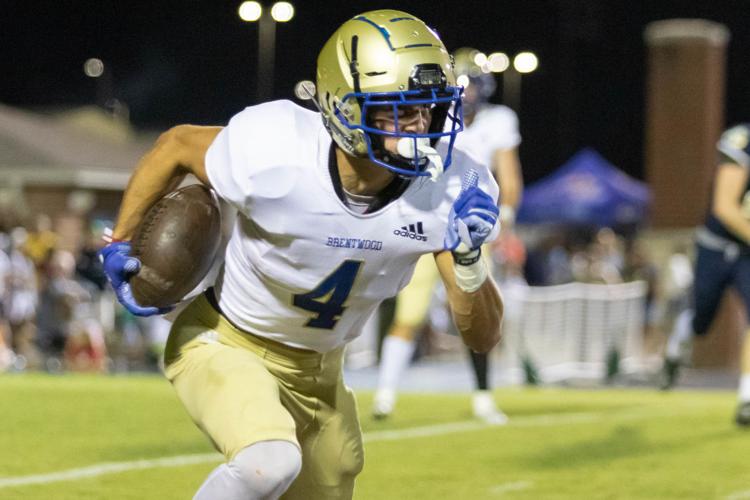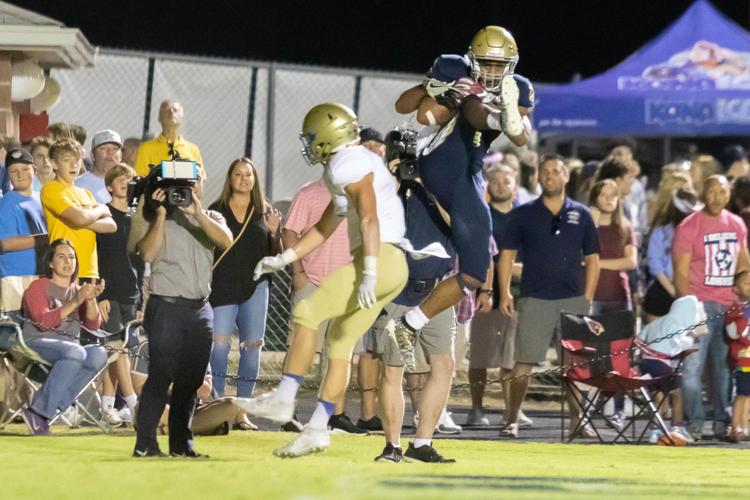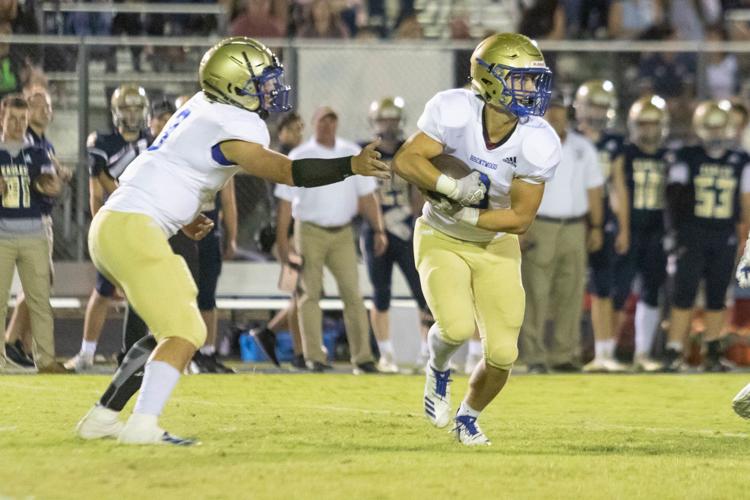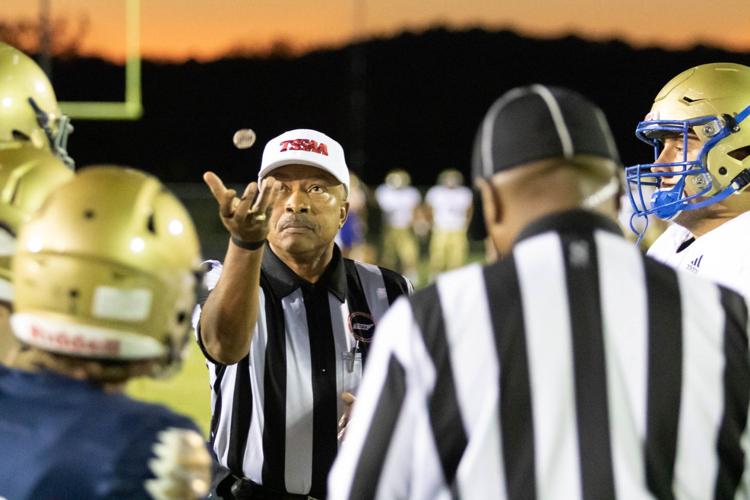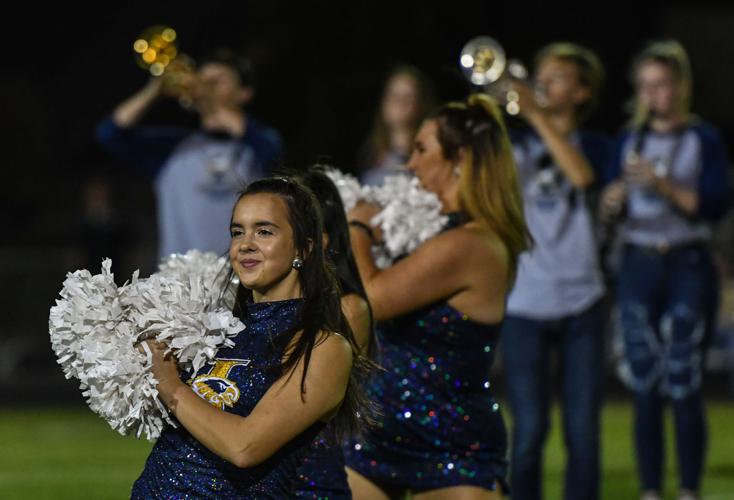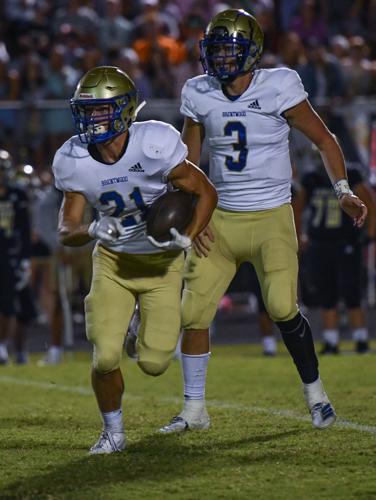 Football Photo Gallery — Brentwood at Independence, Week 7
The Brentwood football team captured the Region 6-6A lead with a 24-7 win at Independence on Friday, Oct. 4, 2019 in Thompson's Station. 
Brentwood, like most teams, had difficulty containing Indy quarterback Ethan Cash, who completed 18-of-29 passes for 196 yards and a touchdown. Cash's favorite target was Chayce Bishop, who finished with seven catches for 76 yards against his former team. Jaxson Campbell had five receptions for 64 yards.
Cash and Bishop hooked up for a 13-yard touchdown that tied the game at 7-7 with 2:39 left in the second quarter. On its ensuing possession, Brentwood moved to the Indy 2-yard line in the final five seconds before halftime. But a penalty backed up the Bruins, forcing them to settle for a 25-yard field goal by Thomas Day on the final play of the half and giving Brentwood a 10-7 lead.
Day had a strong night for the Bruins. In addition to his field goal, he also converted three PATs and produced touchbacks on his kickoffs by driving the ball into the end zone.
Brentwood running back Luke Walters rushed for 53 yards on nine carries, including a 9-yard touchdown run in the third quarter that gave Brentwood a 17-7 lead.
Although the victory seemingly puts Brentwood on the inside track toward a No. 1 postseason seed, the Bruins aren't ready to start talking about the playoffs.
"There's a lot of football to be played," said Granzow.
After an open date next week during fall break, Brentwood has a showdown against Franklin in two weeks.
"(The next thing for us) is getting ready for Franklin," said Crawford. "It won't be easy. It never is. None of our county games are ever easy."
Brentwood 24, Independence 7 
Brentwood 7 3 14 0 — 24
Indy 0 7 0 0 — 7
Scoring Summary
1Q (4:25) — Brentwood: Walker Merrill 19 pass from Cade Granzow (Thomas Day kick)
2Q (2:39) — Independence: Chayce Bishop 13 pass from Ethan Cash (Sam Henke kick)
2Q (0:00) — Day 25 FG
3Q (6:25) — Luke Walters 9 run (Day kick)
3Q (0:49) — Merrill 7 pass from Granzow (Day kick).
Team Comparison
First Downs (Brentwood 19, Indy 10)
Rushing Yards-Attempts (Brentwood 31-162, Indy 17-44)
Passing Yards (Brentwood 206, Indy 196)
Comp-Attempts-INTs (Brentwood 20-30-0, Indy 18-29-1)
Penalties (Brentwood 3-30, Indy 3-39)
Punts-Ave. (Brentwood 3-45, Indy 6-41)
Fumbles/lost (Brentwood 0/0, Indy 0/0)
PASSING
Brentwood — Cade Granzow 20-30-0-2 — 206; Indy — Ethan Cash 18-29-1-0 — 196.
RUSHING
Brentwood — Cade Granzow 16-77, Luke Walters 9-53, Scott Collins 6-32; Indy — Ethan Cash 11-37, Jack Phillips 4-6, Brian Pierce 1-6.
RECEIVING
Brentwood — Walker Merrill 9-81, Garner Jones 5-85, Clay Hanley 1-11, Scott Collins 1-6, Jett Kinder 1-2, Luke Walters 3-21; Indy — Chayce Bishop 7-76, Jaxson Campbell 5-64, Brian Pierce 3-35, Caedon Williams 2-11, Calvin Wilson 1 -10.